Renee Fleming La Voce by Coty (2008) {New Fragrance} {Celebrity Fragrance}
The Motivation
On September 22, 2008 the launch of a new perfume endorsed by opera singer
Renee Fleming
will take place at the MET on the occasion of their Opening Night Gala celebrating the 125th anniversary of the opera house. Called
La Voce
(The Voice), it is a limited-edition scent in full gala attire meant to raise funds for the New York opera house and awareness for a musical genre that is oftentimes considered too elitist to touch a wide spectrum of the population. According to Peter Gelb, general manager of the Metropolitan Opera the action will be beneficial to the institution,
"This is part of our initiatives to regain the MET's position in culture. We don't expect to replace pop culture but think it could be more popular and be part of society and everyday life than has been in recent decades. Having a perfume that's publicly promoted and honoring one of opera's greatest stars is a step in the right direction."...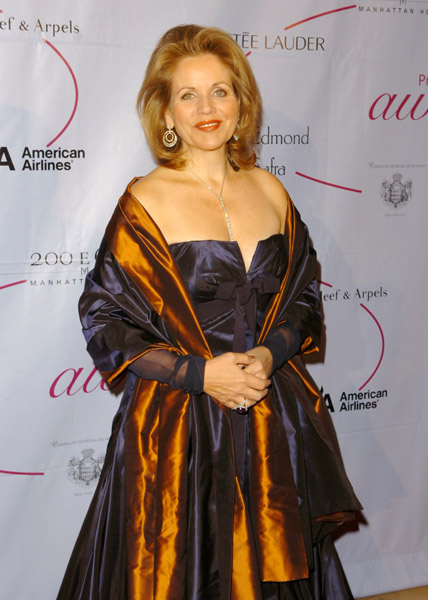 Renee Fleming was awarded the Polar Prize this summer for her work. She herself declares that she loves You Tube for the opportunity it offers the wider public to have a taste of opera without feeling intimidated or detracted by this luxury pastime. Her fame will be put to good use so to speak by having her pose for the advertising for the fragrance. Apparently the operation supported by giant Coty amounts more to a philanthropic action than a classic business partnership as all the proceeds will go to the MET. The publicity will nevertheless be good Karma capital earned by everyone, without the shadow of a doubt.
Said Fleming,
"It's another way to get the message across that opera is accessible and glamorous and if you try it, you might like it," said Fleming. "The last time this was done was almost 100 years ago. Opera singers almost a century ago were the biggest pop stars in the world. Caruso was biggest seller of all and women had glamour that was unprecedented and they advertised not just fragrance but cigarettes -- all kinds of different things." (...)

"People other than music journalists will say 'Oh wait there's a fragrance associated with her name, what else does she do?,'" said Fleming. "This gives a me larger repertoire of interest." (Via WWD)


The Fragrance
The perfume was developed with consultant
Ann Gottlieb
, a friend of the opera singer, and perfumer
Carlos Benaïm
of IFF. It is a floral oriental with notes of passion fruit, white truffle jasmine, lily of the valley, dark chocolate mousse and ebony wood.
The flacon was designed by
Jane Tarallo
and is inspired by the chandelier of the MET. The colors of the outer packaging also match the shades found at the opera house.
A 50 ml bottle is priced at $200 and will be easily available online through the MET's website. In France, it should appear at le Printemps later on. (Via
Cosmetic News
)
The Voice
You can listen to Renee Fleming's voice on this You Tube video in which she performs the Willow Song from Otello by Verdi,