Boots Hug for Her & Hug for Him (2008) {New Perfumes}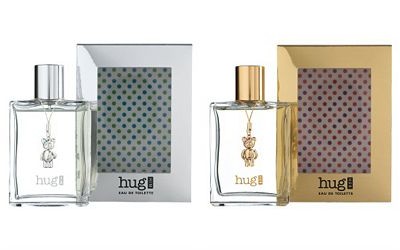 Just reading what I have to admit is the very effective (for me) ad copy for the new duo of fragrances by
Boots
for
BBC 2008 Children in Need
called
Hug for Her
(gold) and
Hug for Him
(silver) makes my heart melt! The aromas recreated for the fragrances are meant to capture the essence of happy childhood memories,
"Hug for Her is all about the familiar smell of bath time; the smell of warm towels with a hint of baby powder, whereas Hug For Him has the scent of wood shavings overlaid with the sweet scent of cola, to represent a school pencil case that contains everything from pens and pencils, through to sticky sweets."...
The bottle are decorated with the trademark pudsey charm. This year Boots wanted to offer items that adults could use so they came up with the idea of this duo of scents. There is also
a bag with a pudsey charm.
"Since the BBC Children in Need Appeal began in 1980, it's raised £470 million. Every penny helps to positively change the lives of disadvantaged children and young people in the UK."
"Colette Phillips, Charity Marketing Manager for Boots, said: "We absolutely tried to recreate comforting scents that are defining memories from childhood. Our customers who buy a Hug fragrance to support Children In Need will relive happy memories of their childhood, whilst the donation they have made will help BBC Children in Need create brighter futures for some of today's generation of children."

Hug for Her and Hug for Him eaux de toilette are each priced at £10.

Via PR Log