Sartorial Politics of the Obamas Praised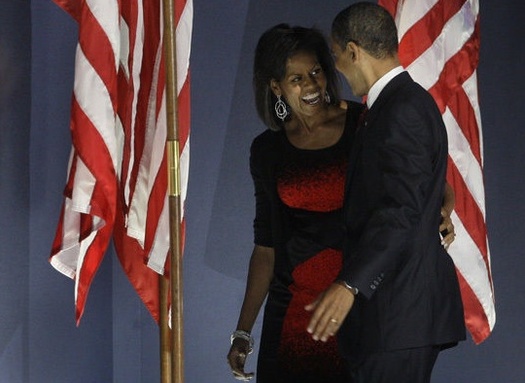 Barack Obama was elected to be the 44th president of the United States on Tuesday and while no propositions were put forth regarding his program for the future of American fashion design and the importance of a styled look as one of the cements that may help unite a nation, designers are now obviously elated by the election's outcome.
And that is not just because they are thinking of social reform right now. That is because
Michelle Obama
is anticipated to become a fashion icon for women in the US, and probably in the world too, while reactivating hopefully a Kennedy-era type social life in Washington D.C...
Michelle Obama wore a terrific outfit in black and red on election night, both subtly satiny (black) and more shimmery (the red part) offering a dramatic contrast of colors and texture further enhanced by a bold modern-style criss-cross pattern that hinted at the dress being like a modern painting.
The whole family wore black and red: the parents had both colors on them while each girl wore only one of the two colors as Malia was in red and Sasha in black. Why this choice of colors remains a mystery. I am guessing that perhaps after Michelle Obama chose the
pièce de résistance
, the Narciso Rodriguez gown adapted from his spring 2009 collection, everyone else fell into line.
The Designers Enthuse
Maria Pinto, her Chicago-based designer of choice said that Michelle Obama's styel is "v
ery approachable. That's what people love about Michelle -- she's comfortable in her own skin. She can go from J. Crew to designer
."
Oscar de la Renta, who dressed Hillary Clinton in her legendary but not necessarily revolutionary pantsuits (a feminized professional look which right now everybody is glad to see Michelle stepping away from) said,
"Mrs. Obama is certainly stylish and very good looking. It will be great for any American designer to dress her," de la Renta said. "Paying attention to what the first lady wears has always been part of the American syntax even though there isn't a special budget allocated for her to dress well nor has she been able to accept clothes for free."


Donna Karan:
"She is powerful, elegant and sophisticated," said Donna Karan. "You see the woman first, she is not overpowered by the clothes. We expect a role model. She is a mother, a wife. She has all the attributes that matter."


Jenna Lyons Mazeau, creative director at J. Crew said,
"I love that she wears color and I love that she wears dresses," Mazeau said. "There has been this whole movement about suits. She looks feminine and dresses beautifully, but never overtly sexy."
I think that J. Crew is going to become so in thanks to the first lady's stamp of approval.
Marc Bouwer:
I'm glad that she's not wearing the little tweed suits that a lot of senators' wives feel they have to wear once they get to Washington. We are definitely going to see many more fashion moments from her."
And president Obama is not left out of people's appreciative comments either.
Mazeau: "
He could wear a paper bag and I would still love him," she said. "He just looks effortless. He understands how his clothes should fit.
"
Marc Bouwer: "
I love that he wears narrow, fitted suits and that he doesn't wear the typical Washington suit with baggy pants.


Elie Tahari has even a nickname for him, "
Mister Handsome." "He could be a male model,
"
Watch what the Obamas will be wearing on the inaugural on January 20, 2009!
Via
WWD
Photo credit:
Huffington Post