Aquolina Tweety (2008): Yellow Is Good {New Perfume}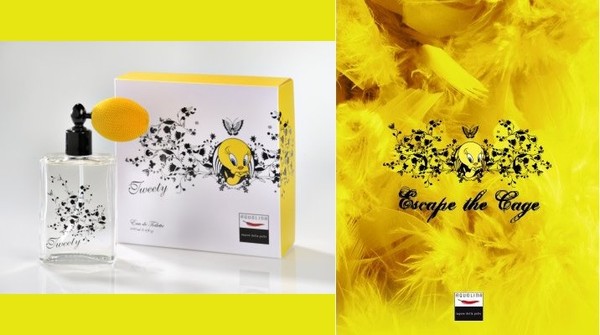 Aquolina
which has managed in a relatively short span of time since 2001 in imposing a brand with an iconic appeal thanks in particular to Pink Sugar (2003) has launched a new perfume called
Tweety
which promises to be as offbeat and attractive as its predecessor thanks to a bold and uncomplicated but not overly simplistic message.
Tweety is a fragrance about color and texture but also aspirational feminine identity. The tag line is "
Escape the Cage
" (translation: escape the crisis; escape the strictures of convention, everyday life and of whatever ties you down. Just spray and fly!)
"...Tweety, an eau de toilette inspired by sunshine yellow tones and floating feathers to escape the boundaries and bring you to a world of feminine sensuality."...

The scent is described as being "spirited" and pledges to brighten up your day thanks to its optimistic olfactory color palette. The composition is by perfumer
Shyamala Maisondieu
of Givaudan.
Accademia del Profumo classifies the perfume as a "fruity floral chypre".
Top notes are bergamot, grapefruit, orange, pineaple; heart notes are: raspberry, rose, jasmine, aquatic flowers; base notes are: patchouli, sandalwood, vetiver, musk.
A complete line of ancillary products in a coquettish packaging is also available.
Via
Accademia del Profumo
;
Selectiva Spa