En Passant by Olivia Giacobetti at Editions de Parfums by Frederic Malle (2000) {Perfume Review & Musings}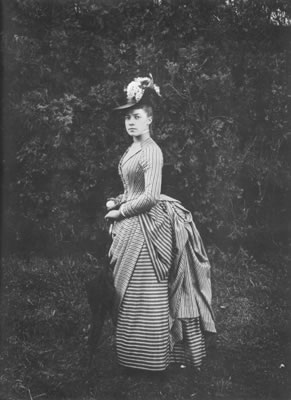 Photographer
Alice Austen
wearing a hat decorated with white lilacs, June 1888,
by Captain Oswald Müller
,
courtesy of the Staten Island Historical Society
En Passant by Olivia Giacobetti at Editions de Parfums by Frédéric Malle (2000) - Perfume Review & Musings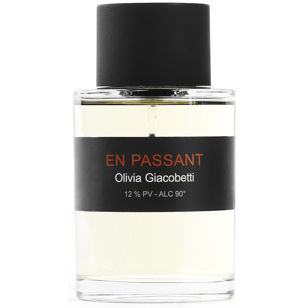 Official notes: white lilac, orange leaves, cucumber absolute, wheat absolute

What they say: the scent of a lilac whipped by the wind and carried by the spring air near a garden; an impressionistic fragrance; a play on one note (white lilac); captured at an instant in time; a glorification of the scent of nature coupled with watery notes; radiant and serene (Source: Editions de Parfums French website).
I was probably unconsciously attracted to the words "En Passant" (While Passing By) on New Year's Day to want to review this scent. We have crossed into a new year, 2009, a symbolic benchmark which reminds one of the transiency of things and makes one think of what might lie ahead at the other end of the passage, as we come out of one little tunnel of time and enter another.
En Passant is like a soliflore but with a sense of dramaturgy Although the predilection for transparency that Olivia Giacobetti is famous for (an oversimplification in fact when you look at all her work) is apparent in this composition it seems to play second fiddle here. The nucleus of meaning of the scent appears more to be a paroxistic remembrance of a moment of
folie amoureuse
for an aroma, a scene, a moment in a day. The white lilacs anchor the other scents that may have converged towards them (are they all real, are they imagined, we don't know and it doesn't really matter). Without that defining central aroma, the bread smell, the watery cucumber scent lose meaning. If En Passant insists on the transiency of the event, integrating a sense of the passing of time in the composition like an olfactory clock that waxes and wanes, it by no means signifies that the event was subtle, brief, or only partly experienced or imagined. It is the full experience of an olfactory apotheosis as passed through the filter of the perfumer's imagination...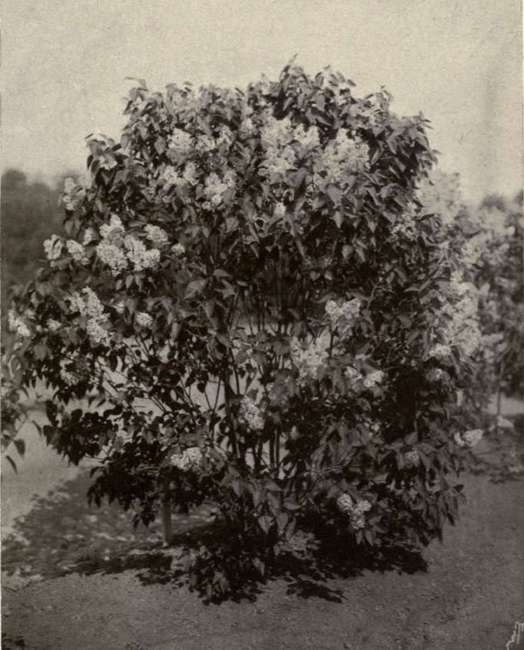 White Lilacs from a Practical Handbook of Trees Shrubs Vines and Herbaceous Perennials by John Kirkegaard

The lilacs in En Passant are both transparent and heady and come across as an impression of white lilacs on the perfumer's mind rather than as realistic flowers whose scent was slightly excited by drops of rain. The lilacs are thus magnified and enormous, over-sized, larger than life, albeit in a quiet way due to the stylistic constraints of the soliflore genre which are recognizable here.
If on a general level the illusion of the scent is that of lilacs kissed by the morning dew, on closer inhale the headiness of the white lilacs betray complex touches of divergent and contributing notes. If we pay attention we can smell lilacs on a spring day progressively turning into flamboyant indoles and if we pay even closer attention we can smell: "almondy lilacs crisscrossed by streaks of civet freshened by the scent of sappy crushed green leaves (orange leaves). Some muguet show their little bells, as well as dewy jasmine and animalic cedar and cumin. Some peach aldehyde too. It all translates into a heady and indolic armful of lilacs." (from my notebook notes).
But the result and the willed effect is more simple: lilacs with aquatic, sugary and indolic notes.
A whiff of the
mie de pain
of a baguette (wheat absolute), however transient and fleeting passes by.
But what is the most remarkable to me remains the manner in which the pungent, animalic lilacs appear as if seized of an erotic frenzy underlined by a musk with a base instinct. The indolic lilac accord was treated in an almost shrill manner stylistically speaking. In fact the scent of white lilacs follows a crescendo of emotion and forces you to feel as enraptured as they are by their own existence at the onslaught of mother nature.
This is the first time that I feel that my near-migraine is willed by the perfumer and part of the dramatic scene and experience that the perfume En Passant is. If some movies are made to make you cry or laugh this composition was made to make you relive in your flesh what the words "heady" or "intoxicating" mean.
Now I think I smell the crust of a baguette with its toasted nuances.
As the perfume slowly evaporates, dries down, the pungency does not relinquish becoming only more single-minded. Touched by bees the lilacs seem to be dripping with transparent white animalic honey. As the floral sensation wanes, the cucumber absolute becomes more dominant later touched by what seems to be honeyed linden. The scent of damp earth arises from the ground (patchouli).
En Passant reveals to me better than some other creations by Editions de Parfums have that the house is indeed about leaving free rein to the perfumers. Why on earth otherwise one might ask would Frédéric Malle have thought that even a revisited lilac soliflore was direly needed?
Outside of its olfactory composition proper En Passant reveals therefore a rare measure of respect for the perfumer's inner self-motivation to create. It is a perfume of absolute free necessity as well as being one of absolute simplicity. You could say that freedom smells a bit like it.
So here's to the health of the arbitrariness of creation which finds justification in the creator's desire only.
And may I also wish you all a Happy New Year 2009 and more fragrant adventures!