Calvin Klein CKIN2U Heat (2009) {New Fragrances}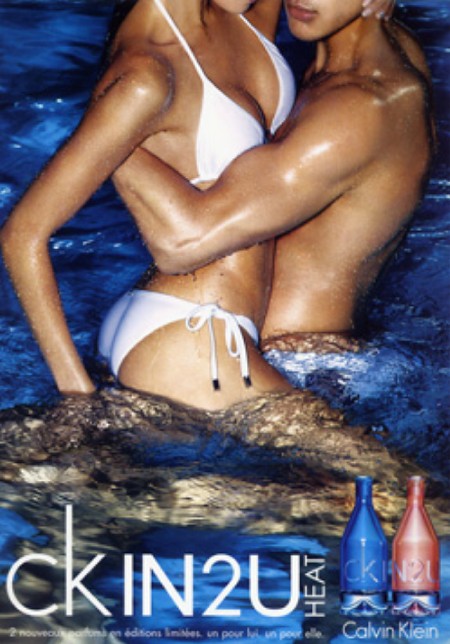 The
Calvin Klein
CKIN2U franchise sees the addition of a new her-and-his duo of fragrances this year with
CKIN2U Heat
, apparently the most sexually explicit CKIN2U to date.
When the original duo was launched sex pheromones were flying around in the air already but they got rapidly cooled down by the term "
technosexual
" which sounded a little inhuman. The target audience was not pleased...
CKIN2U Heat sound more like some good old-fashioned mating ritual, in a pool this time. Both fragrances contain alcoholic drink accords to help you loosen up and in reference, for me, to American youth culture with its tendency to over drink once the ban is lifted.
CKIN2U Her is a floral scent with notes of appletini cocktail (vodka, orange liqueur, apple juice), juicy blood orange, nocturnal orchid from the Caribbean, almond paste, ginger snap, wet cedar wood, sandalwood, creamy musk.
CKIN2U Him is described as a fruity and woody scent with notes of chilled Caipirinha, coriander, juicy pear, stimulating green mate tea, ginger, orris root, vetiver, musk, birch bark.
Both perfumes are available in100 ml Eau de Toilette concentration and are priced at 47,70 €
Source:
News Parfums