RIP Jade Goody - Her Perfume Used in Grief Ritual {Celebrity Fragrances - Perfume & Society}
Ex-Big Brother reality show star
Jade Goody
passed away last week on March 22, 2009. After being announced in August 2008 on the Indian version of the reality show, Big Boss, that she had terminal cervical cancer and only a few months to live, she had been preparing for her passing away and in particular accepting media coverage as far into her illness as she could bear in order reportedly to raise funds for her two sons Bobby, five, and Freddie, four.
Jade Goody released two perfumes as a celebrity. The first one
Shh...
in 2006 and the second one
Controversial
in 2008.
Accused at one point of making racist comments against actress Shilpa Shetty, The Perfume Shop had withdrawn her debut fragrance from their shelves in the wake of the media storm she triggered...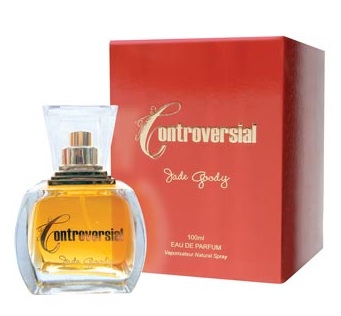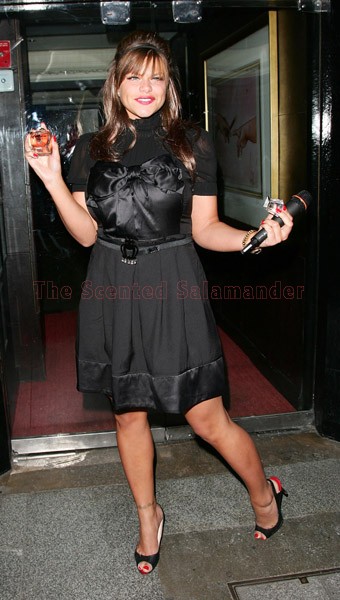 Jade Goody at the launch of Controversial in July 2008

The media continued to report about the last events in her life, her decline in health until just a few days before her death when she got away from the limelight and back to her family's home.
Now the Sunday Mail writes that as Goody was preparing to leave her two children she turned to grief expert Dr. Shelley Gilbert for advice. Amongst the tips that were given to her was the recommendation to make "her perfume" be part of a "memory box".
"Jade, 27, sought advice from charity Grief Encounter on preparing them for her passing.

Director Shelley Gilbert said: "When Jade got in touch she'd just found out her cancer was terminal.

"She had to face tough questions. What would their future be like without her? Who would they turn into? What would they do when they were sad?

"I encouraged her to make a memory box filled with a diary of her last days, the scent of her perfume, letters and the kind of person she'd like them to be.

"Bobby and Freddie will have to cling to every last memory of her.

"A memory box is a safe and private place for them to remember."

Read more in Jade Lives on in Gift for Boys...

Just like her publicized cervical cancer has led to an increase in the rate of early screenings for the illness in the UK, it looks like Jade Goody will continue to live on as a popular examplar for people who face the same kinds of harrowing situations. A film about her life tentatively titled Catch a Falling Star is said to be in the works. A second autobiography came out, as well as her cancer diary, Forever in My heart. Her funeral will take place on April 4.

More details about the two celebs perfumes she launched:

Shh...,whose bottle packaging looks a lot like that of Cabochard by Grès, is described as a floral scent and has top notes of citrus notes, bergamot, cassis; heart notes are pink pepper, cinnamon, cumin, freesia, jasmine, rose, iris; base notes are sandalwood, patchouli, vanilla, amber, moss and musk.
Controversial, a fruity-floral, has top notes of fresh red fruits, a heart of tiare blossom and frangipani and a base of patchouli and rich amber.