Vctorinox Swiss Unlimited (2008) Victorinox (2009): 125th Anniversary Celebration {New Perfumes}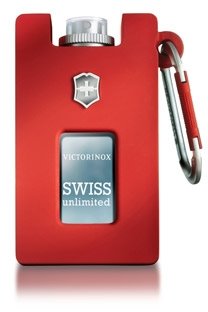 Victorinox
to celebrate its 125th anniversary launched two men's fragrances, one called
Swiss Unlimited
was introduced last fall and is an olfactory rendition of snow-capped Switzerland, the other one
Victorinox
is inspired by the scents of a chocolate birthday cake.
Swiss Unlimited was created by noses
Christine Nagel
and
Jean-Christophe Herault
and artistic director
Vera Strübi
. It includes typical Swiss notes such as that of the white fir from Jura, absinthe, and genepi alcohol...
The brand plans to distribute the perfume to each member of the Swiss army. You can read an interview (in French) with Carl Elsener of Victorinox,
Parfums Victorinox et stratégie de diversification
In France, it will launch exclusively on April 14th 2009 at Colette and for 2 weeks.
The other fragrance is called Victorinox. It is described as being elegant, virile, woodsy and fresh featuring a dash of cacao.
"For the 125th anniversary, Victorinox presents an especially festive, typically Swiss men's fragrance. Inspired by the seductive magic of a chocolate birthday cake, an anniversary fragrance of cacao beans and woody ingredients has emerged that does justice to the occasion: elegant and manly with a classic note."


See also
this article about Victorinox perfumes