Armani Prive Cedre Olympe (2009): Dedicated to the Gods of the Mediterranean {New Fragrance}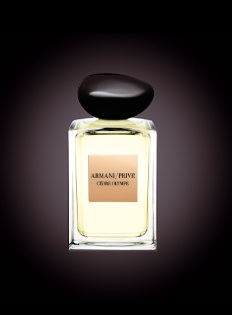 The niche label of
Armani
,
Armani Privé
now counts a new perfume called
Cèdre Olympe
, in reference to mount Olympus, the abode of the Greek gods of mythology. Cedar, a symbol of immortality, is one of the most aromatic woods to be found and was made famous initiallly in creative perfumery by Féminité du Bois by Serge Lutens.
"The deep valleys and steep slopes of Mount Olympus are home to a few magnificent tree varieties: pine and cedar, exposed to the burning sun and searing wind.

The lofty Cedar stands on steep paths; its alliance with the earth and the skies and the richness of its essence lured Giorgio Armani."...

"Cèdre Olympe evokes the moment when the drifting scents of resin rise beneath the outstretched branches, when the sun hits the stone walls, when the sea breeze drifts in off the Aegean Sea.

Not far from this majestic tree, Bitter Orange and Bergamot distil their sun-drenched fragrance, any way the wind blows; and with the dark green scent of lemon tree leaves, the shade is almost palpable.

Giorgio Armani dedicates Cèdre Olympe to the gods of the Mediterranean."


To summarize, notes appear to be: cedar, pine, resins, solar accord, sea-breeze accord, bitter orange, bergamot, lemon tree leaves.