Vivienne Westwood Boudoir Jouy (2009) {New Perfume - New Flanker}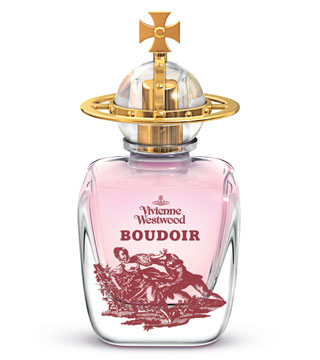 La grande dame terrible
of British fashion
Vivienne Westwood
has released a new perfume called
Boudoir Jouy
to celebrate the 10th anniversary of the original
Boudoir
launched in 1998. The new composition is inspired by Madame de Pompadour and the imagined atmosphere of her 18th century boudoir, as well as by the famous toiles de Jouy that would have hung in that intimate room.
Precious, coquettish, child-like, sophisticated, and newly fashionable, the toile de Jouy with its pastoral scenes appears on the new bottle while serving as the guiding theme for a fresher interpretation of Boudoir...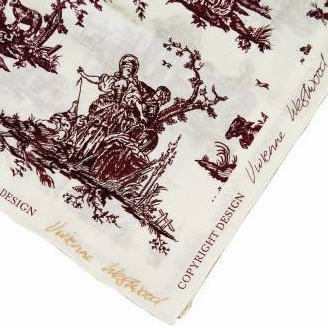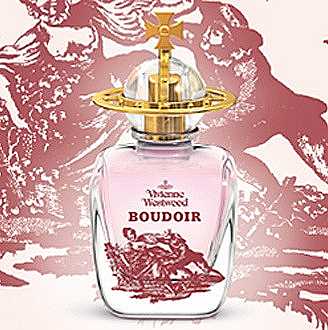 "This romantic fragrance is as subtle and sensual as the original Boudoir, but with a fresher signature, top notes of Red Berries and Mandarin Zest, mingled with the lush green scent of Bamboo Sap.

In the heart, the smooth, powdery notes of Orris are freshened by Red Peony and Jasmine Petals, evoking the texture and colours of toile de Jouy. The dry-down blends crystalline white amber with mellow cashmere wood."
One can only appreciate the fact that the perfume aims to capture the very colors and textural feel of a pink toile de Jouy.
A 50 ml bottle retails at £ 46 on Hervia, Vivienne Westwood's own site (tax-free for international customers), or now £ 40.52 at the House of Fraser.
For fashionistas, please consider the Vivienne Westowood neckerchief (£20) also inspired by a toile de Jouy pattern and also available on Hervia.
Perfumistas can also choose to spray their scent on the neckerchief to allow for a quick change of wardrobe.
Photo no1: Vogue UK