Benefit Cosmetics Crescent Row Laugh With Me LeeLee, There's Something About Sofia & My Place Or Yours Gina (2009) {Perfume Reviews} {New Fragrances}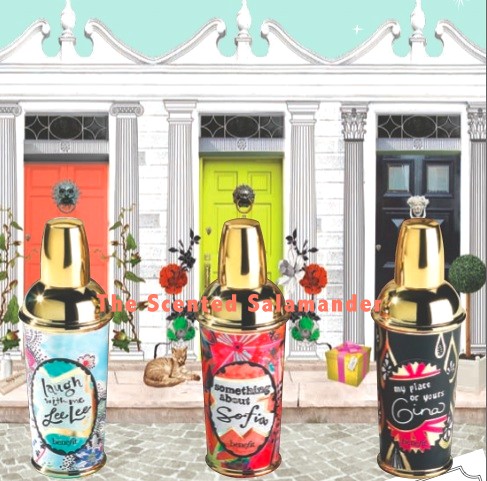 This is an advance review of
Crescent Row
, the new triptyque of perfumes by
Benefit Cosmetics
to launch next month.
In the past, the brand issued a debut fragrance titled
Maybe Baby
followed by
B Spot
in 2008.
The new collection is more ambitious in terms of story-telling around the scents and is inspired by the creative and whimsical vision of sisters
Maggie
and
Annie Ford Danielson
, daughters of co-founder
Jean Ford
and nieces of
Jane Ford
....
Maggie and Annie were visibly taken by the striking rationalist and symbolic architecture of
Crescent Row
in Georgian Bath in England. They dreamt up three parallel feminine universes to transcribe their impressions into perfumes. The row concept was used to create three perfumes representing three different kinds of women living as neighbors in three imagined interiors in Crescent Row as in "a Georgian twist on Friends", to quote myself. Each has very characteristic personalities, home decors and perfumes to adequately represent them.
The Eaux de Toilette were created together with
François Demachy
of
LVMH
as well as the companies
Robertet
and
Firmenich
.
The press materials offer their own interpretation of who LeeLee, Sofia and Gina are but I thought that it would be amusing to try to decipher them mainly through personal olfactory impressions of the perfumes.
None of the perfumes take themselves seriously but they are more complex compositions than the previous Benefit offerings. All three reveal common notes of cosmetics powder and alcoholic beverages to tie in with the brand's image and the perfume bottles directly inspired by a vintage lady's cocktail shaker from the Jazz Age exhumed from the sisters' grandmother's home. The symbolic aspect of the number three cannot be missed as it also encompasses three generations of the family that created and continue to nurture Benefit.
I have kept the order in which the perfumes are presented by the label because, as it turns out, they range from lighter to deeper with the added twists that the drydowns appear to be the reverse of the expected longevity, going from more lasting to less lasting.
Laugh With Me LeeLee
The perfume described as a "
woody floral
" starts with a soft floral and aqueous opening with a nuance of powdery musk. The perfume becomes very quickly fruitier, fresher, with a heavy-lidded floral-carnal facet to it all at the same time. I am reminded in a very distant manner of the sensuality of My Sin by Lanvin but as if filtered through the perception of a girlier and more modern personality....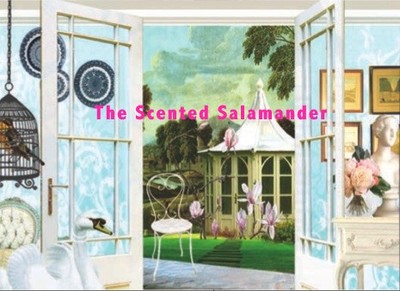 The composition is a complex and subtle floral bouquet with more than a hint of tartness and an exotic appeal that reminds me also of the smell of Chinese soaps labeled as bamboo soaps. What is noteworthy with LeeLee is how fast the different stages of the perfume follow each other like clouds chasing each other in the sky as if there were no time to waste. An underplayed vanilla impression adds a little bit of sweetness to the bouquet.
The main attraction of this floral perfume is how it smells almost bad in an artfully created effect of intensity verging on the scent of rotting flowers (for those who know Divine, think of the overripe chypré peach in Divine by Divine). The melon and blackcurrant contribute to this decadent effect rather than appear on their own. Some people just live for this kind of olfactory contrast and play-with-limits. It is a little unexpected to see this type of coventionally perceived daring accord appear in a mainstream perfume but the ground was perhaps prepared by designer perfumes like Black Orchid by Tom Ford, which after all scented many a mall corner at one time. Here one notices afterwards the mention of a "black violet" note.
After that the perfume becomes rather linear but maintains that main, interesting olfactory imprint with a little bright side to it as in a simplified chypre effect. Like all three Crescent Row perfumes there is a whiff, like a hidden signature, of the smell of cosmetics powder or lisptick and a subliminal impression of alcoholic cocktail. Very nice musky lily long drydown.
LeeLee is the perfume of the three that I see most easily be adopted by women outside of the target demographic group thanks to its bedroom-eyes facet and hint of sophistication.
Personality reading from the perfume
: LeeLee is both innocent and sensual. She is also dynamic, bright as a penny, practical, clear-headed. For right now she is living her bachelor's life in a speed fashion as she wants to get done with her studies and career goals before settling down. There is also a more intimate sensual and complicated side to her that she is holding under leash. Her no-nonsense side and her feminine sensual side can come together in this perfume instead of creating tension in her.
Benefit prefers to stress LeeLee's ingénue character, her lightness of being and her capacity for laughs and love.
Notes: blackcurrant, melon, citruses; black violet, lily, jasmine; blond woods, amber, sandalwood.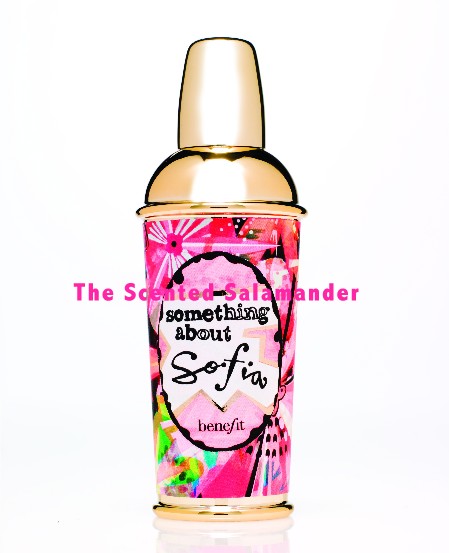 There's Something About Sofia
Sofia is presented as a "floral oriental". The scent first reveals fruity notes on sugary amber with a slightly raspy whiff of detergent musk. A feeting orange-colored lily appears once you know it's there. As the perfume develops it takes on a more marked nuance of stewed apricots (mango in fact) and jammy sweetness. The colors of the fragrance evoke an atmosphere of deep orange (orangey lily as it turns out) to golden fruits lit by the mellow glow of acajou wood pannels reflective of an intimate lighting or a dusky setting. The atmosphere is a little autumnal. Discreet touches of berry tartness add a little understated zestiness and lift to a blend that becomes more characteristically muted and heavy like thick velvet curtains as the deep accents of ambergris unfolds. A faint nuance of eggy meringue appears in this main association of deep, slightly powdery amber and fruits all going in the direction of a salty caramel-y immortelle. In the midst of this grownup, quiet ambiance, one can detect more whimsical touches of artificially scented rubber and cosmetics powder. Further nuances of fresh muguet, black licorice and of a modern note intrigue while continuing to keep the balance between deep and amusing. It smells interestingly like candies paper wrap rather than literally of candies themselves -- in fact, I am starting to visualize retro chocolate candies from the ex-Soviet Union. The perfume as it enters its lingering stage starts to bloom like a giant woodsy lotus flower (it smells a bit like lotus tea). The drydown is warm, pruney, tart and exotic like of vision of China. I seem now to pick up on a whiff of alcohol. Then a musty-book smell. A hint of anise. The drydown is woody and powdery with a good dose of Tonka, all making for a more introvert mood.
Personality reading from the perfume
: Sofia is contemplative, romantic and complex. She likes nothing more than to cuddle up at home, read, and is one all for the civilized tea ritual. Her favorite musical instrument is the violoncello. She is serious but can be fun too. She loves to travel to distant lands and bring back exotic impressions that will nurture her inner life.
Benefit describes Sofia as being ethereal but real, mysterious, living in a dream more dazzling than a thousand novels.
Notes: mango, freesia; orangey lily, jasmine, peony petal; musk, white caramel, vanilla seed.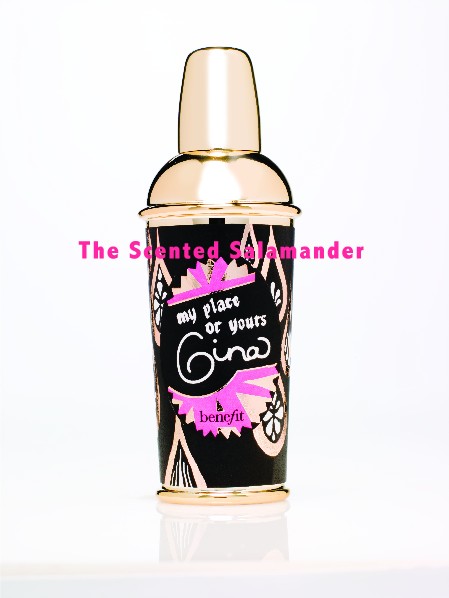 My Place Or Yours Gina
Gina is defined as a "woody oriental" with the woodsy facet being immediately apparent to distinguish it from the two others. The fragrance is woody with fruity and ambery notes, a touch of Angel-like patchouli and something that reminds me of Jose del Pozo in Black. The mandarin note is nicely contrasted as in the effect of a chocolate-covered candied orange peel. Here the fruits are also counterbalanced by more characteristic lemony and orangey notes. A cold, sharper accent was added with an accord that smells like a cold metallic knife. It feels as if some Margarita was mixed in this shaker complete with the sweet-salty taste of the rim of the eponymous cocktail glass. As the perfume develops it becomes warmer and more toffee-like with a dash of rum mixed with a shot of milk. The rummy softness is enjoyable.
Apparently Gina likes to hang out at the local Bath bar. There are masculine facets to her character as a light fougere impression surfaces as well as wan bay-rum spices, maybe the remnants of an embrace with a boy-friend or just the fact that she likes her perfumes to be a bit masculine. On another try I am more struck by the softened patchouli impression.
Personality reading from the perfume
: Gina is the wilder of the bunch. She is a party girl, an extrovert, and not exactly a romantic although she has a soft, child-like side to her. More of a man-eater, she can sever her ties to men with the help of a heart of steel and the blades of inox she uses to cut the lemons that life delivers to her as well as some Margarita dabbed behind her ears. Like her feelings, her perfume does not stick around for ages. Sillage is more important than depth. "Next" is her motto.
Benefit says that Gina is a femme fatale, seductive, a head-turner and a party-girl.
Notes: pink pepper, bergamot, mandarin; peony, wild raspberry, white lily; patchouli, tonka, vanilla seed.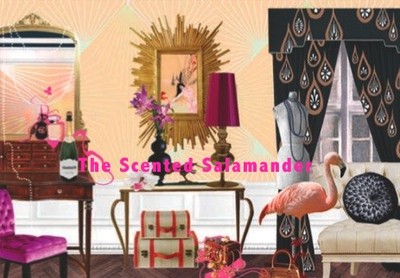 The perfume packaging of Crescent Row is a big point in its favor. The bottles and boxes by
Ateliers Dinand
are cute as hell. The cocktail-shaker flacons do not feel flimsy but have a nice heft to them. They were visibly designed to be displayed as vanity items which they can be thanks to the opaque, gold-covered glass which will protect the perfumes from damaging light. They in fact look a little like retro nail-polish bottles (hint, hint...) The fragrances themselves are decent to more than decent, especially for the price point of $36 for 1 oz (36 € in Europe). I think that women who are more into beauty and Benefit addicts will probably be swayed by these new additions. For a more perfume-oriented person, it seems that LeeLee's floral heart and sillage are noteworthy as well as Sofia's autumnal stewed fruit quality. Even Gina, after all, has some charm although I prefer her deco sense to her perfume a priori. But who knows, maybe a relatively more unassuming perfume is required on a flamboyant personality, otherwise it is just too much. One can sense some room for play here.