Clinique Happy-To-Go Perfume Pencils (2008) {Shopping Tip} {New Perfumes}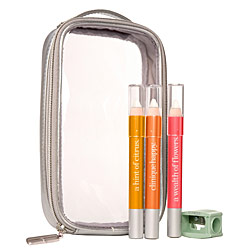 Clinique
have come up with the cool concept of non-liquid perfume pencils. Easy to carry and to apply without staining or scenting your fingers, you are invited to layer the scents as well to concoct your own private blend, the one that works best with your natural skin scent or your mood....
The three perfumes are
Clinique Happy
in its original version plus two new ones,
A Hint of Citrus
and
A Wealth of Flowers
.
Does my critical eye detect a pencil sharpener without a hood? It would have been even more practical to provide a storage solution for the pencil shavings!
The set is a limited-edition and available at
Sephora
for $30.