WienerBlut Klubwasser (2009): For the Love of 19th Century Vienna {New Perfume - New Line}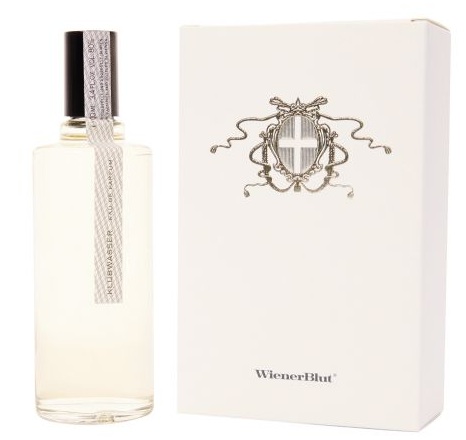 WienerBlut
is a new Austrian perfume brand interested in resurrecting popular bouquets that were worn on handkerchiefs in 19th century Vienna like the modern survivor Mouchoir de Monsieur by Guerlain. It takes its name which literally means "Viennese Blood" from a waltz by Johann Strauss II created in 1873 which was reportedly on every Viennese's lips. It ultimately also became the title of an operette-anthology of Strauss's work in 1899.
As we can see this is a very Viennese affair,
"WienerBlut is an Austrian label dedicated to the production of authentic luxury goods of Viennese provenance."...


To emphasize the point further, the perfumes that will be launched by the brand are said to be manufactured and bottled locally and to use traditional perfumery methods.
A luxury edition is available called the Lobmeyr Edition based on a 1835 crystal bottle model by Josef Lobmeyr.
The debut perfume
Klubwasser
(Club Water) is described as a unisex perfume with notes of oakmoss, green leaves, black cumin, freshly mown hay, caraway. The scent has a "rich green base".
From the advertising copy,
"KLUBWASSER is the first project in perfumery by Viennese label WienerBlut.
It kicks off a series of fragranced waters based on "Taschentuch-Parfuems", popular bouquets of 19th century Vienna, originally applied to handkerchiefs, a fashionable accessory of the time.

KLUBWASSER, german for "Club water", is an elegant, unisex eau de parfum inspired by classic, ample colognes of the Belle Epoque. It is based on WienerBlut founder Alexander Laubers research in antiquarian bookshops and the national archives followed by countless experiments with authentic recipes and original ingredients. A spicy, rich green affair composed of oak moss, green leeves, fresh cut hay and black caraway, KLUBWASSER is produced in compliance with traditional perfumery methods in Vienna, using natural essences only.

It is bottled and individually sealed in a recyclable 100 ml splash flacon."


A 100 ml bottle is priced at 95 € and available at
Colette
. More details available on the
Wiener Blut website
.