Amouage Epic for Man & Epic for Woman (2009) {New Perfumes}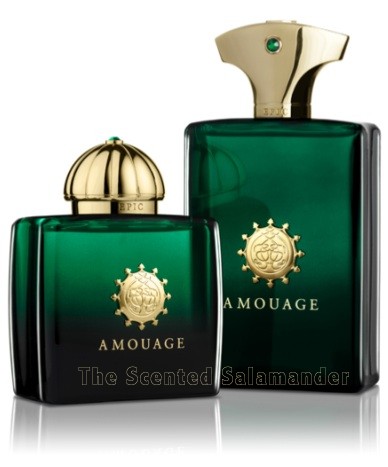 From the house of
Amouage
comes yet another operatic duo inspired by Turandot and new this time, by the fabled history of the Silk Road. The fragrances want to express the historic connections that existed and continue to exist between the Arabian and Chinese worlds. Oud and tea notes, in particular, reveal the material and olfactory intertwining of two civilizations that have impacted the rest of the world.
Epic
is the name that was chosen to reflect the common sensibilities of a region where heroic histories are memorized, sung, and improvised over the generations, and empires built,
"Inspired by legends of The Silk Road, the fragrances meander through an evocative
and vivid journey as each fragrant and unexpected layer is unveiled. Simultaneously
elemental and ethereal, the fragrances recall the heat of the earth, the heady spices
carried by The Silk Road traders and the myriad magical cultures through which this
legendary trade route passed...





A Chinese Islamic calligraphy by master calligrapher

Haji Noor Din

where you can see the Sino-Arabian symbiosis



Central to both fragrances are the redolent essences of Oud and Tea, both precious
commodities that were introduced to new cultures along the Silk Road, and which in
turn harmonise and contrast beautifully in Epic.

Epic's striking Jade green bottles are inspired by the use of Imperial Jadeite in the
Orient, which was believed to provide protection from evil.

Epic Man unfurls with essences of Pink Pepper Berry, Cardamom, Saffron and
Nutmeg, creating a powerful and complex range of top-notes. The heart-notes
feature Geranium and Myrrh and evoke the floral splendour of an imperial court.
The base-notes of Oud, Wood, Leather and Patchouli are layered with Castoreum
and the House's signature use of frankincense.

Epic Woman opens with silken top-notes of Cumin, Pink Bay and Cinnamon, which
blend smoothly into a romantic, floral heart of Damascene Rose, Geranium and
Jasmine. Rich base-notes of Amber, Vanilla, Omani Frankincense and Orris
complement and balance the more masculine essences of Patchouli and Oud in the
intriguing and unique finale."




Epic Woman 50ml Eau de Parfum £135.00
Epic Woman 100ml Eau de Parfum £165.00
Epic Man 50ml Eau de Parfum £115.00
Epic Man 100ml Eau de Parfum £145.00
In the UK, Epic will be available from September at
Harrods, Selfridges, Les Scenteurs, and online at
www.amouage.com
(Via press release)