Guerlain Idylle: The Slow Unveiling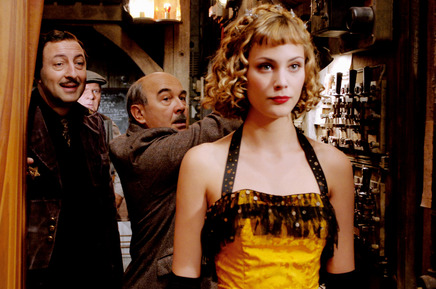 Nora Arzeneder in Faubourg 36

As we discussed
previously
, Idylle is the next big Guerlain launch for women. It is not quite out yet as the official date of release is September 14, 2009 but the internet as always very indiscreet has made sure everyone caught glimpses of the upcoming perfume. Today WWD is offering a more "official" report yet still withholding the ad visual which can be seen on numerous sites on the net as well as a comprehensive list of notes.
Here is what we are authorized to know, today. I excerpted some details that are sort of interesting to retain from a historic perspective beyond the marketing speak of Idylle being aimed at all women and young women in particular...
Idylle is presented as the first fragrance done entirely under the responsibility of freshly hired in-house perfumer
Thierry Wasser.
We are told that the only constraint handed out to him was that the scent be a floral. Guerlain themselves consider that
Jardins de Bagatelle
(1983) is their last foray into this genre.
Key notes and accords are: Bulgarian rose, jasmine, freesia, lily of the valley, peony, chypre and musk.
It's the executives at Guerlain who chose Nora Arzeneder to be the face of the perfume after watching the movie by Gérard Jugnot, Faubourg 36 which takes place during the occupation of Paris.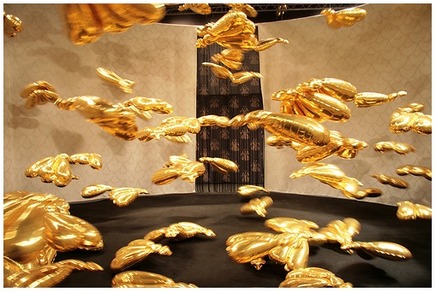 A bee rain display created for the 180th anniversary of Guerlain in 2008 by
Sébastien Claudet
The creative hook for the bottle design by Ora Ito was the mention by Wasser of "a golden rain" which led to its shape as a golden drop of perfume. This ties in nicely with the golden bees that are emblematic of Guerlain bottles and is reminiscent of a display Guerlain had created where you could see golden bees seemingly falling from the sky, like rain.
The perfume will debut on October 1, 2009 everywhere except France where it will launch on September 14.
"In France, a 35-ml. eau de parfum spray of Idylle will retail for 59 euros, or $84.80 at current exchange; the 50-ml. eau de parfum spray, 80 euros, or $115, and the 100-ml. eau de parfum spray, 116 euros, or $166.70."
Via
WWD