Comptoir Sud Pacifique Vanille Extreme Aqua Motu, Aloha Tiare EDPs (2009): Higher Concentration {New Perfumes} {New Flacons}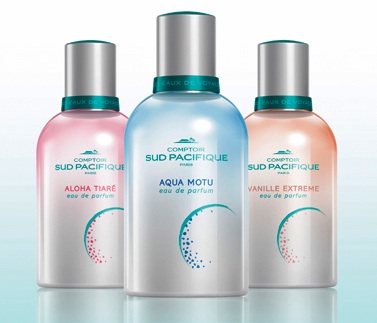 Comptoir Sud Pacifique
have issued three of their perfumes in higher concentrations or Eaux de Parfum this fall:
Vanille Extrême, Aqua Motu
and
Aloha Tiare
. The signature aluminium bottles have also been replaced by glass flacons to underline the change.
Vanille Extrême
is said to be a rich harmony of gourmand notes with vanilla underlined by a hint of caramel and a cocktail of white musks...
Aqua Motu
features accords of marine breeze, hot sand and rich musks. Notes are: Everlasting flower; ocean accord, lily of the valley, hot sand; sea weed, musks.
Aloha Tiare
is a tropical floral with notes of frangipani leaves; tiare, ylang, tuberose, patchouli, water flowers; monoï, coconut, benzoin, vanilla, musk.
Each 50 ml spray bottle is priced at 55 €.