Helena Rubinstein Wanted (2009): Are You Wearing a Cherubato, a Lactone, a Milky, an Angel Milk, also called in French a Lait d'Ange ? {Perfume Review & Musings} {Celebrity Fragrance}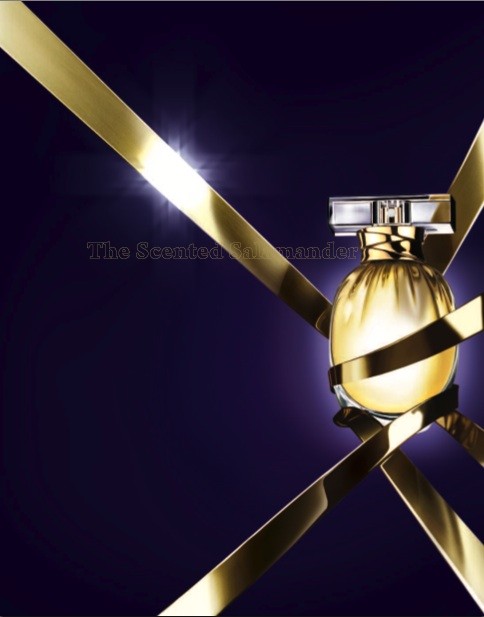 Helena Rubinstein Wanted
was first launched in August 09 in Paris at the Printemps and on November 5 in the US. I thought, walking into the department store back in the summer, that it was worthy of a bottle purchase for a blog review, then got a richly illustrated press release, then left on a holiday, then smelled a string of milky fruity-florals in between now and then.
I feel at this point as if it requires a certain amount of discipline, even stoicism, not to falter at the mere thought of having to review one more milky-floral (I am channeling the Stoics here). It is unfair to Wanted, because my initial impressions of it were fresher (it's a good thing I jotted down my impressions then).
Fortunately, I have been used in my past to doing tedious, repetitive and necessary systematic gathering of anthropological data and this is no different in a sense. So I try to remember how exciting it felt to ask the same questions for the umptieth time because I was getting closer to the bigger picture. But that was when I was interested in detecting patterns and regularities. With perfume, it still remains interesting and even necessary for me to look at it from a social perspective -- I have been doing that from the start of my blogging days -- but since there is nevertheless this floating idea that creativity is expected and even encouraged, it feels at times downright grueling.
Are You Wearing a Cherubato
,
a Lactone, a Milky, an Angel Milk, also called in French a Lait d'Ange
?
Having said that, one has to temporarily conclude that the milky fruity-floral has become a genre in and of itself, like chypre is. We can be playful and propose names for it: a cherubato (cherub + rubato), a milky, an angel milk. I cannot imagine that with the number of, nay, the onslaught of releases in this category, it could be considered just as an accident of taste.
One of the early, isolated then milky perfumes was Yin by Jacques Fath (1997) created by perfumer
Anne Flipo....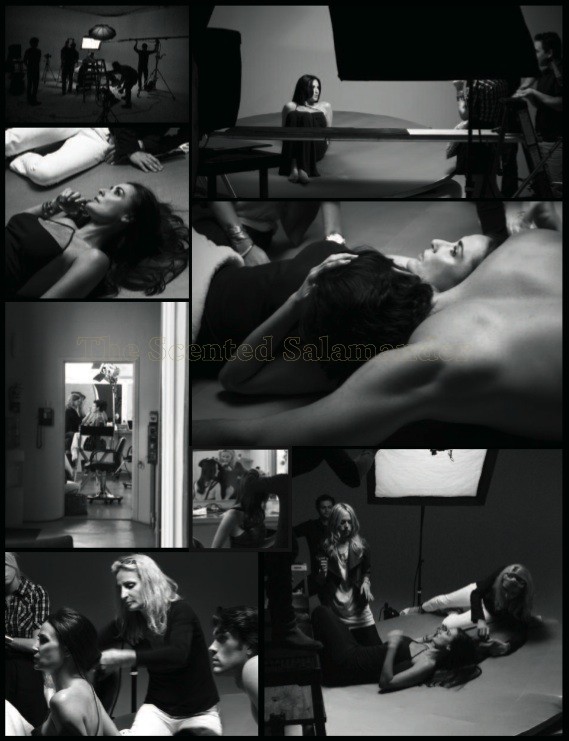 The movement has only since then amplified in mainstream to niche perfumery alike.
Nowadays, Methyl-Laitone 10%, an aromatic molecule introduced by Givaudan ca. 2006 is used as a powerful diffusive agent wafting of milk and is usually paired with flowers like jasmine, tuberose, ylang or gardenia, or with sandalwood to bring out its milky facet. With tuberose for example, it often takes on a coconuty hint. It goes well with peach and osmanthus too. Methyl-Laitone 10% is valued by perfumers for bringing "cosmetic body" to the scent of certain flowers.
On a more sociological and aesthetic plane, milk is good, milk is sexy, milk is comforting, milk is a way to impart the dew of youth, the suggestion of purity to your perfumed personality (see Zadig et Voltaire
Tome 1 La Pureté
created by Nathalie Lorson). There are the classic milky notes of sandalwood and ambergris which are referenced here, and there is the modern milky note of a glass of milk, a ladle of condensed milk, a cup of egg-nogg. There are also the less literal creamy and buttery floral notes of gardenia, magnolia and their likes.
Wanted is all three kinds of milky. There is ambery and woodsy milkiness, egg-nogg milkiness, magnolia milkiness, which makes it a milky-floral for this new type, the mature-young women as hinted at by the presence of
Demi Moore
, the youthful 47 year old actress gracing the advertisement of the fragrance who is married to a man much younger than herself. I prefer to refrain from using the derogatory term "cougar" but will mention it just to show that there is something interesting going on with the perception of age differences in a society which is able more than ever to keep the glow of youth longer.
Wanted opens on gourmand pastry notes with hints of meringue and macaron followed by an egg nogg/vanillic accord with a counterpoint of rubbery, mineral and salty musk and a wisp of leather. Think an elegant whip with crumbs of slightly sticky macarons left on it by an impatient female rider who dismounted in front of the buffet in the entrance hallway of her castle and hurriedly lashed at a plate of macarons to make them jump up to her faster. On an ulterior reading of the scent, I detect fruity accents with a dash of cool anise.
The opening appeared to me at first to be very commercial, disappointingly so, current and safe especially for a comeback-perfume by Helena Rubisntein The perfume visibly wishes to lasso in from the get-go a broad spectrum of consumers who like their scents sweet and cuddly and have been raised on milky fruity-florals. There is also a clever tying-in with the macaron theme of the Wanted makeup line for fall-winter 2009; the ad portrays a luscious amethyst-colored macaron. Those little pastries have become the it things and have invaded the sphere of luxury like a hail of precious flying saucers. Louboutin is even both putting his name on Ladurée macarons this winter and on champagne. In Paris at least, macarons have reached iconic status.
Beyond this general assessment, a vaguely familiar yet hard to pinpoint sensation at first finally becomes more precise: Wanted offers a nod to Vera Wang Princess's rummy egg nogg facet. This may not be just a coincidence as Demi Moore the spokesperson for the fragrance is reported to wear the perfume with complete disregard to the targeted demographic group.
Here one is tempted to pause and muse that the vast contradiction of the market is to ascribe youthful perfumes to young women when they want to smell more adult and possibly dowdy perfumes to middle-aged women when they want to smell possibly younger. How about we do away with age distinctions as another constraint inherited from marketing strategists?
After this "regressive" opening as it is called in the perfume industry, the scent evolves into a woodsier, spicier direction where the milkiness becomes more that of sandalwood, which has that facet, and less that of toffee-flavored baby bottle of milk.
Wanted is said to have been initially motivated by the idea of creating an abstract magnolia-wood accord, a figment of the imagination that requested an interpretation. Spicy sandalwood, dry and soft cedar mingle with the creamy white floral. The cream itself rests in fact on a woodsy note as the press release describes this accord as "cream of iris", iris being both floral and rooty/woodsy. Perfumer
Carlos Benaïm
fell in love with the scent of a magnolia tree while on a walk and proposed this point of departure. The fragrance is co-created with
Dominique Ropion
, who seems to have contributed the ambery oriental base and the refreshing anise as they remind me of some of his perfumes. At this stage, the perfume becomes more mature, sensual with a constant spicy crest that adds interest to a blend that could otherwise feel too stereotypically juvenile or bland. Sexy notes of ylang ylang and ambergris add depth.
Like a butterfly emerging from its chrysalid, the scent of magnolia slowly emerges from the canvas of a Vera Wang princess having tea at Ladurée. Wanted then becomes more lightly floral and ethereal, more sophisticated too even managing to transform the egg-nogg accord into a suggestion of more abstract booziness and sexy flirtation.
The clinching point for me is the third stage of the fragrance in which the scent becomes more fully sensual and feminine creating an impression of warm sexy skin hovering between urban elegance and beach hedonism. The creamy and spicy sandalwood is worked to feel very feminine reminding me conceptually of Samsara by Guerlain. You can just imagine the perfume wafting in the trail of a beautiful, polished woman attuned to the pleasures of life.
Wanted presents an excellent synergy with the perfume bottle which is both simple and sophisticated, very American-chic to my eye, with an 80s Dynasty vibe to it. The jus in the flacon beautifully captures the light and is a pleasant, optimistic light gold matching the gold bangles worn by Demi Moore. The actress was initially going to wear a ribbon on her wrist but the bottle designer Hervé Van der Straeten decided instead to have her wear a set of gold bangles to echo the bracelet motif on the bottle.
Wanted is for persons who put emphasis on shopping for sexy and feminine scents rather than on a groundbreaking, arty fragrance. It celebrates femininity and belongs to this category of relatively self-effacing perfumes that want to be pedestals for the feminine ideal, to her skin, rather than an art work looking for people who understands it.
The only thing that will require an effort is to realize how little innocent and spontaneous this milky floral is, how socially and artfully constructed it is.