Balenciaga Paris EDP: More News {New Perfume}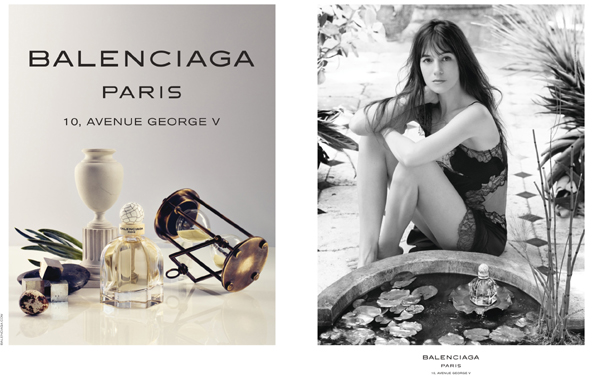 Balenciaga
decided to launch their new perfume
Balenciaga Paris
which signs their return to the fragrance world in London yesterday on December 1, 2009. Coty Prestige UK Managing Director Liz Garrett stressed the importance of the event by calling it "
The birth of a new house
." The new fragrance, a "violet chypre" is presented as the fulfillment of a 10-year-old dream by Balenciaga artistic director Nicolas Ghesquière who had been wanting to rekindle the perfume identity of the brand ever since his first days at the couture house...
Olivier Polge is the perfumer behind the scent. Coty Prestige Senior Vice President Commercial Jean Mortier said,
"The violet was worked as a major note, in a vertical dimension, focusing on the natural, green, fresh aspect of the flower and its leaves,"... "It is unusual in perfumery, [which] usually explores the powdery facets of the violet."


The debut fragrance for Balenciaga in 1947, Le Dix, named after the 10, George V address was also a violet fragrance, classified as an aldehydic violet.
The perfume is positioned in the "upscale designer category."
Actress Charlotte Gainsbourg poses in the advertisement shot by Steven Meisel. As is compulsory in adverts now, her appearance has been photoshopped to make her look younger, more classically pretty and cute than she is usually. Ghesquière's muse has been stripped down of some of her interesting, less conventional attributes.
"Balenciaga Paris will be available as a 30ml edp (not in travel retail), a 50ml edp and a 75ml edp. The recommended domestic price points are €57, €75 and €94, respectively. The ancillaries are a 200ml shower gel and 200ml body lotion, priced at €37 and €40. "
Via
The Moodie Report