Comme des Garçons x Daphne Guinness Daphne (2009): Rich Hippie with Beer Tastes {Perfume Review}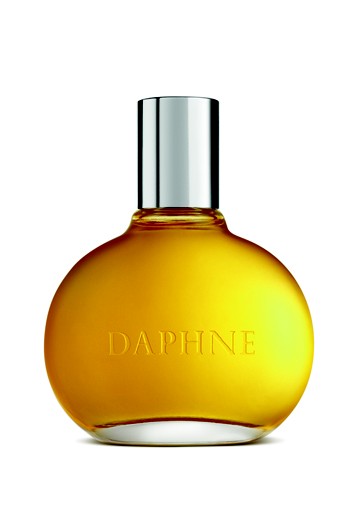 Daphne Guinness is wealthy, her sartorial sense eccentric. She does not seem to give a damn what the trends are and what other people think. Although come to think of it she always does seem to wear the right on-trend platform shoes to attract photographers' attention towards her silhouette elevated on a pedestal.

I expected her debut fragrance Daphne to be a rich potion, a highly personal design worthy of her public persona.

The perfume turns out to be personal but to be highly unoriginal. I have no idea how a perfume which I expected would be for champagne taste, redolent of expensive oud and precious oils at a high concentration, ended up feeling like a construct for someone with beer tastes perfume-wise and a nostalgia for strapped-for-cash-beatnik scents...


<img alt="daphne-guinness-nov-09-B.jpg" src="http://www.mimifroufrou.com/scentedsalamander/images/daphne-guinness-nov-09-B.jpg" class="mt-image-center" styl
Hmmm, well, after all, isn't Guinness a beer brand? If they were disconnected from the popular touch they wouldn't be a beer-brewing dynasty. Isn't Paris Hilton her colleague celebrity fragrance-maker a rich heiress too who has a tendency to market subpar fragrances? Why did I think Guinness would beat the odds?

First of all, there is the creative umbrella provided by Comme des Garçons.Then there is perfumer Antoine Lie who created the perfume under Daphne Guinness's guidance in collaboration with creative director Christian Astugevieille who said to WWD,

"She always picked the most prestigious and expensive ingredients," added Lie. "We've taken classic ingredients and arranged them in a way that is very modern."

After smelling the fragrance, I am wondering about the hidden irony contained in this statement. Did Guinness always choose the expensive ingredients but CDG had to replace them with equally powerful yet cheaper synthetics to make business sense? The very modern structure alluded to here is called DIY.

My high expectations and Icarus flight were thus short-lived as I landed on the hard Paris pavement. Daphne is perhaps a meta scent for some. For me, I experience no effect of distance. It smells literally of cheap headshop-y patchouli, followed by an equally cheap and brassy tuberose. Only the iris in the base seems a bit more elegant. The perfume's general aura is as subtle as that of an elephant playing the trombone in a drawing room. I gasped, I winced - repeatedly at that - I couldn't believe how uncouth and cheapo the perfume was.

Fragrance for Guinness we are told is all about memory. She even directed an arty movie inspired by the perfume on a dedicated website entitled The Mnemosyne Project. She said,


"For me, [scent] is time travel. It takes you away from the everyday and you are transported to something in your past. It's a very mysterious thing. It's magic."


The only thing I can think of when following the scent's development is how uncannily it transports you back to those days when you were a teenager and occasionally caught whiffs of so-called Indian oils and incense sold in hippie shops. I am not too far off from the mark apparently as Daphne Guinness herself explains that she loves to blend oils which she buys in "Markets and New Age shops."

Indeed, Daphne the Eau de Parfum seems faithful to its muse's perfume proclivities. It gives off an amateur blended-oil vibe. I think that Antoine Lie here followed the scent personality and tastes of the socialite. The fragrance is very strong in an unpleasant, synthetic way.

This celebrity perfume for an upscale niche market is oddly perverse. Why go to all this extent to reproduce some kind of Krishna oil priced at $3?

Going back to the problem of the scent being like a Walkyrie in dreadlocks delivering her Hare Krishna chant at the top of her lungs, Guinness herself tells it all: she loves atomic-strength smells. A room she visited once still held her smell "a year later", effortlessly, just like that.


"WWD: So what do you smell like?

D.G.: I don't know. You'd have to ask someone else that. [But I do know] that I smell quite strong. The other day someone said they have a room [I was in] that smells like me a year later. [my emphasis]

WWD: Can you describe the scent you wear?

D.G.: I have all these different oils and what I'll do is cover myself in one thing and then I'll spray another thing and then I'll have absolutely no idea [what I have on]. But it's pretty much always a woodsy and kind of jasmine-y, tuberose-y, sort of thing." [my emphasis]


Daphne EDP corresponds exactly to those characteristics described above.

This is a scent for you only if you are a mega fan of Daphne Guinness or of The Road with No Return to Kathmandu, the next installment in The Mnemosyne Project. Actually, I shouldn't say that because Kathmandu smells much nicer.


Opening notes: bitter orange, incense and saffron.

Sustained notes: rose centifolia, Tunisian jasmine, tuberose and iris notes

Lingering notes: patchouli, oud, amber, vanilla.