L'Artisan Parfumeur Al Oudh (2009): Taming The Oud or a Black Panther Turned Tortoise {Perfume Review}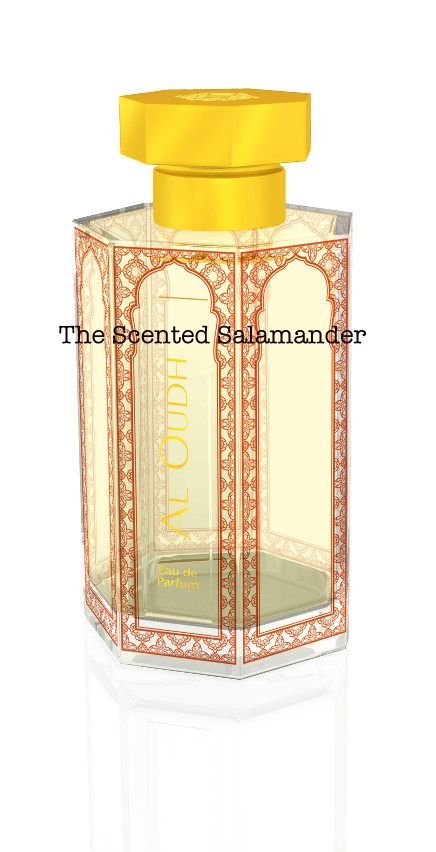 The latest work for
l'Artisan Parfumeur
by
Bertrand Duchaufour
,
Al Oudh
, is an attempt it seems to capture the authentic, traditional personality of oud or agarwood (some of its other names are listed
here
) while taming it in advance in the bottle for those who might be weary of the power of the material or not know how to apply it with the discretion required. At the same time this may just be a handy rationalization to review a low-intensity oud, a condition to which the material is de facto, it might be argued, forced by its price. It is however the combination of sotto voce
and
sustained qualities here that made my perception of the scent turn into a more positive one.
There is some discrepancy between the brand's promise of a "
dense
" oud perfume and the more attenuated quality of Al Oudh even more on paper than on skin. The rich list of notes made you anticipate a perfume nearly as thick and deep as a night in the desert with ingredients such as date, leather, castoreum, civet, myrrh (please see full list of notes at the end of the article). You anticipated a flight of fancy taken via the orientalist genre by perfumer Bertrand Duchaufour. But what strikes you initially is that Al Oudh betrays a conventional bon-ton, dry, woodsy, urban, niche perfumery feel familiar to those who wear Comme de Garçons fragrances, which makes it feel overly coded at first; Duchaufour has in fact composed several perfumes for Comme des Garçons. It makes you suspect that oudh was kidnapped in order to reinforce this standard-issue edgy accord and make it a little bit more daring (insert tremolos). You think of Al Oudh as a "hipster oud" at first.
After letting the note express itself from beginning till the end and getting a fuller sense of the personality of the perfume overtime, I now see it more as an accomplishment to have managed to preserve the personality of oud intact over so many long hours of development. Compared to other oud perfumes, it seems that Al Oudh by L'Artisan Parfumeur claims to be both authentic-smelling and easy to wear. The composition is not very expansive, but at the same time its sustained quality is well-controlled and modulated coming across in the end as remarkable.
If we take the analogy of Aesop's fable "The Tortoise and The Hare", this would be a tortoise-oud with the twist that oud is fundamentally and by nature a stealthy black panther turned here into a slow, tenacious tortoise endowed with a focused sense of finish thanks to the perfumer. It's here at the start and it's there at the end when other oud compositions have fallen by the wayside after offering their fireworks. This slow-burn movement is what makes it special...
Tame Oud or Taming the Oud?
The unopened bottle of Al Oudh already lets escape an invisible and sensuous trail of sweet rose, oud and saffron reminiscent I realize after a while of Czech and Speake No.88. It's that same sweet, almost sugary facet with an undertone of powdery fougère à la Canoe and Brut. The amber feels seductive.
You wonder how strong will the perfume be when it's let out, if it already can send you olfactory signals a few feet away with a cap on and from the confines of a shut box?
The oud note when you approach your nose to the nuzzle is complex, medicinal and camphoraceous. It further smells of wet scotch whiskey on the rocks, damp leather, a whiff of dirty bodily indiscretion, a salty lick of saliva on skin, a hint of raspberry fruit, musty old books. It's an aroma that is at once sweet, animalic, boozy and being true to its natural origin, the result of a fungus infection, signals decay.
The perfume on skin opens on a cold blast of oud sweetened by the powdery silkiness of iris and the fruitiness of dates and raspberry. The amber is soft and mellow, medium dark grade. The perfume does not feel thick, heavy and opaque but is in fact understatedly transparent and aqueous.
The composition then releases a brief cloud of musky and sweaty cumin which subsides and fades into a calmer, less complex woodsy stage. All the alluring notes appearing in the official description contribute to a blended effect rather than to a multi-faceted construction.
The construction is rather linear after the more varied first impressions, which seems consistent with Duchaufour's sense of composition mixing complex top notes and mid notes but opting for more simplicity after that.
The surprise comes to me from the fact that this oud which seemed ready to leap out at you from the bowels of the flacon reveals a toned-down and even whisper-y quality on skin like the muffled sounds of voices heard within the walls of a cloister.
Bertrand Duchaufour seems to have wanted to harness and play with the diffusive power of oud. It is a material that generally speaking seems to have a rare capacity for surreptitious, stealth presence. One talks about the power of oud and it is the scent of God in Islamic culture. Oud seems to possess an uncanny ability to fill the space of a room almost as if it were a living thing with muscles. It does not evoke chemical strength but more that of a natural body in motion. Smelling it even from the closed quarters of the bottle it seemed to behave like a sillage-turned-animal. It was intrusive, sinuous, serpentine and aggressive in a sly manner but it was definitely slithering towards you in the air.
Oud does not wait for you to come near it, it comes to you with the instinct and the curiosity of a predator.
This persistent modulation of the oud here to me is the most interesting aspect of this work, which is not so much obviously original, eccentric, or even narrative and evocative in nature as revelatory of the art of the perfumer in a technical, reflexive sense. The perfumer has managed to turn the innate and symbolic dangerosity of oud -which can be compared to that of tuberose - into a discreet yet very persistent trail which authentically retains the form or spirit of oud from beginning till the end instead of morphing into a different sensation. Like a circus tamer, the perfumer reveals a knack for making the oud-animal present its paw gently and purr rather than growl while making it last indefinitely.
Al Oudh will disappoint some for its lack of flamboyance. This is no depiction of Lawrence of Arabia in technicolor on the background of an epic battle. Yet, it possesses this authentically wild, alive character of oud, a material seemingly endowed with animus and for that reason a bit disquieting.
Oud is this very dynamic, diffusive material and to have tamed it in this manner without killing its spirit comes across as a feat, a wearable feat.
Opening notes:
cumin, cardamom, date, pink peppercorn
Sustained notes:
rose, neroli, incense, saffron, leathery note, oud wood
Lingering notes:
Atlas cedar, animal note (castoreum, civet), sandalwood, patchouli, myrrh, vanilla, tonka bean
.