Penhaligon's Amaranthine (2009): The Artist as Critic: Blue Ozone, Horse Saddles, a House of Ill Repute & Freedom of Expression Regained {Perfume Review & Musings}
Amaranthine by Penhaligon's
Perfume Review
A New Path for Penhaligon's

Perfume cognoscenti will be able to remember the year 2009 as the time when the slightly retro-flavored barbershop-originated British house of Penhaligon's took a blatantly new direction with the launch of five unexpected perfumes created by nose Bertrand Duchaufour. Before that, Penhaligon's perfumes were far from being devoid of character or interest. See for instance the masculine rose soliflore edged with sulfur that is Hammam Bouquet. The house also makes no mystery of appreciating contemporary perfumers with avant-gardist sensibilities. Take for example Olivia Giacobetti's hiring to rework the variation Elixir Hammam Bouquet, whose own brand of perfume IUNX is sleekly modernist. In 2008, the Love Potion No9 perfumes were relaunched and Elixir introduced. This is when things started changing...


What appears different this year is the fact that perfumer Bertrand Duchaufour was officially advertized and apparently given carte blanche to create in his own style of perfumery rather than by following any beaten track marked by the stampede of the elephant herd, the vast commercial market. This is not to look down the nose at the commercial market and float the idea that designer and mass-market fragrances cannot be good. There are gems everywhere, there are unfinished drafts everywhere. Designer perfumes are in fact often more defining than niche fragrances.

Behind the Penhaligon's Victorian mask of propriety, their perfume names seemingly borrowed from The Language of Flowers or the dog-eared pages of an old house recipe book that Septimus Piesse could have held in his hands at one time - Extract of Limes, Eau de Verveine, Gardenia, Night Scented Stock, Amaranthine - Penhaligon's has quietly but surely reconceptualized their perfumes thanks to their intelligent approach. This discreet revolution has taken place inside the bottle. In this manner, we are witnessing the reverse process of what takes places frequently in the larger market: bottles change to signal change, the juice stays the same to cater to the conservative side of the nose. The wider market thus repeatedly proclaims its lack of confidence in its potential customers confessing that they do not have enough educated noses to discern the differences in perfume notes, yet always feel confident that the latest in design packaging will have the desired impact....
The blinded-nose paradox is that perfumes are sold to visually-oriented creatures first and foremost because it is easier to control the production of glass and plastic than that of raw materials. Harvests are much trickier. Aromachemicals too. The fragrance industry, in general, instead of attempting to strike a right balance between contents and form tends to give in to the enormous pressures created by the deep ramifications of Hollywood glamor culture. If the silver screen had been scented lushly from day 1 with the original Chypre de Coty, the masses would have been shaped by similar olfactory standards as the visual ones.

Penhaligon's creations this year are unconcerned with fooling the nose. If anything, they could be said to be fooling the eye. The quintet we see this year seems to dance to an altogether different beat than the one hummed by the pretty and prim pharmacy-inspired bottles adorned with dainty bows. If the flacons seem to be playing Chopin, Liszt, the Romantics, the juice is more like a dodecaphonic piece. The sense of classic harmony has been upset.

If all this frightens you and makes you think that Penhaligon's is not recognizable anymore, Anglophile faithfuls can feel reassured that at least one tradition persists, that of insular English eccentricity. There is a touch of the disjointed world of Alice in Wonderland in the new Amaranthine.
I am not privy to the manner in which the chemistry between Duchaufour and Penhaligon's fragrance team operated, but it is obviously as spiritually and carnally satisfying as a good love relationship judging from the balances of the fragrances that resulted from the collaboration.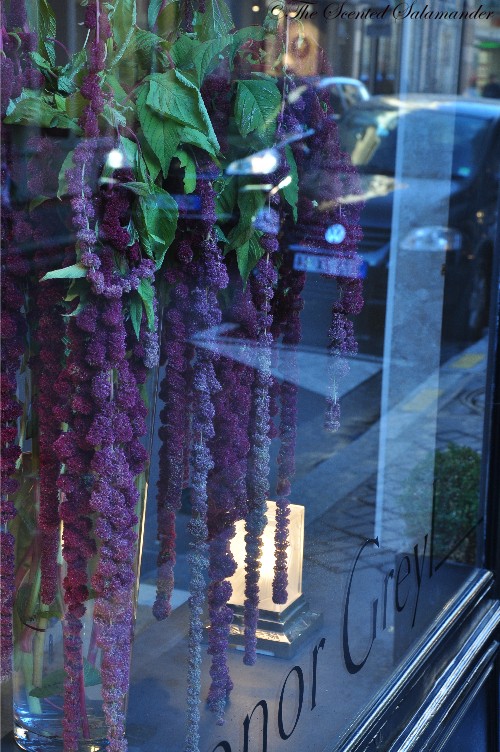 Amaranthine: A New Interpretation of the Ozonic Floral Leather Accord

The Name

Amaranthine was launched alone this fall and can be singled out for the choice of a highly symbolic name much beloved by poets; the distinction of a special-edition extrait bottle by jeweler Alex Monroe in Sterling silver and crystal; and a composition that deserves to bear an artist's signature in the right-hand corner of the bottle and to be appreciated with attentiveness.

Milton, once wrote about the flower amaranth,
"Immortal AMARANTH! A flower which once
In paradise, fast by the tree of life,
Began to bloom ; but soon, for man's offence,
To heaven removed, where it grew, there grows
And flowers aloft; shading the fount of life ;
And where the river of bliss, through midst of heaven,
Rolls o'er Elysian flowers her amber stream ;
With these, that never fade, the spirits elect
Bind their resplendent locks, inwreathed with beams."
Amaranthine is one of those highly evocative words that release a whole universe, once you touch them. Due to the bloom's capacity to fade without altering its deep purple hue, it was admired as a symbol of eternity, as a flower that never fades, in times when mortality was much more tangible and quotidian than it is today.
Guerlain in the 19th century is proof that the idea of perfumery's flowers was associated with that of transiency and death in the perfumer's consciousness, with fragrances baptized Verveine qui Meurt (Dying Verbena), Fleur qui Meurt (Dying Flower) and Fleurs qui Meurent (Dying Flowers), the last one to be issued in the 1920s, signalling the ebbing away of Romanticism and its voluptuous, morbid contemplation of death in the eye.
Amaranthine is also a reverse symbol for a perfumer used to feel more than others the death throes of flowers, the evanescence of their aromas released as they lie dying - while being at the same time an apt icon of the more modern Living-Flower technology, which allows you to catch the scents, this time of living flowers, while they are still breathing and alive.

Perfumers are moreover fascinated by abstract flowers that do not smell of anything or even do not exist. The most famous example is Kenzo Flower and its descendant in abstract, imagined floralcy, Kenzo Power. Amaranthine here is invoked as pure abstraction; the perfume does not even smell purple but rather pastel blue like Bluebell by the same house.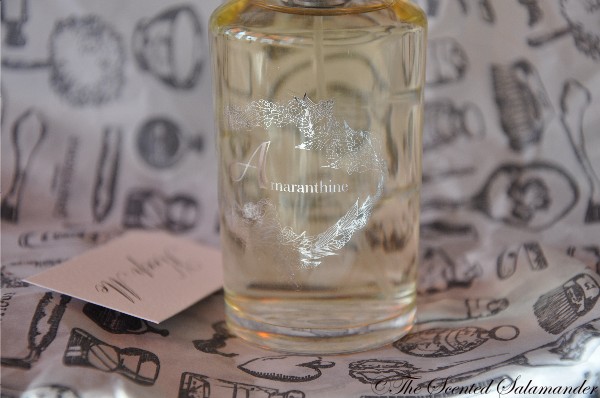 The Scent

What the press release says,
"Amaranthine opens with a dramatic flourish of spices and tropical green. This unsettling lick of drama is beautifully ambushed by an unctuous accord of jasmine and ylang-ylang, a heady bloom renowned for its aphrodisiac properties, and clove swathed in spices, tea, musk and the rounded beauty of tonka bean absolute."

The Eau de Parfum starts like a dreamy mist of transparent pale blue lilies, quickly followed by a fresh green herbal note while one can feel earthier underpinnings. Not before long, the perfume plunges into a deep sweet musky-leathery floral embrace only tempered by a soft leafy note, the scent of banana leaf.
After a raucous musky bout which could have been the perfume of Nana in Le ventre de Paris so evocative it is of a fully-licensed bordello, the perfume softens down considerably and becomes more linear in form. The effect is completely willed and controlled. I can only think of the breaking transitions and upset harmonies of a concert of contemporary music created and conducted by Pierre Boulez.
The most creative part of the scent, if I were to isolate one, is the development of a novel ozonic impression which seems to create the impression of a vacuum and of air being sucked out of the atmosphere as if air had become suddenly mute. The effect is quite strange and kinetic making you almost instinctively gasp for air and wanting to grasp your chest to help expand your lungs. This very experimental accord could be perceived as the artist's critique of the classic trope of perfume wafting on air, i.e., the sillage, the volutes of incense. It seems to say "down with Un Air Embaumé de Rigaud." Down with L'Air du Temps by Nina Ricci. Down with Windsong by Prince Matchabelli. Here Amaranthine seems to plunge for a time into a low-oxygene zone, like a dark hole having engulfed fragrance matter, while still developing its scent.
The perfume beyond these points of turmoil and eerie quiet is soft, green, herbal, floral, leathery, ozonic and metallic. I realize that the ozonic facet here is officially ascribed to a tea note.
A barnyard-scented undercurrent in the direction of L'Air de Rien by Miller Harris is a reminder that the smells of horses' stables, manure and leather saddles are to be appreciated.
While a note of condensed milk is listed, it is here for effect and not for show.
Bertrand Duchaufour confirms to me with this work his freedom of creation which seems to express itself more characteristically at Penhaligon's than at L'Artisan Parfumeur. Amaranthine offers a very contemporary style of perfumery writing. It completely subverts the traditional image of Penhaligon's but at the same time accentuates the English eccentricity tradition. Amaranthine is a little mad-hatter, but crossed with the metronomic precision of a Pierre Boulez.

From the perspective of the history of perfumes, one could see Amaranthine as renewing the ozonic genre in the context of niche perfumery, if that still holds any meaning (for me there is good and bad perfumery everywhere). It makes the ozonic accord feel both 1990s central and later-years-more subtle, even disappearing as stated above, endowing it with a dramatic presence rather than incorporating it as an overdose or as an "underdose". Dramatic, kinetic Calone with a measure of criticism embedded in it is 21st century and belongs to Duchaufour. At another yet meaningful level, the composition could be seen to be a homage paid to the floral ozonic leather accord of Dior Fahrenheit but with so many degrees of separation and rethinks in between them that the notion comes to you only after a while.

Amaranthine manages to be both a very original, thoughtful composition and a pleasurable one to wear. In it, one sees the artist as a critic at work.
Opening Notes
Green Tea, White Freesia, Banana Tree Leaf, Coriander Seed Oil, Cardamom Absolute
Body Notes
Rose, Carnation, Clove Oil, Orange Blossom, Ylang Ylang Oil, Egyptian Jasmine Absolute
Lingering Notes
Musk, Vanilla, Sandalwood, Condensed Milk, Tonka Bean Absolute