Salvador Dali Little Kiss Me (2010) {New Perfume}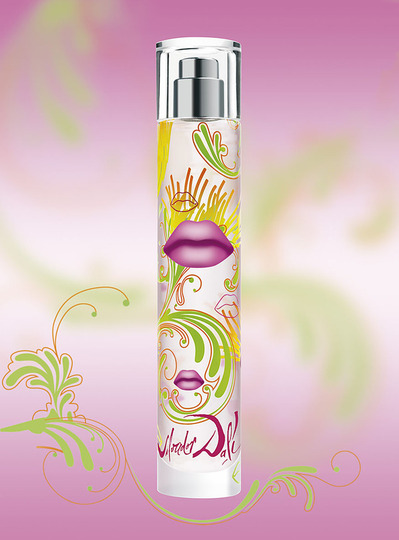 Parfums
Salvador Dali
will launch a new fragrance this spring for youngins and young-spirited women alike in April of 2010 called
Little Kiss Me
....
The perfume is meant to evoke the sheer joy of living in the summer, the carefree spirit that accompanies the season and celebrates colors as is evident from the art on the flacon created by young designer
Mikael Carriau
who already signed the bottle of Little Kiss.
The pout-y mouths floating in air are meant to embody flower-mouths in a Dali-esque summer garden. The inspiration wants to be festive. Young, as well, perfumer
Céline Ellena
of Charabot composed the juice, a floral, fruity and musky vibrato of notes - I think I got a little carried away here by anticipated summer bliss. She said,
"In LITTLE KISS ME, I adopted a joyful, lively and lighthearted signature to express the playful happiness that infects all women in summertime, tickling and titillating our senses in a deliciously mild effervescence." (Not my translation - French original after the jump)...
"Pour LITTLE KISS ME, j'ai souhaité exprimer, en choisissant pour ce parfum une écriture joyeuse, vive et légère, le bonheur espiègle que toutes les femmes éprouvent lorsque les beaux jours sont installés et chatouillent les sens en un sentiment diffus de douceur et d'effervescence."


Opening notes are: dewy nymphea (see also Guerlain Flora Nymphea this spring 2010), transparent, green and tender bamboo, mischievous, lighthearted grains of paradise (Brazilian floral pepper).
Sustained notes are: a spicy, pink and nonchalant peony; a blatantly femine magnolia; mysterious, exotic and sun-kissed passion flower.
Lingering notes: luxuriant and sophisticated iris powder; precious light woody scents; silky musks.
The perfume will be available from April 2010 at Beauty Success and other select perfumeries. The eau de toilette is priced at 28€, 39€ and 55€.
Salvador Dali is a perfume label that tends to fly under the radar so it is worth checking it out for hidden gems. I know I have found a few.
Via press release