La Cologne du Parfumeur by Guerlain (2010): Private Reserve + Sip it First, then Test it {New Perfume}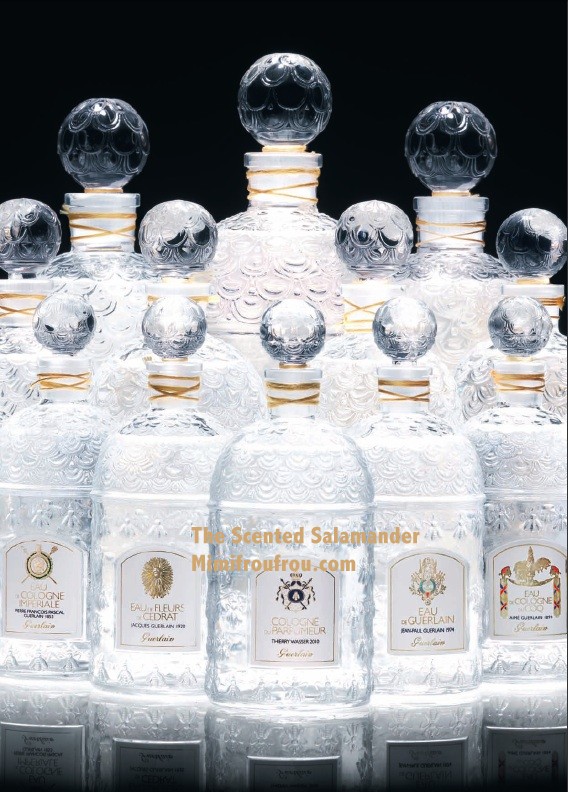 {A
fragrance review of Cologne du Parfumeur by Guerlain
was added to the blog!}
Guerlain this spring will be introducing this uncommon thing for them, an Eau de Cologne. This is the first one since 1974 when Eau de Guerlain was launched. It will be the fifth eau still available in this classical genre which is seeing a renaissance. It is also a rightful tribute as it is an eau de cologne which made the house famous with L'Eau de Cologne Impériale created by the founder of the house Pierre-François-Pascal Guerlain in 1853 for Empress Eugénie in part to help her alleviate her migraines. There used to be also a Cologne Russe, which was considered to be on a par with the now more famous Eau de Cologne Impériale, but also the Eau de Cologne Ambrée. Guerlain classic perfumes used to be available in eau de cologne concentration...
In a move to make the authorship of these perfumes known, the perfume labels on the flacons now all bear the names of their respective authors. The niche perfumery Editions de Parfums made this a habit and a trademark of their open authorship philosophy. Perfumers' names are not put to the front often in an industry relying on the efficacy of brand names.
Guerlain is, it can be assumed, feeling the need to print their signatures on the fragrance bottles for different reasons than Editions de Parfums. In this case, the approach is first more specific: the names of the 5 perfumers that created the historical colognes still in the catalog today form a line of descent which has evolved recently with the adjunction of a different patronym, that of Thierry Wasser. The message here is one of continuity in craftsmanship tradition. Creating an eau de cologne is
un
passage obligé
,
un exercise de maîtrise
, a compulsory creation that no self-respecting master-perfumer can dream of not fulfilling: to propose one's own eau de cologne.
The name of Pierre-François-Pascal Guerlain is thus followed by that of his son Aimé Guerlain for Eau de Cologne du Coq (1894), then Jacques Guerlain as the name behind Eau de Fleurs de Cédrat (1920), Jean-Paul Guerlain for Eau de Guerlain (1974) and finally, Thierry Wasser for La Cologne du Parfumeur (The Perfumer's Eau de Cologne.)
La Cologne du Parfumeur is a private-reserve creation as it was originally composed by the new in-house perfumer for his own usage. He created it during the same period that he created
Idylle
. He said,
"Originally, I created this Cologne for myself. I composed it at the same time as Idylle, it was my downtime. I wanted a Cologne in the tradition of the great classics but with a modern twist."

The unisex Cologne is said to be green in part as well, Thierry Wasser adds that "
green is my tic, I put it everywhere
."
The notes include an exceptional quality of Calabrian orange blossom which was also featured in
Flora Nymphea
, if I'm not mistaken. This particular orange blossom has green nuances. There is also bergamot and lemon, green and musky notes.
You can use this Cologne du Parfumeur on its own or layer it like Wasser likes to do himself, according to his mood.
The Cologne will launch from April at Bergdorf Goodman in the USA and in the Guerlain boutiques in France from May 2010.
During the whole month of May in France, customers will be able to taste a drink featuring the ingredients of an eau de cologne before being presented the new perfume. The chilled drink has notes of lemon water, orange blossom, orange juice, lavender syrup, mint and rosemary.
La Cologne du Parfumeur: spray bottle: 100 ml/72€; flacons: 250 ml/145€; 500ml/215€; 1L/370€
Via press release