Perfume Reviews of L'Occitane Fleurs de Cerisier, Cerisier des Oiseaux and Bath & Body Works Japanese Cherry Blossom
Sakura of Fukushima, Commons Wikimedia
Of Cherry Blossoms & Foody Notes


The Japanese spring ritual dedicated to the aesthetic contemplation of cherry blossoms or sakura has been transplanted to global markets to give birth to a very popular, non-elitist japonisant genre of sorts: the ready-bottled cherry blossom fragrance...
If in the realm of visual arts, the same current of inspiration gave the rich cloisonné effects found in Impressionism, in perfumery it contributes to a taste for purer, simpler and more understated, and generally more affordable scents. In both cases, it can be called a movement corresponding to a vogue, the Zeitgeist and a collective shift in taste, rather than to an avant-gardist one.

Indeed, a sign that the cherry blossom fragrance is becoming even more of an olfactory mainstay is that L'Occitane en Provence just released two cherry perfumes, not just one, this spring.
Fleurs de Cerisier is now in a small-size bottle and solid perfume, while the addition Cerisier des Oiseaux explores further facets of the cherry blossom both in liquid and stick forms.
Another masstige brand, Bath and Body Works proclaims Japanese Cherry Blossom as their #1 bestseller - while offering a Sheer flanker - and l'Occitane concurs with their own entries. The scent of sakura as it is called in Japanese has evolved over the years from signaling a perfume destined to Asian markets reputed for their tastes for transparent scents, to becoming a new favorite everywhere.

The cherry blossom perfume is usually aimed at Les Jeunes Filles en Fleurs, the younger contingent of perfume consumers. Its note, which is floral, fruity and fresh, seems to draw a convenient bridge between the cherry jams of childhood and the scent of blossoming womanhood.




Fleurs de Cerisier / Cherry Blossom by L'Occitane

L'Occitane is proposing two different cherry scents this spring. Fleurs de Cerisier ($32) offers very good diffusive quality. It is on the whole a fresher interpretation than its counterpart offering a cherry blossom note spun clear by a green tea note. Nuances of crisp mimosa, blackcurrant bud enhance the green note while subtle resinous and slightly smoky amber in the drydown gives it depth. It is probably of the two the one most susceptible to be adopted by men thanks to its very discreet and slightly masculine dry amber resin facet. It recalls the Japanese taste for green tea and cherry blossom incense.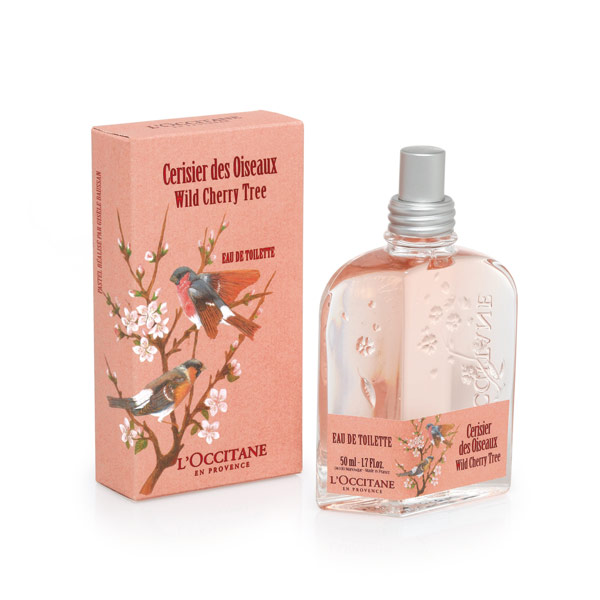 Cerisier des Oiseaux by L'Occitane

Cerisier des Oiseaux ($32) is a cherry blossom scent that sexes up a bit with musk giving a musky-floral rendition of sakura. It feels more immediately like it could be adopted as a dating scent. Since the definition of sexiness includes now more than ever foody notes, the perfume also develops a gourmand facet suggesting a macaron filled with cherry jam. The drydown hints at a warm vanillic oriental base.

Despite the very cute birds-in-a-tree decoration on the packaging, the jus is ultimately more banal than that of Fleurs de Cerisier.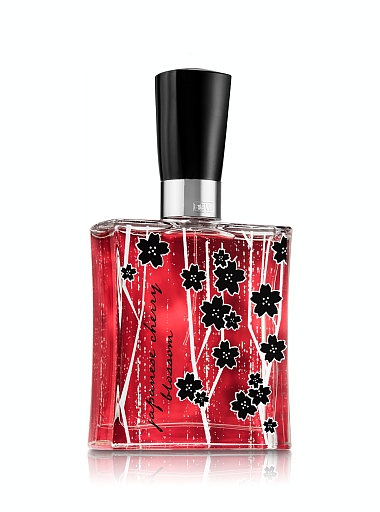 Japanese Cherry Blossom by Bath and Body Works

Japanese Cherry Blossom ($29,50) is a composition which accentuates the almond facet of cherry blossom. It has also a slight synthetic vibe to it which is not unpleasant as it comes across as artificial but still enjoyable - like the scent of Scotch tape, or a rush of aldehydes. After a while, this slightly puzzling impression registers as a rendering of the aroma of rice sake. It smells also a little of red licorice candy crossed with an almond-scented glue pot. It's a linear composition which whispers rather than shouts.

I don't quite understand how this could be Bath and Body Works bestseller except for the fact that it is remarkably discreet, almost like a non-scent, with an understated but very well balanced powdery presence in the drydown straddling the divide between baby powder and dusting face powder (cinnamon incense). It's the ultimate politically correct (cherry) perfume. You will have people guessing as to who is wearing what in the room.

Although the composition is very subtle, it does perfume the skin very nicely like a sake and cherry blossom friction, evolving into a musky vanilla cookie note (vanilla rice). It's technically an excellent veil-like skin scent with greater and slier diffusive power than one might have initially suspected, and it offers great under-the-radar longevity. It's amazingly easy to wear.