L'Occitane Paeonia is Created in Collaboration with French Horticulturist Family with 160 Years of Experience (2010) {New Perfumes}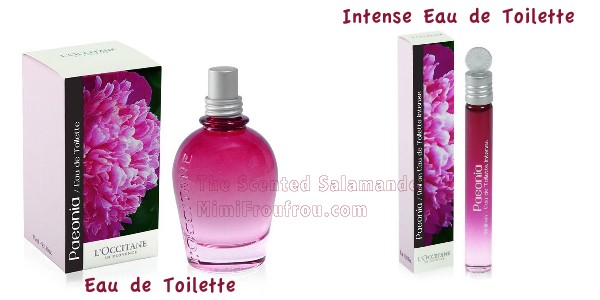 L'Occitane en Provence
have launched both a color and fragrance collection called
Paeonia
inspired by the natural shades and scent of peony flowers, respectively. The Provençal company relied on the expertise of French horticulturist
Jean-Luc Rivière
whose family has been breeding and cultivating peonies for 160 years to help them capture the attributes of the bloom.
"According to a legend told in the Mediterranean Basin, a beautiful nymph named Peonia was so courted by the gods that a jealous goddess transformed her into a flower with a thousand petals - the peony. Ever since then, this symbol of femininity has brightened every spring with its dazzling show of colors and scents."...

Paeonia
, named after the Latin name for the flower, is said to capture the perfume of peony at the height of its bloom when it is "imprinted with an exquisite citrus freshness." There are green accents as well.
The
Eau de Toilette
opens on head notes of bergamot and grapefruit. The heart is built around a bouquet of peonies and rose petals. The base notes rest on the softness of sandalwood and white musk.
The Roll On contains an
Intense Eau de Toilette
version of the same perfume.
Both fragrance versions feature a peony extract from Drôme.
The 2.5 fl. oz. EDT is priced at $40. The 0.33 fl. oz of Intense EDT is priced at $16.
Via press release