Dior Escale aux Marquises (2010): Couture Oblige {Fragrance Review}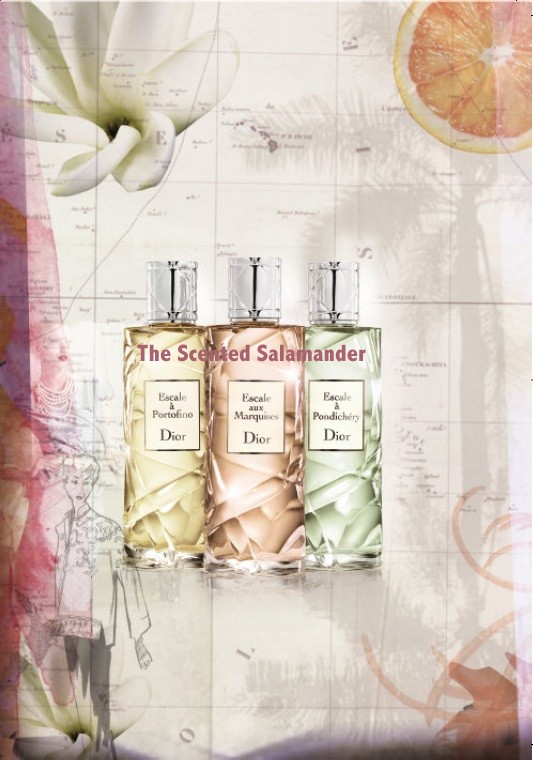 Dior Escale aux Marquises
is the new addition to the Escale collection. It is perhaps of the three re-interpreted eaux de Cologne by
François Demachy
the one in which I feel most the perfumer's personal understanding for the house and style of Dior, of its haute-couture heritage for which he confessed a passion in the past. Of the trio, it is the most refined and understated Escale, the one most indebted to the notion of sartorial elegance.
The word "marquise" (marquess) in its social sense seems to have been an authentic creative hook and was seen to have a connection with a saying by Christian Dior who once exclaimed "
There is nothing I would like more than to make every woman look and feel like a duchess
."
Escale aux Marquises is your alternative to those tropical scents that make you feel like you might be wearing a Hawaian shirt as it evokes much more a woman dressed in a neutral palette of whites and beiges spending the afternoon on the deck of a sailing yacht in the shade of the buckle and a very large wide-brimmed hat.
Notes: orange, pink peppercorn, cardamom, cinnamon, ginger, citrus, clove, nutmeg, coriander, elemi, tiare, freesia, neroli, lemon zest, benzoin, Tahitian vanilla.
The eau de toilette opens on a cool green spicy effect, a light custard-y and breezy impression of tiare flower on a salty, woody background and something else abstract evoking a sensation which is hard-to-place situated between floral petal, dewy skin and musky nether regions.
There is a creaminess to the fragrance but it is not exactly - as often it is nowadays - a sexy dessert-y impression. The creamy nuance is subtle, even a bit ethereal, closer to the feel of a luxurious material like a pashmina beige shawl than to a heavy lactonic effect...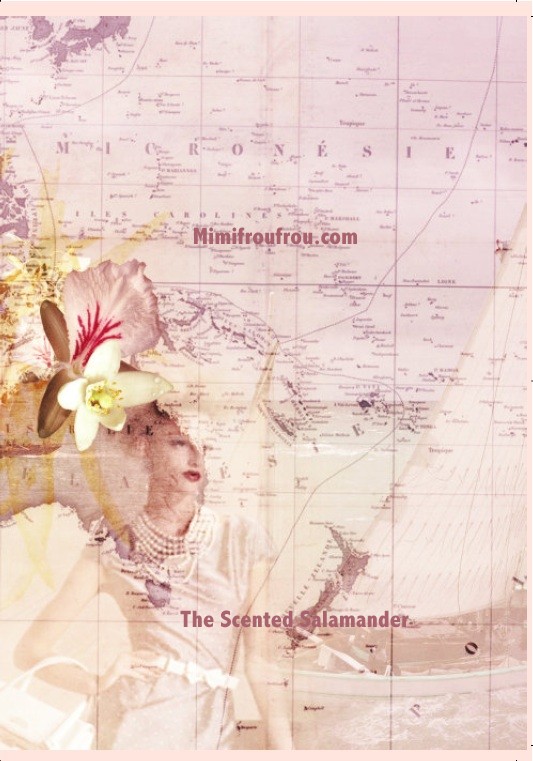 The sweetness as well is very subdued and counterbalanced by a brisker facet which could be the tart and savory scent of a Margarita rather than the fresh notes of a classic eau-de-cologne. The eau-de-cologne accents are quite discreet and never feel dominant nor literal becoming more legible only in the longer drydown.
An interesting connection can be felt with the work done by perfumer Daniela Andrier on
Untitled by Martin Margiela
. A familiar accord peaks through at one point and while I was mentally going back to
Voyage d'Hermès
as a possible candidate for the sensation of déjà vu, my reptilian brain zeroed in much quicker - this was swift both in terms of cognitive epiphany and market feedback: Untitled by Martin Margiela, the fragrance launched under the aegis of L'Oréal just last winter.
When I reviewed Untitled I wrote that I had been struck by a pastoral-coastal Mediterranean motif which was not your typical heavy-Calone sea breeze accord. The same fishermen-village accord of salty ambergris, solar orange blossom and pungent musk is re-used here but much attenuated and weaved into a delicate accord with the tiare flower.
A movement of refining has also been undertaken by perfumer Daniela Andrier in her own work on the Prada Infusions. If you smell first Infusion de Fleur d'Oranger then
L'Eau Ambrée
then
Infusion de Vétiver
, you can perceive three different stages of refinement in which "wan" becomes a quality which is sought after, ending feeling almost like a spiritual motif.
Escale aux Marquises is the result of a similar refining process but remains of the flesh and sensual. It is a better-than-your-own-skin woody, creamy white floral with spicy undertones done in a very elegant and subdued manner. The über-elegant tiare was reportedly worked upon with freesia and orange blossom.
The fragrance stays close to the skin and avoids the pitfall of smelling like a juvenile over-application of Monoï Tahiti suntan oil although the familiar note is present and perceptible, but, again, in a much more refined form.
Escale aux Marquises is a better-researched composition than its immediate predecessor,
Escale à Pondichéry
which took it seems an easy and somewhat repetitious route after the more ambitious debut fragrance in the collection,
Escale à Portofino
. It is also more inspired.The work here on elegance and refinement is the most remarkable aspect of the fragrance. Perfumer François Demachy visibly liked the timeless antiquated marine feel found in Untitled, its salty dry herb nuance, and thought he could give it a more haute-couture and restrained feel by combining it with the untainted creaminess of tiare.
Tropical perfumes are often unambiguous proclamations of pure hedonism. They can be all-too-obvious, exuberantly solar and beach-y. One can certainly enjoy the excess, but it is also interesting to smell and wear an understated tropical perfume.
If at one end of the spectrum you can find Escada's systematic riff on the perfumery equivalent of underage vacations in Cancun, Escale aux Marquises is just the opposite. It has a timeless quality to it; it is graceful and subtly evocative of feminine skin. It could be the natural scent emanating from the hair and skin of 17th century belle having stuck a tiare flower in her locks, just off the boat in a port which is a pirate's den.