Parfums DelRae Coup de Foudre (2010): Rose Lover's Cup of Tea {Perfume Review & Musings} {Rose Notebook}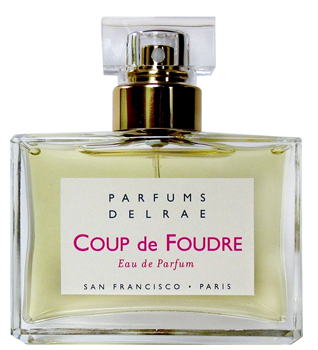 Coup de Foudre
by
Parfums DelRae
is the new fragrance by the San-Francisco perfume brand founded by
DelRae Roth
in 2000. It is offered as a rose composition signed by perfumer
Yann Vasnier
who also created last year's iris composition by the same house called Mythique. The name which means "Love at First Sight" in French is an allusion to DelRae Roth's as well as Yann Vasnier's love of roses rather than to a throbbing love story. As Roth confirmed when I asked her about the inspiration for the scent, which I thought might contain an allusion to Diane de Poitiers's known predilection for rose and lily of the valley, (she dedicated an iris perfume to Diane de Poitiers in 2009.) She confirmed that "
Diane de Poitiers was not part of the inspiration for Coup de Foudre, although I do, without a doubt, think she would love Coup de Foudre
.
My personal love of roses and my own romantic sensibilities were my inspiration. And, Yann loves roses too
!"
In her newsletter, DelRae Roth penned her background story,
"Roses have always been my favorite flowers. In their infinite variety they never disappoint. For years I collected books on roses and made lists of my favorites. I often went to the various rose gardens in the area; the Berkeley rose garden, the rose garden in Golden Gate Park and others. But I never had a rose garden. And then-- years ago I rented a small cottage in Berkeley hidden at the back of a very large and overgrown parcel. On my birthday one year, I came home from work to find my brother Patrick had transformed this urban jungle into a rose garden."


Notes: spicy pink peppercorn, bergamot, Italian lemon 'sfumatrice', pink grapefruit, Rose de Mai France Orpur absolute, Purple Peony, Egyptian jasmine absolute, creamy magnolia Orpur, geranium bourbon, tonka from Venezuela, vetyver, white moss, velvet musks...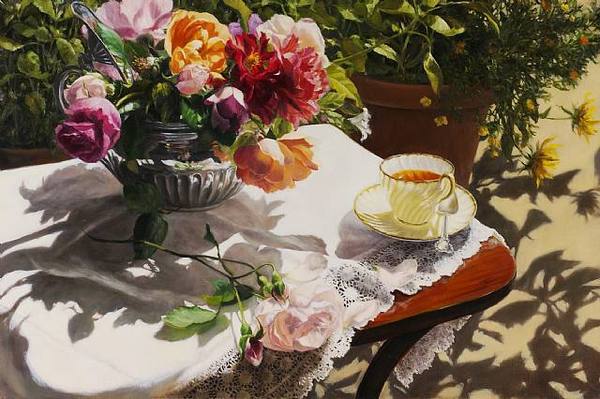 Summer Roses by Cora Ogden

Coup de Foudre, a rose lover's scent therefore, opens on a lush and fresh rose-peony accord which means that it is a somewhat transparent rose composition with maybe a juicier feel than would be expected on average from this kind of watercolor rose, with the added twist of a mint note. The mint note adds a green tonality but also a tea-like one. The green facet is never sappy or raw, but cultivated, soft, urbane, processed into a drinkable cup of mint infusion with a lump of sugar (but not two.)
After these initial fresh and transparent impressions, more substantive notes appear: ambergris (I smell Cetalox) and amber. The perfume keeps a lemony edge while becoming stickier due to the duo of heavier ambery notes that will help anchor the composition.
As the scent progresses, it takes on more determinedly the direction of a verbena-mint infusion encasing a somewhat jammy rose, the much vaunted May Rose from Grasse which scent was extracted thanks to a Givaudan C02 extraction method dubbed Orpur. To this day, Givaudan has constituted a library of 50 Orpur "pure naturals" which represent the crème de la crème of their naturals selected in collaboration with perfumers and which they do not hesitate to describe as "
The jewels in our natural portfolio
."
For those who are familiar with the popular French herbal infusion brand, it smells not unlike the Verveine-Menthe concoction from La Tisanière, but with more citrus and metallic rose. The mint instead of fading away tends to become more pronouncedly mentholated and refreshing to the nose feeling in the end like a draft of cool air in the corridors of a summer house.
To me, Coup de Foudre evokes the very peaceful vision of a Normandy countryside house in the summer in the morning when everyone is getting ready to eat at the breakfast table. I find it to be an immensely serene scent thanks in part to the soothing properties of the smells it showcases as well as the ritual of drinking and quiet contemplation it alludes to. The choice of having composed a tisane of a rose perfume skews it in the direction of culinary connotations for me although tea being tea and the composition being abstract enough, the juice takes on a more contemplative and impassive connotation.
This rose composition by perfumer Yann Vasnier manages very well to weave brewed tea leaves, mint, rose and citrus. The mint never feels exhausted but brings its dynamic, cooling note to the jus and seems to be able to carry on a spot-on balancing act with rose. I would have to go back to
Les Parfums de Rosine Diabolo Rose
to seize the commonalities and differences more precisely, but meanwhile I can indicate it as another rose-mint composition.
When the perfume starts drying down, it melds with the skin, turning into a more sophisticated and elegant gustatory chypre impression. By "gustatory chypre" I mean the typical smells that certain French chypres are capable of evoking which feel like
the blend of olfactory sensations hovering above and at the end of a classic French meal
, which should include both sauce and wine, and taken on a white Damas tablecloth. It is to me like the scent of wine and conversation and conviviality.
The longer drydown reveals a compelling use of vetiver together with rose. It feels a bit patchouli-like at first and especially as we are conditioned to recognize many popular rose-patchouli accords these days, but soon takes on a more vetiver-like, blonder hay-like tonality. By this time, the rose somehow has become more present, thickened and sweetened by a slightly waxy note of tonka bean.
The whole composition's progression is interesting to follow and rewarding. It is perhaps more in the top notes that one might fear the perfume will take an easy route as rose-peony accords can be too much of a masstige signature and the tea note feel like an obligatory and safe nod to a mainstream trend, but the subsequent stages of the development proves you wrong, in my view.
The composition I think might trigger more olfactory memories with people brought up or having lived long enough in French culture, than in others. I find the perfume to be pretty Francophile and France-centric, a characteristic that San-Francisco-based DelRae Roth might have sought out as France is one of her cardinal sources of inspiration.
The passage from the atmospheres of a summery countryside haven in the morn to a dinner with Paul, André et les autres in the evening suggests a day-to-night versatility. On still the same functional plane, I think that people might appreciate it for its quiet and discreet charm, which I find very elegant. Sometimes or most of the time you want to go out without brandishing an obvious brand name on your person. You want to smell good and sophisticated but not give out the provenance of your sillage. Coup de Foudre seems perfect to me in this regard. It is qualitative and alluring but not the least bit showy.
Price: $150 for 50 ml / 1.7 fl. oz Eau de Parfum. Available at parfumsdelrae.com