Hugo Boss Boss Bottled. Night. (2010): Fronted by Ryan Reynolds {New Fragrance} {Celebrity Perfume} {Men's Cologne}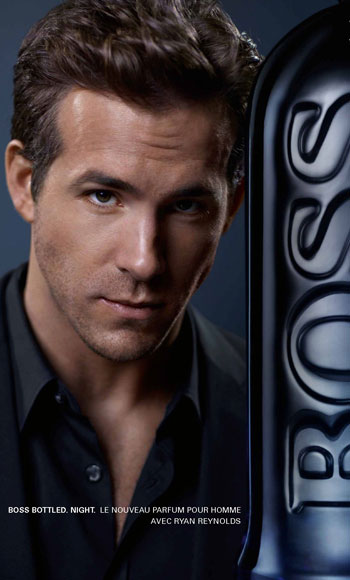 Hugo Boss
have introduced a new fragrance for men called
Boss Bottled. Night.
The advertising campaign is fronted by actor
Ryan Reynolds
, Mr. Scarlett Johansson, who recently co-starred with actress Sandra Bullock in
The Proposal
. When invited to be the icon for the cologne, the actor said,
"Boss is a brand that not only represents classic style and sophistication, but inspires men to work hard, embrace opportunities and strive for success in all aspects of their lives, I'm honored Boss invited me to be the face of its new men's fragrance."...

The Eau de Toilette is structured to open on notes of lavender and birch leaves followed by a heart featuring African violet, cardamom and jasmine before lingering on with notes of Lauro Amarello wood, sandalwood and musky accords.
Lauro Amarello wood is also known as Brazilian Boxwood and is reported to have an unique bitter almond smell.
Prices: 49,50€ and 60,50€ for 50 ml and 100 ml respectively.
You can watch the commercial below, which seems to be inspired by The Dark Knight,