Top 3 Best Sunscreens According to French Consumer Magazine Que Choisir {Beauty Notes - Skin}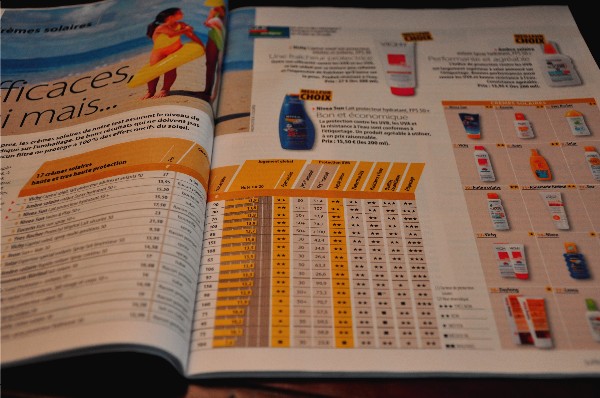 Photo © The Scented Salamander
The July-August 2010 issue of French consumer magazine
Que Choisir
(What to Choose) examined 17 different sunscreens and through a series of consumers' and specialists' tests narrowed down a Top Ten.
The analysis of the article is worth reading in particular as it raises a watchdog concern regarding
nanoparticles
, which have cosmetic qualities allowing some sunscreens to offer a transparent, sheer textures but whose impact on human health and the environment is still not sufficiently evaluated. Concerns have been raised about their destructive effect on the DNA of skin cells.
Within the European Union, the law regulating the visibility of information on nanoparticles on packaging will be effective only from February 2013
...
The 3 Best Sunscreens according to this consumer report are:
1 -
Vichy Capital Soleil lait protecteur adultes et enfants FPS 30
Strong points: efficacious against both UVB and UVA (Measured SFP 37,4) ; texture is non-sticky and fresh; water-resistant.
Price: 27€ for 300 ml.
Note: Vichy also offers a Capital Soleil product with SPF 50+ but the study does not explain why they discarded the product from the pre-selection.
2 -
Garnier
Ambre Solaire enfant spray hydratant, FPS 50+
Strong points: protection is actually much higher than the one advertised on the packaging (SFP measured at 107); Good against UVA; pleasant texture; good waterproof protection.
Price: 15,95€ for 200 ml.
Note: Children's sunscreens are just a marketing category. The only difference is that they usualy have higher SPF.
3 -
Nivea Sun Lait Protecteur Hydratant, FPS 50
Strong points: the UVB and UVA (measured SFP: 80,9) and water protection correspond to the advertising on the packaging; it's pleasant to use; price is reasonable.
Price: 15,50€ for 200 ml.
General note
: we would have liked this study to examine the leading, ubiquitous product La Roche - Posay Anthelios SFP 40+ in France, SFP 60 in North America, but it was not included and they did not explain why.
Among the brands that are international brands and more readily available in the US, Yves Rocher Protectyl Végétal Lait Sécurisé was ranked #6 (Measured SFP 43,4), Avon Sun + Kids 30 was ranked #8 (Its SFP was measured to be 26,4 instead of 30), Annemarie Börlind Lait Solaire 30 was ranked #11 (thought to be too white.)
Only one product was judged
mediocre
, with a hard pump and a SPF lower than the one advertised on the packaging at 23,8:
Lovea Kids Bio, Spray Protecteur Hydratant 30
.