Aveda Hand-Relief for Breast Cancer Awareness Month {Product Review - Beauty Notes - Skin}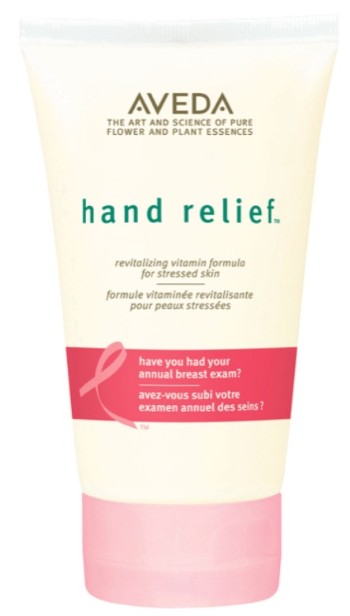 Aveda
are launching a specially packaged
Pink Ribbon Hand-Relief
cream for Breast Cancer Awareness Month. The tube becomes partly ribboned in pink and reminds you in English and French across the raspberry-colored strip, "
Have you had your annual breast exam?
" or if you prefer to say it in French, "
Avez-vous subi votre examen des seins annuel?
"
What the brand says on their website about the product:
"
Incredibly rich moisture therapy soothes dry, chapped hands--leaving them noticeably softer
a
nd smoother. Hydrating plant emollients, humectants, exfoliating fruit acids and anti-oxidants--including vitamins A and E--help diminish signs of aging and provide optimal relief. Increases moisture levels and elasticity in skin with continued use.
"....
Key ingredients:
Licorice extract, Meadowfoam seed oil, Vitamin A, Vitamin E
I think it's a nice idea to use the tube of cream as a soap box for a good cause. The reminder line is a good way to offer some practical guidance while calling attention to a product which I would say is a very good hand cream. The texture is rich but still manageable; it is not as time-consuming to make it penetrate the skin as, say, Skin Food by Weleda, the latter being much oilier and thicker.
While the first ingredient listed for Hand-Relief is water, it is not predominantly watery either. The soothing effect can immediately be felt. The grain of the skin gets refined, with a satin finish, on the spot. If I'm in a hurry, I need to wipe off the excess cream off the palms of my hands, but apart from that, it's easy to use.
Aveda recommend to put on a good dollup which is probably best done at night. But even for a quick hydrating gesture during the day it is efficient. They also advise using a sunscreen on top of this "revitalizing formula".
The scent of the cream is rosy, orangey and spicy, with some cinnamon - it smells quite a bit like an orange - palmarosa essential oil room fragrance spray I use. The discreet fragrance is actually a bit festive in tone and could evoke a Christmas tea scent. Thankfully, the perfume does not cling on and fades later on.
U.S. $4 from each sale go to the Breast Cancer Research foundation.
The Takeaway
: it's one of your seriously competitive options for a hand cream because it does have an efficacious action. It definitely belongs in a Top-Ten of best hand creams. Ideally it's more of a night hand cream option for me as I need a tissue to complete the application and would probably try to look for an even more quickly absorbing cream for daytime. You can be more drawn to it than to other brands especially this October if you want to make a present to a female relative or friend, but also if you appreciate its light, Christmas-y spicy pot-pourri scent.
Attention Paris shoppers, Aveda products can be found at Salon Joël Villard, 16, rue de Saint-Simon, 75007, Paris.