Robert Piguet Calypso (2010): The Archetypal Vagueness, Conviviality & Lived-in Signature of a Parisian Chypre {Fragrance Review}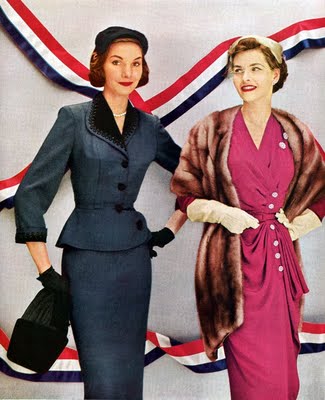 Balmain (blue) and Piguet (pink) models in 1951
Calypso is the latest recreation by the Robert Piguet label which aims to offer the luxury of vintage flair in a world full of recent launches, by building in part on the excellent and even mythical reputation of Germaine Cellier's iconic scents from the 1940s: Bandit and Fracas. People will therefore tend to expect weightier compositions and bold signatures in a sort of noir-film atmosphere traversed by the haloed charm of a femme fatale - or at least that of a bourgeoise wearing real mink.
Instead of stimulating our need for newness, the brand hopes to offer a sense of escape to a time when perfumery was more selective and attached to personality and true elegance, rather than market shares - or so we like to think. In reality, commercial interests have been part and parcel of perfumery all along its history and multiple-launch phenomena are there to prove it since the age of Paul Poiret...

Calypso (1959) is one of the perfumes that were created after the death of the couturier Robert Piguet (1898-1953), originally by Francis Fabron who also did Baghari.
Today, perfumer Aurélien Guichard of Givaudan is the nose entrusted with reawakening sleeping beauties at Robert Piguet Parfums. So far, it's been clear that the perfumer is not trying to emulate L'Osmothèque by curating the scents in a maximally and excruciatingly rigorous way but by establishing an acceptable balance between the past and the present.
Even without having smelled the original Calypso, one can tell that the new Calypso is a work of contemporary perfumery. It is an interpretation of the past and of the history of the house, an attempt to recapture its identity when only archival images remain and formulas have to be adapted to new realities - those of new tastes as well as regulations.
A floral chypre, Calypso 2010 - wouldn't it be helpful to put the date of relaunches next to old names? - offers vintage, nostalgic tonalities as seen from the perspective of someone who has had access to information and of course ingredients up to 2010. More than being a historical reconstitution it is a mythical reinvention, that of the globally convincing sensation of a feminine Parisian chypre.
The fragrance opens on a note of mandarin followed by a slightly sharp and raw powdery accord, alongside both a green hyacinth and iris-y impression. If you concentrate on your sensations, it feels almost like smelling veggie-fresh crushed green stems oozing with sap mixed with talcum powder.
Soon the powdery accord softens down significantly, but the green impression of hyacinth and galbanum, creating together the effect with the rose note of a green, crunchy rose, remains. It seems almost like it is a discreet, subliminal nod to the provocative whiplash of galbanum that came to be associated with the name of Piguet in Bandit (and later Vent Vert by Balmain also created by Germaine Cellier.)
Here, the green olfactory facet might be seen like a signature note of the house of Piguet, a way of conjuring up a coherent olfactory universe and grammar.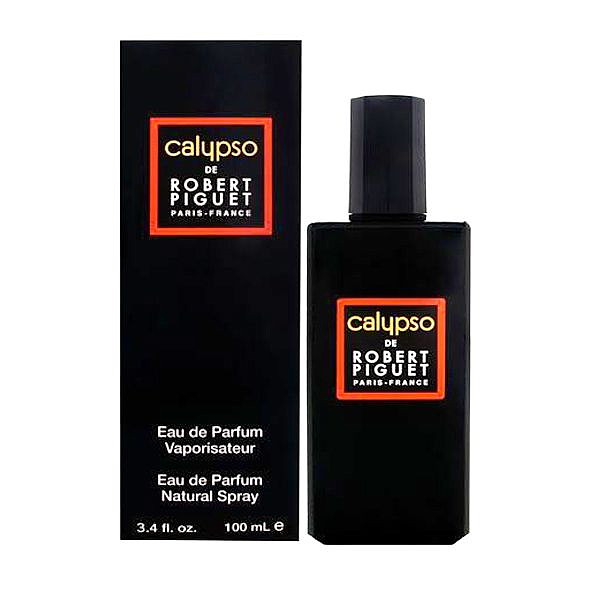 The powdery accord is quite recognizable as the one found in Ombre Rose by Jean-Charles Brosseau, which was created by perfumer Françoise Caron. The French milliner's brand is by the by one which one should go to when hankering for vintage and nostalgic scents which smell like an outrageously elegant grand-mother's hat box. What differs is that here the powderiness bespeaking of vernal beginnings - a certain version of clean in a way - melts into a mellow, sophisticated amber which manages to smell like leather suede gloves tainted with cigarette smoke and just the right amout of remnants of a sophisticated and undefinable perfume.
If Calypso feels vintage at first, it is due to this throwback sensation which relies for the main part on a powdery accord, suggestively raw greens à la Bandit, Vent Vert and Ma Griffe - and some nail-polish-like aldehydes.
Soon, the perfume blends in the notes to create a very desirable drydown. It just smells great, like a well-aged, lived-in sillage signalling loving repeated quotidian applications. It is the trail of a signature perfume that has come to whisper its name rather than shout it.
The leather note in the base can also been interpreted as a faint echo of the leather riding crops held by Piguet's banditas and Zorro-like adventuresses on the catwalks, a very iconic imagery which is part of the mythical legacy of the house. This leather-tobacco threshhold is the point where the composition takes on an evocative atmospheric quality which one could see as being particularly good at recreating a certain air of Paris.
In the end, Calypso is for me the wonderful recreation of the intimate scent of a woman's leather purse containing her poudre, her rouge, her secrets of seduction, which are better alluded to than made explicit hence the characteristic vagueness of Calypso ca. 2010.
Other Piguet recreations like Baghari have aimed for a similar cosmetic, lipstick-y feel. Added to that is that quintessential Parisian chypre quality of smelling like the end of a meal in a crowded brasserie, the scents lifting from a heavy white Damascus tablecloth and the fumes of wine and cigarettes hovering indefinitely - and it seems eternally over both the high-pitched and low-pitched voices of conversations. With this mark of a lived-in perfume, one that has taken residence on your skin for ages, another nostalgic thrust at the past is offered, an allusion to a time when women wore perfumes that lasted for days and even for life. Only here, there is a very contemporary effect of fading-to-black - there is a certain linearity to Calypso - and almost an experimental and conceptual quality about it which seems to answer the question: how does an impression of a vintage chypre smell like? The answer is to be found mostly in this lingering, attenuated sensation, which smells like an echo of the past.
In this invisible, uncatalogued yet vivid accord, the eternal Parisian chypre accord living on, a survivor of an unforgettable, inoubliable time and place, there is an irresistible mix of spirituality, conviviality, intellectual seduction, intimacy and living nostalgia.