Rochas Femme Has a New Bottle & More Essences (2011) {New Fragrance}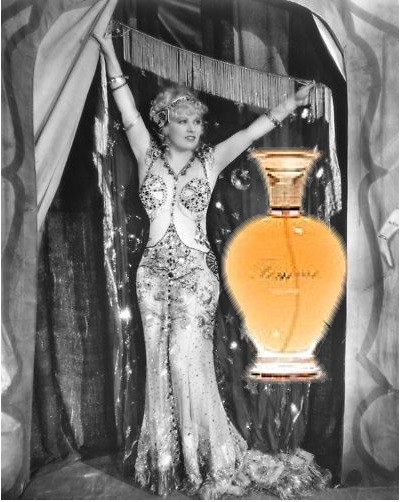 Mae West as a fantasy of a gypsy in the 1930s
The Eau de Parfum version of Rochas' classic Femme created by perfumer Edmond Roudnitska in 1944 had become difficult to find although and also because it is more satisfying than the Eau de Toilette version which can be found in abundance. Here it is making a come-back in a new bottle. The previously black cap becomes peach-colored and transparent....
The shape of the flacon inspired, according to perfume lore, by Hollywood icon actress Mae West remains the same.
There are archival pictures showing couturier Marcel Rochas at work with the diva. The black lace on the packaging echoes the one on the star's dress seen in those pictures as well. You are allowed to let your imagination run wild or not in the absence of hard evidence.
Official notes are top: peach, plum, May rose. heart: ylang-ylang, jasmine. Base: oakmoss.
The Eau de Parfum is priced at 64,90€ for 50 ml. It is in principle available on both the Marionnaud.fr and Sephora.fr sites but it is currently sold out on the latter.
Perfumer Olivier Cresp reworked the formula in 1989. It would have been now re-formulated anew by in-house perfumer Jean-Michel Duriez especially considering the new IFRA regulations on oakmoss.