Betsey Johnson Too Too Takes Inspiration from Schiaparelli & Ballet (2011) {New Fragrance}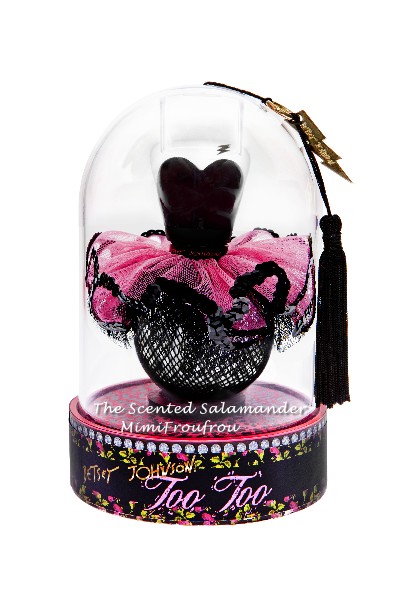 Whimsical, bubbly American fashion designer Betsey Johnson launched her latest fragrance called Too Too yesterday, on the day of her 68th birthday at the Milk Studios in New York City. It's hard to tell the designer is nearing her 70th birthday when you see her participating in the launch show by doing a split (check after the jump.)
The name of the scent pays homage to her past as a dancer as well as her signature style which she once defined as "take a leotard then add a skirt." As for the flacon itself, Johnson is known for her interest in vintage bottles of perfume which she collects and uses as sources of inspiration, like for her 2006 Betsey Johnson eau de parfum...
This time it's Schiaparelli who directed her musings as well as the missing link in-between, Jean Paul Gaultier with his Classique bottle, also a descendant of the flacon Shocking by Schiap. The thunderbolt charm is a reference to a tattoo Johnson got in the 70s in Hong Kong.
Too Too is said to be,
"a fun, fresh perfume targeting the "it" girl who is youthful and effervescent. With a vivacious packaging design, and an alluring scent, Too Too will convey the free spirit of today's sexy, modern girl who is playful, cool, and flirtatious."
The composition is a fruity-floral and was developed together with Inter Parfums. The eau de parfum features fruity and aromatic notes of passion fruit, sparkling mandarins, ginger and strawberry leaves. The floral facet comprises Bulgarian rose and jasmine. Base notes are patchouli, sandalwood, vanilla and musk.
Key descriptors according to the brand are "femininity, warmth, radiance, sweetness."
The fragrance launches exclusively at Sephora from October 2011 and until April 2012. A wider distribution network will be operating afterwards internationally.
Via press release