Jean Paul Millet Lage Evokes the Memory of Jean François Laporte, the Gardener-Perfumer and One of the Founding Fathers of Authorial Perfumery (1938-2011)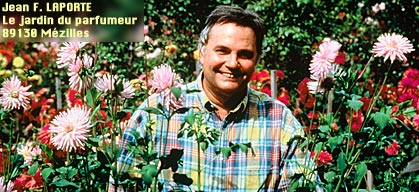 Interview with a Perfumer's Disciple
Jean François Laporte, one of the thinkers-in-action of a perfumery which takes inspiration first and foremost in its creative capacity - as opposed to the lifestyle approach - has left us on November 7th, 2011. He was 73 years old. Known for his discretion, we turned to one of his close relatives in perfumery, Jean Paul Millet Lage, who took over from him when he purchased a perfume house he had created, Maître Parfumeur et Gantier. He was also his disciple. Millet Lage recounts some key moments of the itinerary of Jean François Laporte and pays homage to the higher synthesis of chemist and "gardener-perfumer" which he embodied.
TSS - How did you first meet Jean François Laporte or became acquainted with his work?

Jean Paul Millet Lage : I met Jean François Laporte in two times.

First of all, at the beginning of the 1980s, I was a customer of L'Artisan Parfumeur's. Subsequently I became a patron (1989) of Maître Parfumeur et Gantier when following a trip to the the Reunion Island, I was on the lookout for a vetiver perfume which would be faithful to the aromatic depth of that plant discovered on the island. It was "Route du Vétiver", a masculine fragrance which still exists in our catalog.
Regarding the Maître Gantier et Parfumeur chapter, in 1996 I met Jean François Laporte through the intermediary of Roland de Saint Vincent (a friend of the family), with whom he had already carried out many beautiful projects and in particular, the creation of Sisley...
- When did you decide to acquire Maître Parfumeur et Gantier? How did the post-Laporte period go? Did he continue to advise you?
I purchased Maître Parfumeur et Gantier in 1997 after having spent a year at his side. Then we kept on working together for 4 more years until 2011, at a time when JF Laporte decided to devote himself to his splendid Perfumer's Garden located in his property of Mézilles in the Yonne region, and not to mention his incredible collection of Dahlias. It was one of the most beautiful ones in Europe at the time. At that point in time he altogether ceased working with us. I kept on seeing him regularly but without evoking MPG. It was a matter of decency vis-a-vis its creator who had sold his business to me.
As a student, I thus benefited from his knowledge during 5 years. It was superb and yet so very little when one has so many things to learn.
- How do you understand the passion that Jean François Laporte had for Dahlias, which are incidentally magnificent flowers? Do you see in it a link with his taste for the baroque period, a style you brought up speaking of his work?
- On the one hand, his passion was fueled by the immense richnness of Dahlia varietals -- in his quest of those plants, there were always farther roads to be travelled which satisfied his spirit of great curiosity.
Then one day, he told me that a certain paradox had excited him: to be a creator of perfume and at the same time, a connoisseur of plants without any possible link to perfumery.
The shapes of some dahlias could indeed recall the baroque lines born in the 16th and 17th centuries, but it would be mere coincidence.
JF Laporte wanted to make his own one of the codes of those centuries to which he referred himself to, to create Maître Parfumeur et Gantier, with the reprisal of the title of the corporation of perfumers at that time.
- Do you know what J-F Laporte thought of so-called "niche" perfumery? Did he like that expression?
- He had a great affection for that perfumery of which he was the great inspiring figure although he did not care for that phrase. In truth, the phrase "niche perfumery" is a not a very felicitous one. He preferred to speak of a creator's perfumery. Today, moreover, other phrases are used: Authorial Perfumery, Creator's Perfumery, Artistic Perfumery, Alternative Perfumery (meh) and I must be forgetting a few others.
He really launched a fundamental trend with a deserving imagination and sense of daring in 1976 when he created an independent standalone L'Artisan Parfumeur. Then others followed in his footsteps.
- What are his most representative creations do you think?
JF Laporte has always had 2 fundamentals in his creations. Musk and amber. Therefore the creations which are most representative of his know-how are Ambre Précieux and Fraîcheur Muskissime.
And I would be remiss in not citing what was an immense pleasure for a multitude of people as well as a revolution for French perfumery: "Mûre et Musc", but in the era when he was the owner of L'Artisan Parfumeur.
- How do you explain his desire and energy for creating distinct brands of perfumery?
- He had the vocation of a creator and a spirit of great independence; another reason would be his dismissal of trendy codes in order to promote an authentic perfumery in the French style, exemplary of the great creative ability it had during the 17th, 18th and 19th centuries when it was not subjected to the diktats of marketing. He illustrated that aspect abundantly when he created Maître Parfumeur et Gantier by choosing an assertive, uncommon and baroque style, something that he had not done for L'Artisan Parfumeur.
- What did he like to say regarding perfumes, perfumery, or aromas? His maxims? His witticisms?
JF Laporte did not have any typical turns of sentences, therefore there are no one-liners nor maxims that I can think of. Perhaps nevertheless this one-liner: he liked to say that from being an artisan he had reached the grade of master. He never said anything negative about anything nor anyone. But one could have a fleeting insight into his thinking with two signs: a meaningful smile filled with doubt and/or a "Oh, you know, nothing is ever that simple" thereby meaning that it was not worh talking about because it was not worthy of one's attention. On perfumery in general, he was more amused in an ironic manner to see that there were between 280 and 350 lanches of fragrances each year and saddened by the trivialization of many creations.
- Why had he decided to retire from business?
In 2001, he was 62 I believe, it became a project close to his heart to create his Perfumer's Garden. This garden of fragrances, of perfumed plants had been a long-standing passion of his. He was already a great collector of dahlias, a strongly anecdotal choice since one cannot retrieve any essence from that flower.
He had not only created a magnificent place to visit but he had also conceived a pedagogical itinerary offered to the visitor so that he or she could discover and easily understand the different stages of the creation of a perfume. This garden required a crazy amount of time from him, which he had not been able to commit to while he was practising. He indeed always wanted to make himself what he had designed.
- What is according to you the most important legacy of Jean François Laporte?
The personalization, the individualization of the profession of perfumer just like in the olden days, whereas the first two-thirds of the 20th century had standardized and industrialized that trade. The unbelievable (and well-deserved) growth of the laboratories.
- Did he train any young perfumers?
He only trained one person, who had been by his side since L'Artisan Parfumeur, namely Frédéric Stalin, who works with me on the creation of fragrances. Frédéric is pivotal in our work. He has 27 years of experience, including 17 years spent with JF Laporte from whom he learnt everything.
- Do you know which perfumes from the French or world patrimony JF Laporte liked or admired more particularly, or the ones he liked to give as examples in his free forms of teaching?
JF Laporte never, but really never cited anyone. Frédéric and I never heard him utter the name of a colleague or that of a perfume as a reference, or to acknowledge it.
I was the first one to be surprised by this fact as well as by the fact that he had declined to become a member of the Société Française des Parfumeurs. He was very independent and the care with which he maintained that state pushed him to not mention others. But more especially, it was inconceivable for him to cite an external creation. If he felt esteem and friendship for a few colleagues, he never mentioned it in front of anyone. It had to remain in the privacy of his office, between you and me.
Sorry, but I'm not very loquacious on that topic.
- What did he think of contemporary perfumery and of its future?
He had a great and cordial curiosity for everything which happened in that universe. But he immediately brought in his professional judgement, a rather tender-hearted one because he liked to see people take risks. He sincerely thought that creative perfumery had a bright future ahead of itself but that it too would have to manage issues that would be inherent to its success, more specifically it would have to not to let itself get trapped by marketing issues. On that front, he was rather disappointed by a number of launches.
And this engendered sometimes some strongly-worded debates between us. I will give you two examples:
He was not interested in participating in international fairs. He reserved his participation only to fairs that had a very strong link to gardens like Les Journées de Courson or those of the Société d'Horticulture of the rue de Grenelle. Yet, to make oneself known is an important challenge.
He refused to let MPG enter a department store -- a lag which is hard to catch up on.
- What was the role of the Perfumer's Garden in his life?
It was essential: his abilitty to create original perfumes carrying the values of French perfumery really depended upon his taste for and his very vast knowledge of plants.
This is what I learned initially with him: to know well the different resources offered by nature in order to give birth to unique scents.
I would summarize by saying that he had succeeded in being the embodiment of a higher synthesis between the chemist by training and the sensible gardener; he was really both at the same time for the greatest pleasure and honor of French perfumery. And it was the chemist who was at the service of the gardener-perfumer. Never the contrary, god forbid.
JF Laporte was a font of knowledge, a knowledge which he liked to share with his circle, his audience. Everybody liked to listen to him, to hear him, learn from him.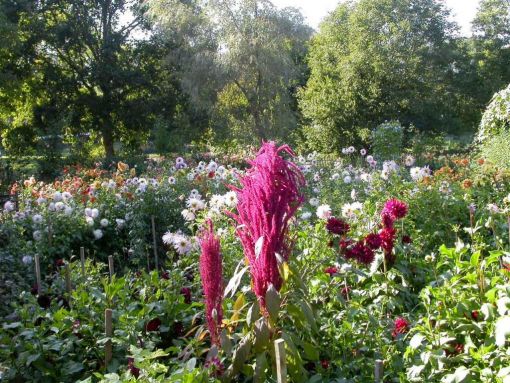 Photos: interflora; geo.fr