Editions de Parfum Frederic Malle Carnal Flower Hair Mist (2012)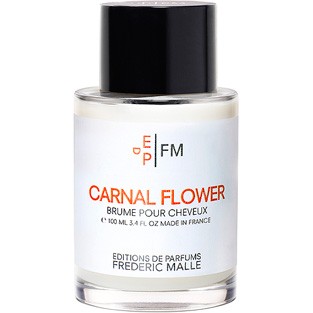 French niche brand Editions de Parfum have launched a new Carnal Flower Hair Mist, or Brume pour Cheveux in French, to allow you to perfume your mane with the scent of the original tuberose composition. Created by perfumer Dominique Ropion who likes to stress he started out in functional perfumery, it is a return to his beginner's skills although it is in fact quite delicate to achieve a satisfactory balance between function and form in that branch of perfumery...
About the process that led to the creation of Carnal Flower, which turns out to be quite technical, Frédéric Malle writes,
"With tuberose, nature offers her own take on dramatic olfactive clashes. These pretty flowers exude a mixture of flower shop freshness and carnal opulence. This natural contradiction has fascinated generations of perfumers including Dominique Ropion. He started to compose his interpretation of the mysterious flower from the latest high-tech analysis of its evaporation. To remain as close to nature as possible, he decided to use a mix of the best natural extractions and high-tech ingredients. Finally, to generate a link between this flower's scent and the wearer's skin he exaggerated some aspects already existing in the scent of natural tuberose, such as coconut and salycilates, and added a trace of musk. 18 months were necessary to find the perfect balance."
Price: $160 for 3.4 fl oz.