Serge Lutens Santal Majuscule (2012) {Perfume Review & Musings}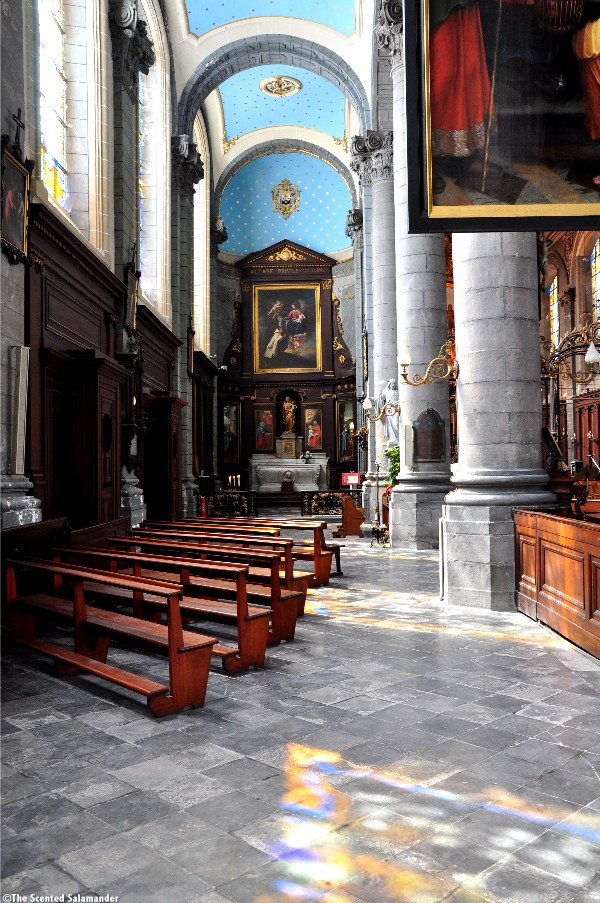 L'église Saint-André de Lille / The Church of Saint-André of Lille © 2011 Chant Wagner
By Chantal-Hélène Wagner
"Mmmm, delicious" is the first thought that comes to your mind as you inhale Santal Majuscule, the latest Serge Lutens out this summer.
The perfume imposes itself as a superlatively crafted gourmand composition, which immediately weaves accents of sandalwood with notes fit for the palate. Sandalwood seems to be used here almost as a spice, like an exotic counterpoint to a range of heartwarming flavors...
This Epicurian stroll takes place within a different range than the one explored by Serge Lutens in Santal de Mysore. If the latter evolves along the spicy-curry spectrum and is much more evocative of a classic Orientalist theme reminiscent of 19th century travel books with engravings of ajouré and precious wooden screens sheltering Maharanihs, here, we are tasting through the nose dark, roasted flavors, which are typical of the North of France from which Lutens hails as a native of the city of Lille (the image above is one of the cathedral Saint-André de Lille, where the Général de Gaulle was baptized).
Lutens in the autobiographical and poetic text he writes to introduce the new perfume - he is the most literary of perfume creators - comingles the themes of childhood, classroom revolt, imagination, a fantasy Middle Ages, and a sense of the sacred.
Unlike for De Profundis which attempts to come to terms with mortality, Santal Majuscule may be a reference more to a diffuse and aesthetic sense of the sacred, which gives meaning to Lutens' life without weighing down on him rather serving as a factor for expansion of the imagination and a certain glorification of the self. He thus imagines himself as a child-knight entering the Grand Messe on horseback at the precise moment of the transubstantiation when the priest elevates the host towards "the one who is nailed on the cross" as an expression of his personal, day-dreamt dramaturgy, which he contrasts to the one taking place much more banally in the classroom, where he is being scolded by his positivist-minded teacher, Vantienen, who really shows little tolerance for the workings of the imagination.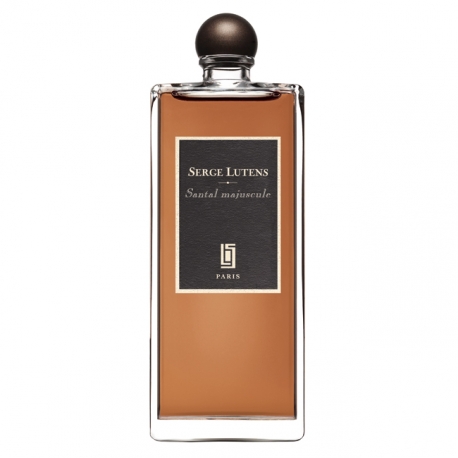 Santal Majuscule smells more of the bready goodness of the host than of volutes of expiation; it is life-affirming in a sensualist sense. There are seamlessly succeeding nuances of dark cacao, black licorice, roasted chicory, burnt coffee, warm milk and sweet caramel. Cacao has been reportedly paired at an essential turning point in the creative process with sandalwood in a stroke of inspiration as Serge Lutens was delving his nose into a can of cacao powder, discovering at that moment relevant olfactory affinities between the two.
The Australian sandalwood has been worked to feel lusciously edible and creamy evoking its well-known facet often compared to maternal milk - our primal food and a theme appearing already in Serge Lutens Louve. Yet, the sandalwood is also nocturnal making you think of the improbable scenario of spying Catwoman in her dark leather suit sautering towards a kitchen cupboard at midnight and sneaking her gloved hand into a tin box of Speculoos cookies spiced up with fiery cinnamon.
The perfume manages thus to be both lickin' good yet also mysteriously alluring, a balance which has been achieved before by Serge Lutens who is able to reconcile food and a brand of sensuality detached from food inside the same bottle as in Boxeuses, for instance.
Some influences can be detected such as Lolita Lempicka, Un Brin de Réglisse by Hermès, Yohji Homme, but also Tocade de Rochas and L'Or de Torrente (see further below). Santal Masjuscule which was as ever composed by perfumer Christopher Sheldrake in collaboration with Lutens, is also to be situated within the Lutensian oeuvre, and so one might remember the hot pot of coffee imagery in Fourreau Noir; the decadent molasses-like vanilla of Un Bois Vanille; the cacao allied with patchouli of Bornéo 1834.
To the nose, the pyrogenic nuances of licorice and coffee come to dominate at a point of transition in the fragrance development, yet as the perfume further progresses you start to uncover some of the reasons why Santal Masjucule smells seductive - and not just gourmand.
The sandalwood becomes milkier and milkier getting close and closer to the sensation of perfumed, well-moisturized skin. Even more to the point, fruity-floral accents of rose surface, with a touch of geranium crispness. For some time already, you were thinking that the perfume reminded you of a déjà-vu sensation thinking of L'Or by Torrente, a composition centering on roses and coffee.
Indeed, as you verify with a squirt of the latter, you can see resemblances emerge within the hearts of the compositions of both perfumes. L'Or does not have the noir character of Santal Majuscule, which is also much richer, but it offers that same idea of revolving around woody, pyrogenic and resinous roses dipped in a charcoal-black brew of coffee, as far as Santal Majuscule is concerned. While L'Or has the facile accents of white musks and is ultimately not as substantive materially speaking, Santal Majuscule after several applications layering themselves overtime shows it can be persistent and ever-deepening when you wondered if it might not be a bit weak on the tenacity front.
In the end, what we see here or rather smell, is a consolidation of the autobiographical thematic in Lutens' perfumery, his interest for cross-cultural overlaps, his ongoing creation and re-creation of perfumery as an alternative form to the art of pâtisserie - he's compared his fetish, matricial note, cedarwood, to being as good and palatable as a pastry - and his affinities with a darkly pigmented palette - with a predilection for the color black apparent over and over as for instance in Five O'Clock au Gingembre and Serge Noire.
There is also an ongoing exploration of the theme of mysticism and the affinities between this form of religiosity and perfume. Using a saying by Teresa d'Avila, he invites us to "Obey not my orders, but my silence". Through this eminent Lutensian sensitivity to the silent language of perfumery, we are connecting back to a moderrn, tolerable and borrowable form of religiosity and mysticism, which is not exactly superficial but rather enjoyable and allusive through those moments of silence we can experience that can be filled with perfume.