Boucheron Quatre (2015) {Perfume Review & Musings} {New Fragrance}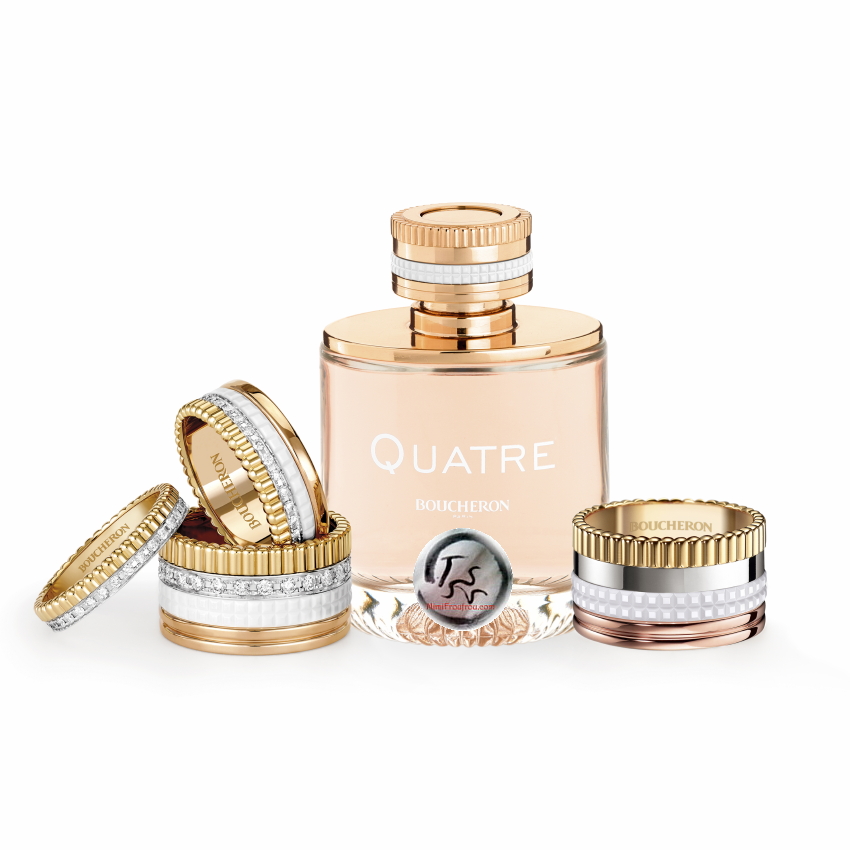 Courtesy picture © Boucheron
Quatre by Boucheron is named after the iconic collection created by the jewelry house in 2004, in particular the model Bague Quatre White Edition (2011) with the white ceramic band, which has been turned into the comble du chic - to speak like a Tolstoian character using French to express their more urbane and exquisite thoughts - since Chanel artistic director Jacques Helleu had the idea of displacing a relatively mundane material to the sphere of high luxury. It is not just a high-and-low effect but a marker of innovation as the material has been transformed into one with more texture and glistening appeal called Hycéramique...
The new fragrance is also about efficacious branding: a super brand like Chanel, a teacher of the luxury ethos, can virtually sell anything and everything and it would be perceived as high luxury. Boucheron are interested in branding their image thanks to perfume and amping up the iconicity supposed, accepted, reiterated of one of their most recognizable pieces of jewelry.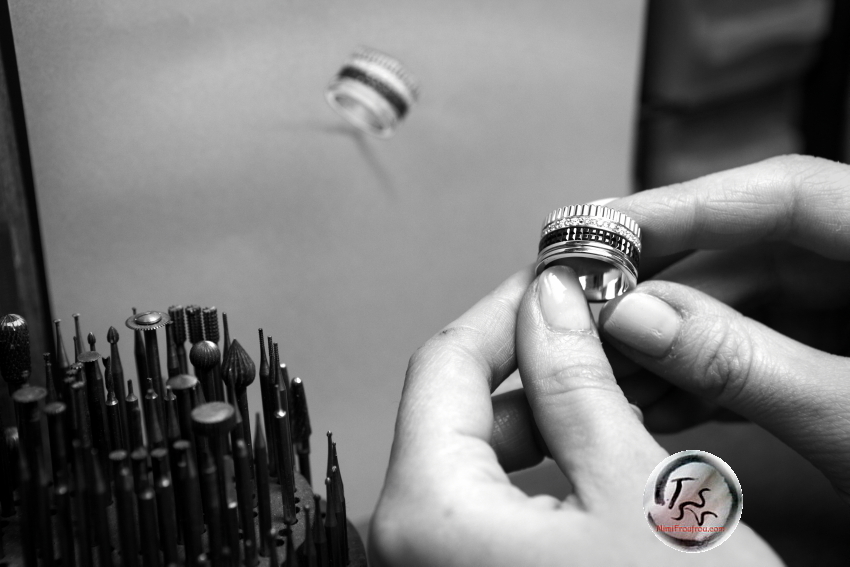 Courtesy picture © Boucheron
On a more subtle level, Boucheron are also borrowing from the economy of a name like No.5 (by Chanel) by calling their new jus simply "Quatre", i.e., "Four". Modern luxury is not so much about Baroque incantations as about nailing down what is essential, necessary and ravagingly simple.
As it turns out - and writing this review made me realize that, yes, of course, it makes sense - the composition seems to offer four main facets. You see, you don't necessarily see that as luminously while you are following the development of a fragrance attentively.
How Does it Smell Like?
The composition is signed by three perfumers from Givaudan: Natalie Gracia-Cetto, Nadège Le Garlantezec and Antoine Maisondieu.
The opening of Quatre eau de parfum is deliciously, even exquistely fresh and crisp suggesting the proximity, closeness and instant harmony of citrus fruits and peony blooms as if you could smell them in a Chinese ink painting. Then, a soft vanilla facet emerges which adds a less watery texture, while remaining discreet. No doubt, we are smelling an abstract olfactory representation of the white hycéramique band. The sparkle is for the diamonds and the "pink peonies" for rose gold - in fact are listed redcurrant and strawberries.
Quatre by Boucheron starts out as a delicate and pared down opus. The scent is like a three-note song for a little while. Then, woods enter with their smell of sharpened pencil letting go of spiraling-out cedarwood shavings. The sensation rests on a high-grade perfumery ingredient by Givaudan, Cèdre Orpur. Then, a fruity nuance plays out - osmanthus perhaps. It smells of stewed apricots and spices.
The general effect is that of an unusual accord thanks to a fruity and woody lychee. It is slightly cacophonic, just enough so as to smell interesting while retaining harmony. Jammy accents are contrasted with watery ones. Perfumed vapors escape the surface of the scent making you think of fragrant tea sweetened with jasmine blossom jam. There might be here an idea which was first seen in L'Artisan Parfumeur Caligna which rested in great part on the study of a jasmine-marmelade accord by perfumer Dora Baghriche-Arnaud.

Courtesy picture © Boucheron
A New Direction for Tea-Inspired Fragrances: Tasting Tea Instead of Inhaling Tea
Quatre, it must be stressed, is not a tea fragrance per se. It is something even more sophisticated than that. It points to the sensation of drinking tea rather than to the sensation of smelling tea.
Perfumer Jean-Claude Ellena, who famously prodded the tea bins at Mariage Frères in search for precise and documented inspiration, really concentrated more, and naturally so at that stage of innovation in the 90s, on the scent of tea. This was an original, groundbreaking idea at the time. It is therefore perfectly logical that the nose needed to bring to the world the fine-perfume form of a tea brew as wafting on air rather than going for a gustatory work.
Two decades later, and parallel to the enduring love for gourmand perfumes that we are experiencing worldwide, as well as after innumerable tea fragrances have seen the light of day and continue to be launched as one of the most prolific genres of perfumes, a shift can operate thanks to some more demanding creators exploring the sensation of sipping tea like a tastevin.
Connoisseurs have become a much more abundant legion thanks to the Internet. If the notion connotes a bit of clubbiness initially, in the age of the world wide web, a connoisseur can be any curious person with a systematic and attentive practice of a field of human experience.
In the case of sensory connoisseurs of food and perfume, which are de facto related, people have learned to both eat and smell slowly in order to appreciate refined nuances with intelligence. In this movement of further sophistication, you are witnessing, I believe, the appearance of tea-inspired fragrance compositions which are more about letting the flavors unfold in your mouth than dipping your nose inside a canister.
The jammy accord serves as a taste-oriented cue to invite our gray matter to remember what it is that is drinking tea as soft as silk to the palate, as warm as wool to the nose. Quatre lacks the obvious wateriness of the first-generation of tea fragrances. Instead, it chooses to offer, much more subtly, the sensation of drinking tea as the flavors are rolled around the tongue, exploding in a thousand nuances in your mouth.
The perfumers used the Givaudan Pétalia molecule which is described as a very diffusive ingredient « diffusing an odor of powder of pink flowers with accents of lychee »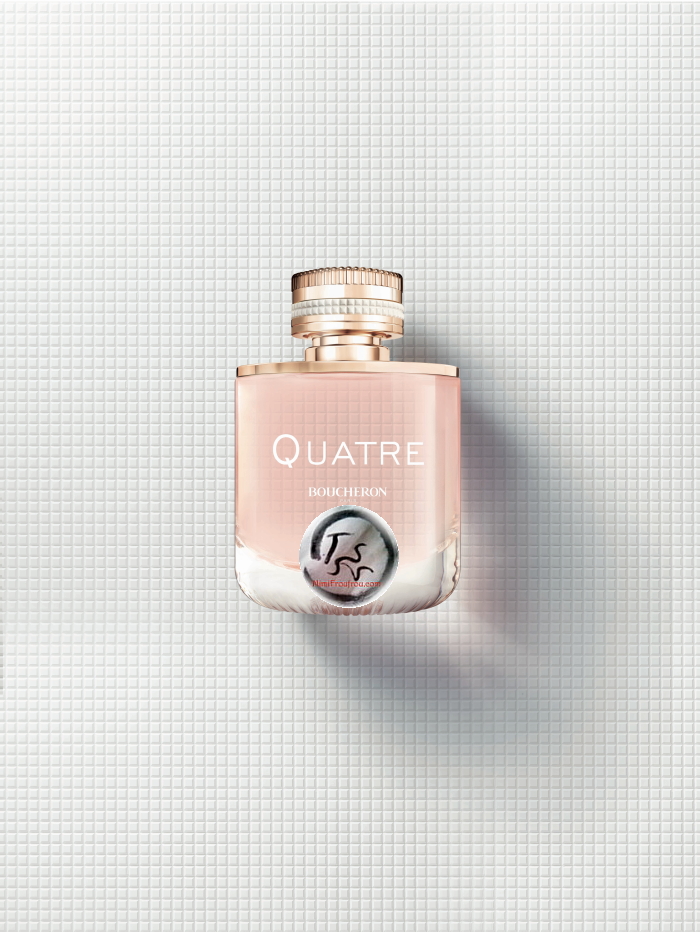 Courtesy picture © Boucheron
Yesterday, I tasted a Trappist beer, the Westmalle Tripel, which is so perfumey that it evokes that sensation of "drinking perfume" that we more commonly experience with tea, rather than with fragrance per se, except for Soviet-era diehard alcoholics. The new fragrance has that mellifluous quality that our palates sometimes encounter in the form of a little symphony of indescribable yet rich and multi-layered nuances.
The ending of Quatre is perhaps more terre-à-terre with its more predominant gourmand finale edging towards ethyl maltol. It still retains however something catchy, conveying the incongruous idea, a priori, of alluring jam.
Very far in the distance I recall the new-generation Miss Dior of the beginnings which smelled of tart strawberry jam and buttered popcorn while retaining a sense of witty elegance, which was witty precisely due to those impertinent notes that were incorporated into a fine fragrance. Its author, perfumer Christine Nagel, has brought that elegant gourmand, dressed-up edge to Si by Armani more recently.
While not as utterly impertinent and Parisian as that Miss Dior who dared blowing strawberries at passers-by, metaphorically speaking, Quatre somehow plays in the same playground of fruity rebelliousness. As a luxury designer perfume, it is also eloquently tuned into Chinese olfactory tastes as the luxury market relies on that clientèle.
The perfume bears the hallmark of what designer perfumery is best at: conservative charm, subtle sense of originality, wearability, style, high technicity. You may debate whether or not an optimal sillage should be very diffusive - or discreet. It feels here that it would have been excellent had the perfumers worked more in detail on the base, as they did in the top.
Notes: bitter orange essence, green mandarin essence Orpur from Brazil, sparkling redcurrant, wild strawberries / Sambac Jasmine, Rose absolue, Pétalia / Golden woods, Cèdre Orpur, Cashmeran, Musks.