Most Famous & Least Famous Perfumes by Eight Famous Perfumers {Perfume List}
Navigating the Perfume Market
The burden of niche perfumery more often than not is that the main thinking head for the house will be stuck at one level of perfume creation in the industry, that of her or his house. Take Serge Lutens. We would love to be able to report that besides his creative perfumery, he's also delved into more diverse and/or obscure, albeit no less meaningful endeavors. But no, his name remains attached for better or worse to his iconic label.
You as a customer do not need feel stuck in one style of perfumery.
By contrast, professional perfumers who work more like mercernaries, travelling from one tier of the perfume industry to another one, have the luxury of creating much more obscure opuses - in terms of glamour - just like shadows contrast with light. Those are the truly silent perfumes of expressive perfumers, ones that have a lesser amount of publicity to make them exercise their influence in the world of our senses...
So, which perfumes are the most famous and the least famous by eight perfumers we've rounded up to start off this list of contrasts?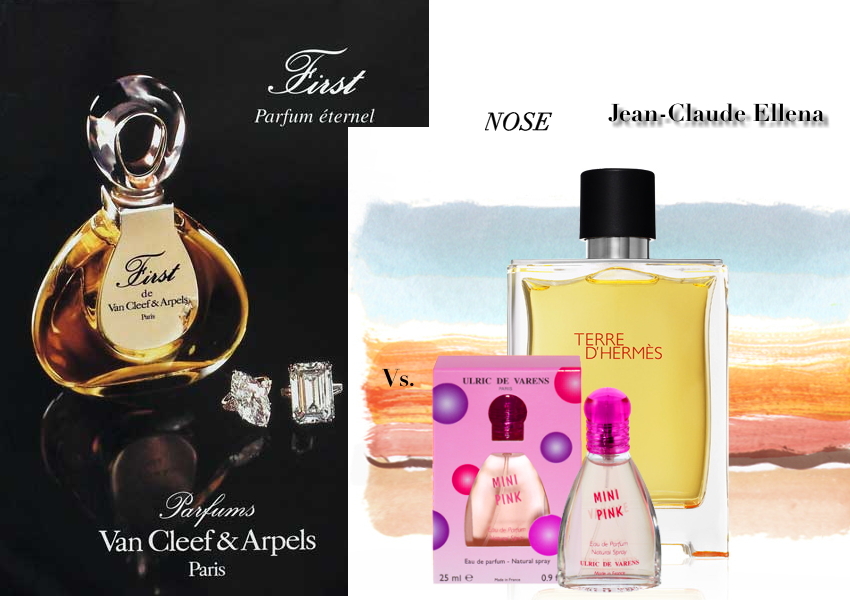 Jean-Claude Ellena
Van Cleef & Arpels First / Hermès Terre d'Hermès vs. Ulric de Varens Mini Pink
You might be interested to learn that Jean-Claude Ellena is not only the official in-house perfumer of Hermès but also the more unofficial resident perfumer for mass-market brand Ulric de Varens. We know we've found at least one gem in this house, which boasts an extensive catalog. Mini Pink flies below the radar yet benefits from Ellena's know-how and interest for the popular perfume market.
Dominique Ropion
Givenchy Amarige / Lancôme La Vie est Belle vs. Eau Jeune L'Echappée Belle (+ an anonymous bathroom product)
Professional perfumers exercise their skills at all levels of the distribution market. So yes, once upon a time, the great Ropion confessed to designing a scent meant to be flushed away down the toilet drain. No names were given. But imagine that: the same brain and sensibility which gave Amarige has given thought and time to an essential product in our lives, albeit one which is little advertized in glossy fashion magazines. Eau Jeune l'Echappée Belle is known to be one of his lower-profile creations. The nose has emphasized the point that there are very good perfumes in the mass-market. Usually, he says, their style is more subtle.
Françoise Caron
Hermès Eau d'Orange Verte vs. Pierre Cardin Choc
Not everyone will be aware that perfumer Françoise Caron, the author of the modern classic Eau d'Orange by Hermès, has also created Choc by Pierre Cardin. She has also created a terribly exclusive version of Eau d'Orange for the president of Hermès who wanted a more tenacious version for himself while aiming for a fugacious cologne for their patrons. While Choc is a mass-market product distributed by French drugstores, hence targeting a popular fan base, it is a full-fledged aldehydic chypre composition with a lot of designing power. Forget being a snob and pick it up at Monoprix.
Sophia Grojsman
YSL Paris vs. Coty Exclamation!
Two perfumes, one hyper glamorous, the other shyly puffing away in anonymous Walmarts - both by the same mama; perfumers often compare their perfume creations to babies. How can you choose between your different children ? It's impossible. You love them all. You're invited to follow this authentic internal logic and explore the whole family begotten by a famous nose.
Pierre Bourdon
Davidoff Cool Water vs. Faberlic Chocolate Story
Pierre Bourdon is known for his mega hit Cool Water. He also loves to create for the mass-market (and all markets). We picked Chocolate Story because it sounds so unlikely, therefore, intriguing.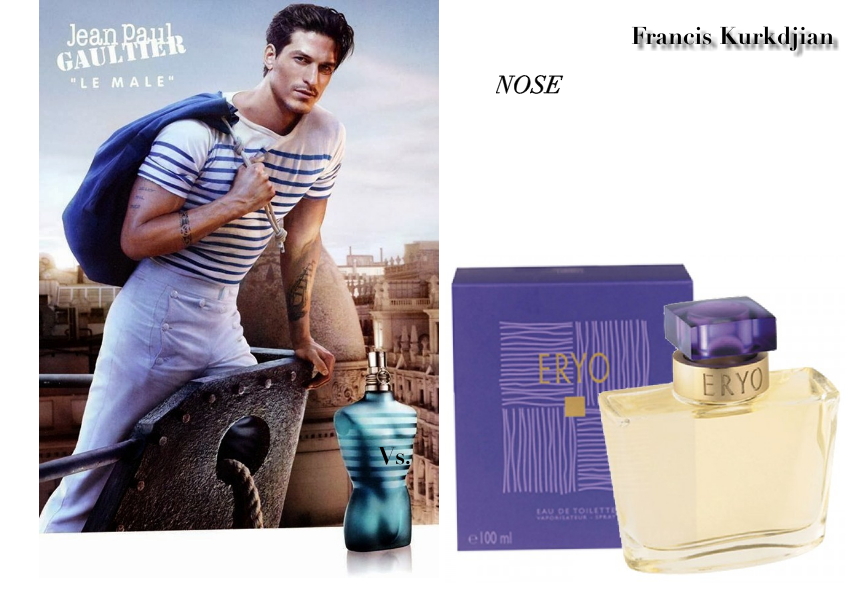 Francis Kurkdjian
Jean Paul Gaultier Le Mâle vs. Yves Rocher Eryo
Francis Kurkdjian is the author of Le Mâle which is one of the most publicized and beloved men's fragrances to date. He also composed Eryo by Yves Rocher which we discovered "blind" in store and thought it smelled great. Turned out it was by the man behind many big-name perfume hits.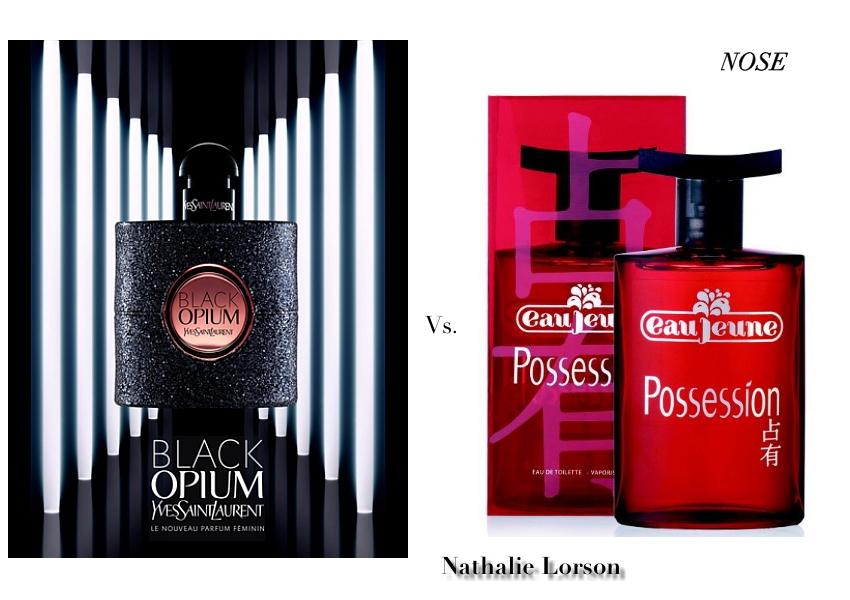 Nathalie Lorson
YSL Black Opium vs. Eau Jeune Possession
Nathalie Lorson is one of the four perfumers for Black Opium. While we wanted to love it - the bottle is so seductive - we couldn't. Having said that, it has a very strong presence in the market. She also composed Eau Jeune Possession (with Béatrice Piquet), which is known only to its users (and now you too). No big aura, but the same keen nose behind both scents.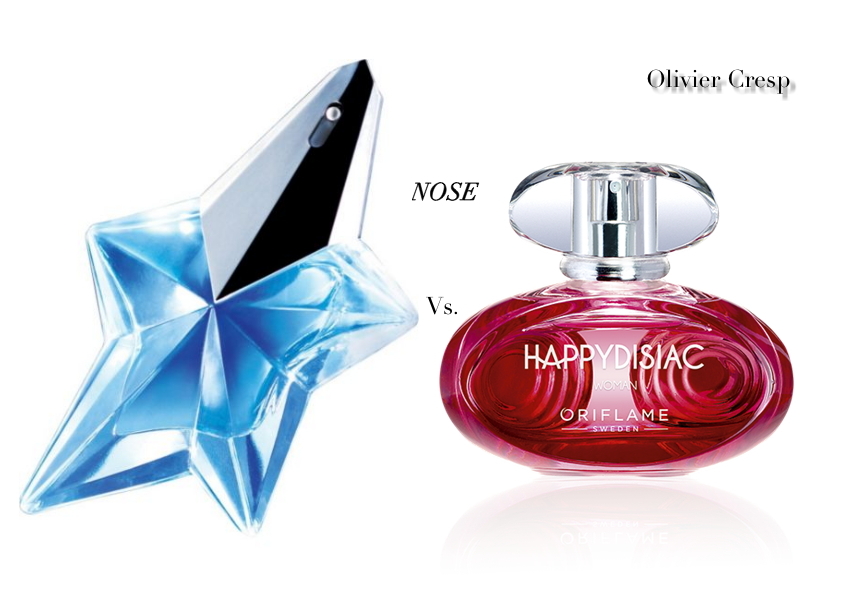 Olivier Cresp
Thierry Mugler Angel vs. Oriflame Happydisiac
Last but not least, we turn to the creator of Angel, one of the most iconic perfumes of our time, if not the most iconic one in terms of its posterity and impact on contemporary olfactive mores. In fact, this morning, when we announced his Happydisiac creation for Oriflame, it is this contrast which got us thinking about the chasm which exists in our perception of high and low perfumery.
In the end, rest assured that there is not one perfumery left to amateurs, which costs less, and one which is the preserve of the stars of perfumery - be it niche, design or high. From top to bottom and from the bottom up, you are in good hands when you know the name of the perfumer who worked on the blend. Perfumers love to know their creations are worn, so the mass-market is an ideal playing field for those people-lovers. Not all creations are equal, but at least, the juice will be part of the story of one perfumer's life itinerary - and perhaps yours too.