Tom Ford Black Orchid Eau de Toilette - The Art of Timing (2015-2016) {Perfume Review & Musings}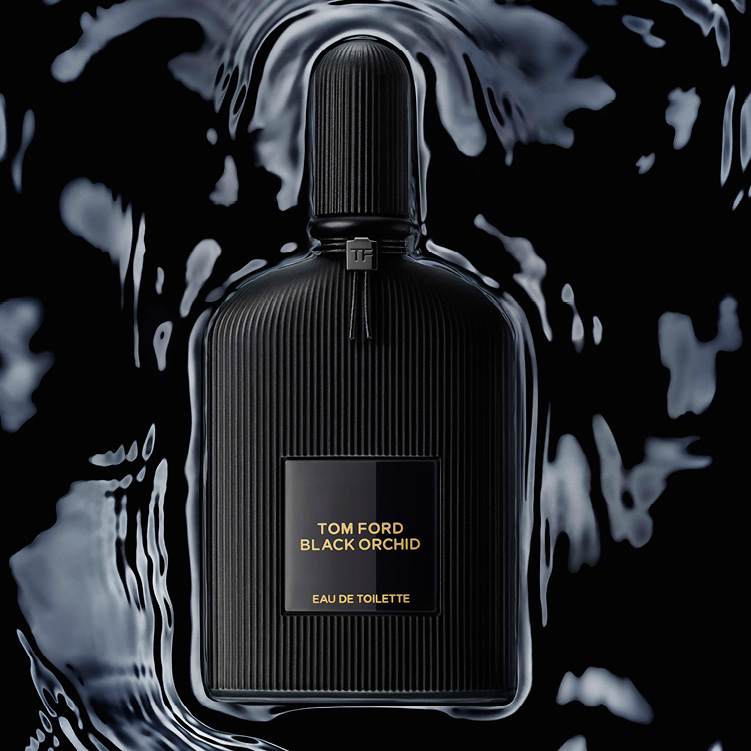 The flacon is now made of frosted black glass
Black Orchid Eau de Toilette by Tom Ford is a new flanker to the original Black Orchid Eau de Parfum (2006), which was released in the fall of 2015 in the United States and arrives in the spring of 2016 in Europe.
At first blush, this appears to be a faithful rendering of the original Eau de Parfum while a closer reading teases out novel, under-the-surfaces freshly minted accords - a bit as if you saw a person dressed in the same outer, black outfit and later uncovered the fact that she or he is wearing different undergarments, in variegated, subtle nuances. The fragrance offers almost a moiré effect, as when you bring a textile to light and any fresh movement will make it shine differently...
The perfume starts out more sparkling and brighter than the first one, although this brightness is well-contained within the obscurity of the original Black Orchid EDP - a fragrance inspired by the atmosphere of noir movies made in Hollywood and admired by fashion designer - and director since then of A Single Man - Tom Ford. In 2016, his second movie is due out, Nocturnal Animals, where the noir thriller thread continues to run.
In Black Orchid Eau de Toilette, you will find the same truffley, mushroomy smells of the underwood; you can detect the same work on tropical putridity, made palatable. The excess is still there. One of the newer sensations is that there is an underscore of citruses shining dimly in the dark, lifting the blend as if an arc of hesperidic fruits played the role of a corset.
Cara Delevingne is the face of the fragrance
There is also a new tonality of velvety iris/violet which softens the character of Black Orchid EDP. This sueded feel is more unexpected as an add-on to an eau de toilette interpretation, but then you may think of Chanel Eau Première which is at once luminous and eats the light with its opaque iris - and you could see where this idea of a lighter yet substantive take on an original may has a match. This idea in fact goes back to old recipes of eaux de cologne where you can find a contrast between two natural and highly sought ingredients: bergamot and iris. See for instance The Pope's Cologne by Excelsis or Ess Bouquet by The Crown Perfumery.
Then, even more unexpectedly, the scent of fruity cassis rises - a certain type of blackcurrant accord. It reminds me a bit more of a cassis home fagrance I once smelled than of any other references. Earthy accents of patchouli leaves lead to a milkier chocolatey impression in the base.
This recreation of Black Orchid is worth considering if you would like to wear a less present version of the familiar olfactory signature while acquainting yourself with new, possible, creative nuances for the perfume. The composition continues to offer satisfactory depth but behaves classically like an eau de toilette, never outstaying its welcome. Technically, it is quite a feat to convey in the same stroke of the brush complexity, depth and a sense of timely restraint as if the perfumer had incorporated clockwork into his fragrance which stops each time at the same expected point.
Notes: Black Truffle, Ylang-Ylang, Bergamot and Black Currant, Black Orchid, Black Iris, Black Plum, Lotuswood, Patchouli, Coconut, Cinnamon, Balsam, Incense, Vetiver, Sandalwood and Vanilla.