Dior Poison Girl (2016) ≈ Grand Sleeper in Plain View {Perfume Review & Musings}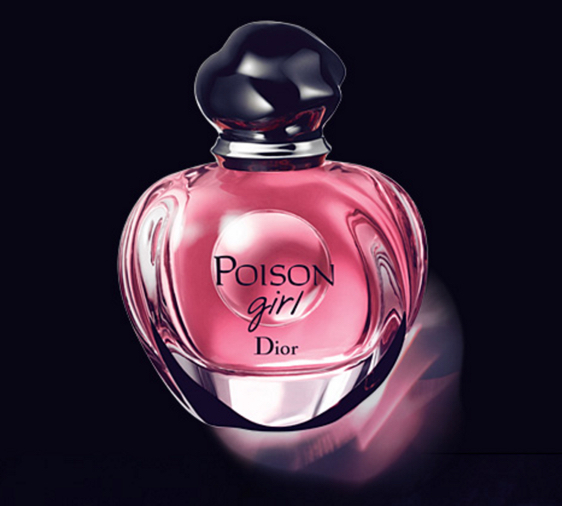 Perfume Review of Poison Girl by Dior
Framing It
Poison Girl is the latest major perfume launch by Dior aiming a new generation of young Dior women. If it could be expected to be a direct descendant of the seminal 80s Poison (1985) meant for a 21st century audience, in reality it is more closely related to one of the Poison flankers of the 90s, Hypnotic Poison released in 1998.
It is also manifestly an offspring of Angel by Mugler and a merchant Trojan Horse rolled up to the gates of Black Opium by YSL. The fragrance is in fact several things at once, its composition bearing the hallmark of an important project which was carefully thought out, but also minutely crafted. While it is a commercial perfume, it is also an extremely well executed one - the two not necessarily being associated that often...
A cherry-tinged opening lets you on an open secret: this new composition by Dior is at one level - the marketing one - a reflection of the commercial success of La Petite Robe Noire by Guerlain 2.0 . Dior and Guerlain are both owned by the luxury group LVMH. This means that the worst case scenario which could result from this comparison is that one perfume overtake the other in popularity, as sometimes happens when a perfume "cannibalizes" another fragrance within the same perfume brand. The best case scenario on the other hand is to anchor even more solidly an olfactory trope which has proven its popularity.
In this case, Poison Girl is at a reflective, business level, an attempt to replicate and expand a successful formula. In perfumery terms, it inserts the iconic note, cherry, inside a floriental structure rather than a chypré one.
And although you would have every right to despise this lack of inventivity and by-the-book commercial Trojan Horse, Poison Girl comes across as being more than the sum of its parts. This is an extremely well done composition, which while conscious about market realities, also manages to take off and add undeniable, supplementary charm to your life. There is a je-ne-sais-quoi to it which makes it work. As a French speaker, I cannot but imagine that the phrase "Quelle poison !" which would mean that this girl is mean-spirited and a pain in the neck, is uttered but with affection.

The Close-Up: How it Smells Like
Past the hit of rum-y and almondy cherry evoking marzipan, or the "frangipane" filling of galettes des rois, as well as the obvious ethyl maltol ode to Angel, Poison Girl lets out new, subtle nuances of both warmth and bitterness, the latter an olfactory territory sometimes explored, but not often. Here, however you can discern in the midst of light cherry jam and sweet orange blossom, some green, fresh and yes, bitter secondary, perhaps even tertiary notes. It is the effect of the orange bigarade. The white musks are also subtly sharp, with a hint of foulness, just enough so that the girl who wears this perfume does not drown in too much niceness and sweetness. We would go as far as saying that it smells a bit urine-like, akin to that whiff you might catch if you walk by men's lavatories in the subway.
The warmth comes from a subtle and unadvertized dose of immortelle or everlasting flower, with its caramel-y and smoky edge evoking burnt sugar. It may recall to some the sensation of and success that was l'Occitane Immortelle de Corse by young up-and-coming perfumer Claire Chambert.
Poison Girl therefore despite its apparent front sweet tooth is actually very much indebted to a core classical French creed about perfumery, that a perfume ought to smell bad at some level, evoke fetidness so as to work and be complete. It is this very sophisticated balance between the fragrant and the putrid - to be burnt is borderline foul - which we find in Poison Girl, which to my nose, makes it an excellent perfume which can be worn by anyone, not just damsels in trouble or in search of trouble.
The orange blossom and the white-musks-with-a-twist manage to smell clean yet dirty enough at the same time, on a more subliminal level for the latter part. It conjures up at once clean and white bed sheets, but also warm skin.
The composition continues to waft of cherry and almonds, a riff on Hypnotic Poison by Annick Ménardo. The bitterness of almonds and of bigarade ensure that the regressive notes are more dynamic. There seems to be even an understated spicy nuance of star aniseed.
Poison Girl is a much easier perfume to wear than Hypnotic Poison or even La Petite Robe Noire because its sense of statement is so much more under-the-radar. The cloud of vanilla of Hypnotic Poison has been considerably lightened, making the whole composition come across as less boudoir-like and more unselfconscious, yet certain of its power of seduction. Like for the original Miss Dior which nibbled on strawberries and popcorn, it is now munching on cherries and almonds and vanillic tonka/vanilla, all of this with a restrained sense of style.
The creative team has visibly worked on the themes of addiction and unforgetfulness because as I've experienced it, you go back mentally over and over again to this perfume even though it does not smell extraordinary at first, at all. It however manages to leave a lasting impression in you. We think that this is an extraordinarily well made perfume and should be experienced as such. It is a truly novel and authentic olfactory experience even though it does not smell that groundbreaking at first blush.
On a more functional plane - and far from the advertizing clamors of mischief, misdemeanor and transgression for us, it is one of the ultimate office perfumes in the best sense of the expression. It has a way of weaving itself into the fabric of everyday life while enhancing it subtly, which is, yes, absolutely, jaw-droppingly impressive. Perfume lovers ought not to be turned off by all the marketing fanfare surrounding its release, instead we invite them to listen to the persistent soft, slightly bitter - as we like to say in French "doux amer"- yet insistently addictive voice of this perfume.
Fragrance notes available here.