Guerlain La Petite Robe Noire (2009): The First Multi-Generational Guerlain {Perfume Review & Musings} {Fashion Notes}


Musky cherry on a bed of both candied amber (Flowerbomb) and old-school ambergris (Zibeline) with a dash of civet, moist chewy almond and praline macaroons, a gogo, a whiff of Mitsouko's signature in the base, with tart berries and fleshy mango...Each time that I try the latest perfume to come out of the Guerlain stables, La Petite Robe Noire, whimsically drawn for the younger generations, I am compelled to experience a different less-than-easy-and-lazy nuance, going from slightly trashy to elegant.

The fragrance is incredibly well engineered, has visibly been perfectly thought out to mesh diverse anticipated degrees of maturity in taste and to bridge generational sensibility gaps. The newest Guerlain has some ambition of being a one-stop fragrance. Reading the description of the notes in the initial announcement may have opened up expectations in the direction of a fragrance born to become a simplistic crude gourmand commercial hit, but LPRN is more like a three-generation-women-in-the-same-family perfume, maybe even four actually. It can be seen to pander to the tastes of ideal perfume-crowd types: the 2008 Hello Kitty crowd, the Insolence one, the Chamade one, the Mitsouko one and even the Zibeline one.

La Petite Robe Noire comes across as a perfume of highly intelligent design in which significant intellectual and material resources were obviously invested. It stands as a beautiful and efficacious industrial perfume which could conceivably be exhibited at a 21st century Universal Exhibition with the following slightly naïve caption underneath "Come ye marvel at the progresses of modern perfumery."...

A Madeleine Vionnet LBD, 1923. She is credited by fashion historians as the inventor of the little black dress. Drawing by Thayaht, allposters.com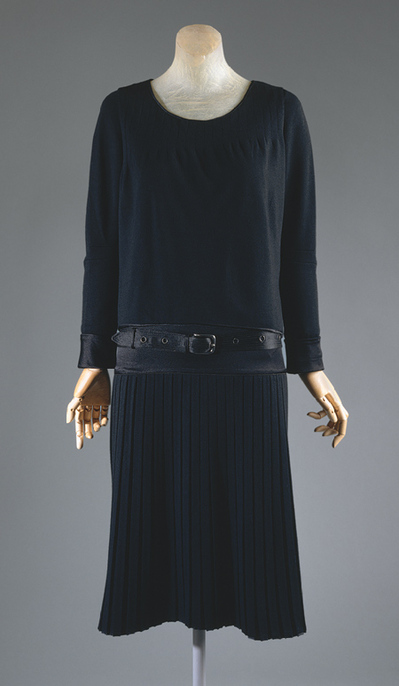 A Chanel LBD from 1927 © The Met
So how does a perfume that constantly seems to want to say a diffident zut!, retrospectively, to its next developing stage smell like in the end? A mess? Incoherent? Extremely well structured and clear-headed on the contrary. Smelling it is like leafing through the pages of a family photo album revealing changing gradations of crispness and color, weathering and immutability all at once; it is like witnessing an olfactory evolution of style in skirts' lengths and shoulder lines. In this case, as is quickly apparent, it is irrelevant to try to find the color black in the perfume. This would be too literal.

The manner in which any modern feminine perfume unfolds offers this permanent possibility of always going back to the far past, to those lasting ultimate base notes of slight animalic decay and fur coats. La Petite Robe Noire unfolds like a time machine going back to yesteryear while pointing an index to the future; like the eponymous classic garment - and this is precisely where the parallelism stands. The perfume is both classic and very modern with a seeming in-built chameleon-like capacity to adapt to any situation thanks to a multifaceted, structured character. In the top notes, you will discover an edgy, unusual sensation that is very "tomorrow". In the base notes you smell the fruity chypres of yore, the ambergris and oakmoss of another era. The perfume thus subtly sandwiches slices of time. Rather than going for a literal and linear interpretation of atemporal feminine tuxedo-like elegance, the new Guerlain is about La Petite Robe Noire because it is kaleidoscopic, standing as an olfactory manifesto of the perennial ability of the little black dress to wither change and contain all epochs in it since the 1920s. This is why LPRN, I realize now, goes back in time, but stops traveling in time to the 1920s, the official benchmark era retained by history to trace the little black dress to Coco Chanel. Fashion sophisticates however prefer to point to the earlier avant-gardist couturière Madeleine Vionnet, as the real creator of the LBD in the 1910s. As Lydia Kamitsis writes, Chanel was not so much a pioneer in this respect as a celebrity with a flamboyant lifestyle and this helped her gain and retain attention in the annals of fashion history.

In this manner, La Petite Robe Noire is the ultimate mainstream fashionista's perfume, the woman who experiences the passing of time through style yet always looks to a way to stop the push of mortality, dreaming of the classics.


A Multi-Faceted Perfume

If a good perfume is a successfully orchestrated invitation to mental vagabondage, then La Petite Robe Noire is it. Despite the slightly cartoonish drawing of a LBD on the classic Guerlain inverted-heart bottle the perfume was created by demanding minds for other demanding minds. It has humor, it has hipness, it has high intelligence, it also has a bourgeois orientation making one think of those young girls in the beaux quartiers of Paris who dress in part like their mothers, in part like their peers, wearing a high-luxury item or two mixed with lower-brow clothing.

La Petite Robe Noire starts with a nod to artificial flavors and ends paying homage to the voluptuous fruity chypres of the 1920s and 1940s, the line running somewhere from Mitsouko to Femme to Chamade (1969) but made even more modern and youthful than in Chamade with definitive bows to regressive dessert-y notes. There is also a measure of oriental, femme-femme quotation bringing to mind the chocolatey patchouli-ambergris nuances of Zibeline by Weil, but also of the much sweeter Dior Addict and more recently Ambre Gris by Balmain.

La Petite Robe Noire is attributed to perfumer Delphine Jelk and Guerlain artistic director Sylvaine Delacourte. The new in-house perfumer Thierry Wasser had anticipated when he took on his new job at Guerlain that he would not be able to create all of the 20 launches put out on average per year by the Guerlain house. Perfumer Mathilde Laurent who was once employed by Guerlain and is now with Cartier described in the past how perfumery creation at Guerlain could be compared to that of the workshop of a master painter, with Jean-Paul Guerlain overseeing and signing some of the scents. If any further linkage can be established with a perfume by Thierry Wasser, I would say that LPRN made me think at some level of a high-end version of the fun Armani Diamonds, with much more efforts at technological sophistication, intellectual clarity and quality of ingredients.

My initial take on it was to discover a kaleidoscopic dark Kool-Aid cherry in the top notes that seemed to burst and refract light like a crystal and then took you on a journey - I don't know - somewhere into the human blood stream, say, with all that red and juiciness and animality and gourmand bits and highly structured system. The feeling of newness and modernity is palpable from the get-go and well expressed by the perfume itself, not just the bottle. We have all smelled cherries in perfume before, or almonds, or macaroon but here they are put together so as to create a new grammar, new sensations.

La Petite Robe Noire opens on a bold and faceted dark cherry accord, evoking more a fizzy powdery Kool-aid drink than Champagne, although the latter is being advertised by the press release. In fact the fizziness feels like a stylistic rendering of what "young aldehydes" might smell like. This is soon combined with a caramel-y and lacteic facet. The result is a bit unusual as it is crystalline, transparent, refractive, juicy and gourmand; looking at a past post on A New Generation of Gourmand Scents on the blog that I illustrated with a picture of "raspberry seltzer", I find that it captures that unusual sensation quite adequately.

La Petite Robe Noire smells very modern and researched.

The initial gustatory notes quickly give way to a nice realistic and moist Ladurée or Pierre Hermé macaroon (cf. Guerlain's partnership with Hermé for Spiritueuse Double Vanille) as well as almond-y accord with a near-chewy and sticky quality to it (the filling), complete with a whipped-white-egg impression of meringue later becoming more lemony. The gourmand notes rest on a rather pungent musky and ambergris animalic accord. Here again, a new sensation appears at one point, that of a transparent ambergris, one that is unusually aquatic and metallic.

After the crystalline, bejeweled fruits and macaroons fireworks, the scent fades into a more muted almond-y and doughy iris-y atmosphere which reminds me of the slightly gourmand Love in Black by Creed.

La Petite Robe Noire is gourmand but with a certain discipline and clarity of vision and slightly corseted feel, despite the freeing LBD reference, in principle.

Floral notes peak through more distinctly later in the development. Powdery rose lipstick too.

Finally, underneath a coulis of raspberries and rosy jam seemingly saturated with fruit flavors, one of the final stages of the perfume is evocative of the old glories of Mitsouko and Femme but updated. I also included Chamade as a reference because of the blackcurrant note in it and its status as an earlier "young Guerlain perfume" with a more modern signature. Nahéma also comes to mind due to the boldness of LPRN.

Perhaps the big idea we can retain from this attempt is that Guerlain are signing their first or most systematic multi-generational perfume to date. Insolence was already playing that card but in a more dichotomic, easier-to-track manner although its "spiral" construction was perceptible and edgy. With La Petite Robe Noire, it starts feeling more like the movie The Red Violin, where one object travels through various centuries mirroring human diversity and its fluctuating historic experiences and expectations. Guerlain seems to be saying in not so many words, despite the fact that we were born in 1828, we are here to stay.