Mugler Angel Muse (2016) ≈ Refracting the Addiction to Angel while Playing Out of Africa {Perfume Review & Musings}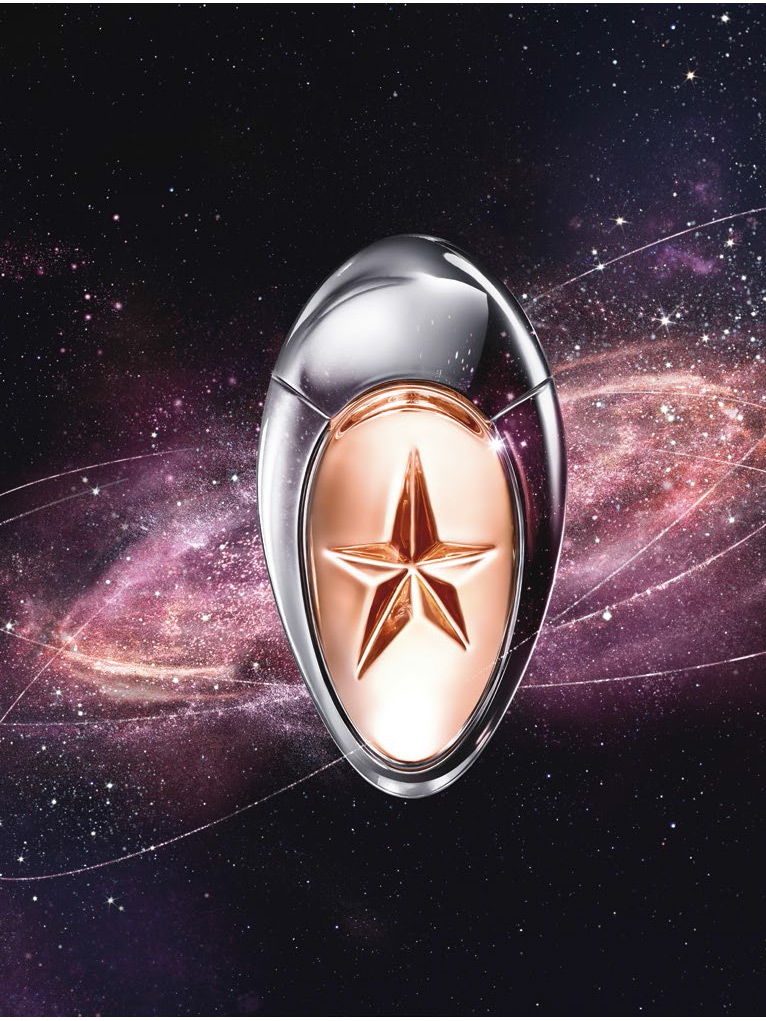 Perfume Review of Angel Muse by Mugler
The latest fragrance by Thierry Mugler - now just Mugler please - Angel Muse, is offered as an olfactory interpretation of addiction, which could be viewed as both justified and overly easy since its matrix perfume, Angel (1992) has generated cohorts of addicts to its gourmand scent - and to olfactory gourmands in general - as well as countless copies and homages. What is less straightforward a priori is to develop a new addiction based on an old one, emphasis on new: how can you make sure it is really new while preserving the legacy - or the effect - of the first perfume? Perfumer Quentin Bisch of Givaudan has decided to re-insert the soul and smell of Angel while exploring new territories...
Angel Muse by Mugler opens on a blast of jammy red fruits spiced up with patchouli - the typical signature of Angel - opting for a more cacao-rich end flourish in the top. The signature of Angel therefore is proposed clearly from the start. What is novel is the way in which the perfume segues into a rather subtle lactonic impression approximating that of steamed condensed milk, the well-publicized "crème de noisette" (hazelnut cream) accord. Vetiver has a hazelnut facet and so it's a natural way of bridging notes. It seems also that the savory possibilities of the original formulation have been accentuated to play a contrasting, salty sensation to a cloud of powdery sweetness, a little bit like the natural salty edge of very sweet dates.
This new version of Angel, which takes a more distanced view of the first fragrance, if we are to believe the program contained in its name - a flanker with a sense of independence - brings a smile to your face as it suddenly smells like an Angel demultiplied, i.e., this smells like the general idea of how Angel has exponentially multiplied over the years thanks to it being copied left and right in the international markets in fine perfumery and toiletries, home fragrances, candles, detergents, and what not. In this sense, it seems to create a voluntary moment of caricature - but then takes another turn.
While it holds that universalist, über obvious accord of Angel to resound in the silence of your nosey perception, evoking all the homages and plagiarized copies of it populating planet earth, you are given to contemplate the obvious to the point of ridicule. We said about our initial take on the perfume, from the bottle, that it seemed to own the field of gourmand perfumes. Now we can say more precisely that it smells like a house of mirrors of Angel,
1st Impression of Angel Muse by Thierry Mugler: this is definitely a riff on Angel while owning essential gourmand field trends it created

-- TSS@MimiFroufrou.com (@scentsalamander) March 20, 2016
Artistic director Christophe de Lataillade did say that,
"To offer an analogy, one could say that Angel eau de parfum is the star while Angel Muse gravitates around the star and revolves as if around a galaxy" (our translation)
Is the name "Angel Muse" an insider joke, you have to wonder? In this moment, the new perfume smells as if it meant to state loudly and clearly that it has served as a muse to countless perfume copies at the end of the 20th century and the beginning of the 21st, even ironically incorporating some of the more pedestrian nuances found in some blaring Angel fakes.
After that stage where it smells like a manifesto, the composition takes on a more personal olfactory style, where you can see the signature of Angel meld with a medium light vetiver with hints of fresh greenness but also roasted coffee. The vetiver offers a dusty texture, with slight undertones of milk and caramel - the crème de noisette.
The main guest note, vetiver, then takes on a significantly more exotic tonality, smelling more like say, African vetiver, evoking the savannah, tall grasses, mysterious spices and sugar, with a welcome hint of smokiness to them. This is, to our nose, the dreamiest part of the perfume so far, reaching that point where you have no trouble imagining that the Mugler cosmic pebble landed in an unknown, vast country smelling very different. It smells also like those vetiver-based blends straight out of Africa often worn by Africans in Paris - the ones who have kept cultural perfumed links to their roots - or as reproduced in Timbuktu by l'Artisan Parfumeur. A papyrus nuance stresses this otherness aspect.
A fourth stage appears where a sensation of rawness is developed. Cutting through the re-worked and recognizable signature of Angel, more primeval elements appear. If your mind turned to a majestic African landscape previously, now, it turns to rock caves and the Prehistory. There is something very unadulterated, fresh and raw about what you inhale, although there is also a hint of old-books scent to it and terreous effluvia.
Another compelling aspect of the fragrance is the mannner in which it manages to smell like a refined medley of childhood sweets all at once, conjuring up those kiosque à bonbons at the Jardin du Luxembourg where you can sniff the candied sweetness of multicolor sugary necklaces wafting of orange blossom you're invited to suck on, or the hints of black licorice coils with a heart of Car-en-Sac.
Angel Muse smells delicious against a backdrop of grassy vetiver. It is a warm and skin-friendly hug with a hint of exoticism while also referencing at some level the powdery rose scent. Perfumer Quentin Bisch has managed to hold all sorts of diverse ideas into a coherent whole which feels rich rather than confused. It is perhaps an Angel reflecting better a diverse society where cultural influences comingle. Since it was born in 1992, it has travelled from the stalls of a Christmas Strasburg market to include now the African spice store. This is a more cosmopolitan Angel, with a larger measure of olfactory and cultural inclusiveness surfacing in its palette of emotions.