MUGLER Announce Fusion of Brand Logos {Fragrance News} {Fashion Notes} {Perfume Images & Ads}
The New Logo
Mugler announced on the 22nd of February 2016 that the house are fusioning their perfume and fashion brands under a new, simpler logo spelled all in capital letters as MUGLER to accompany their development over the next several decades as well as expansion on an international level...
Previously known as Thierry Mugler, a more direct reference to the founder of the brand, it now aims to convey a more universal vibe.
The designer explained,
"This new logo rests on energy and modernity. I wanted to create an assertive visual impact, a timeless architecture. It is about the synthetization of a universe which will leave its mark on the creations of the house for quite a long time." (Our translation)

From the French,

"Ce nouveau logo repose sur l'énergie et la modernité. J'ai voulu créer un impact visuel affirmé, une architecture intemporelle. Il s'agit de la synthétisation d'un univers qui marquera pour longtemps les créations de la Maison."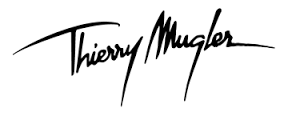 The Old Logo
The new logo was created by T. Mugler himself. The galactic, spaceship-oddity aspects of the old logo have been trimmed down to a minimum now kept only in the "R" and echoed in the "G" as well where subtle elements of dissonance can be deciphered representing the twisted touch of the creator and the hand of the artist.