Création by Ted Lapidus (1984/2011) {Perfume Review & Musings}
A Review of the Reformulated Création EDT by Ted Lapidus
Création was the first perfume launched under the Ted Lapidus label in 1984. According to Elizabeth Cereijo, head of fragrance products at Groupe Jacques Bogart, it was named this way because the perfume brief required a fragrance without lineage, i.e., a veritable, original creation, which could not be linked to others. Perfumer Jean Pierre Weil of fragrance company Créations Aromatiques decided then to rely on a complex formulation to avoid ressemblance...
Due to market forces however, four years later, after the Balenciaga brand was brought by Jacques Bogart, a perfume called Rumba was issued in 1988 composed by Jean-Claude Ellena in a manner wholly uncharacteristic of his more personal, later style. Rumba rumbled and was like a loud and proud version of Création when the 80s played further with ostentation.
Création while having been adapted in 2011, retains the scent of its big-hair and big-shoulder pads origins. It is animalic - a category which is reexamined by niche perfumes today but not a popular one otherwise - with a powdery mimosa effect and a honeyed nuance, too. Green, raspy accents of iris leaves called « vert d'iris », galbanum and cassis, allow the scent to avoid coming across as cloying. The floral bouquet of tuberose, jasmine, rose and carnation feels classic mid-century. The composition unmistakenly bears the hallmarks of the 1980s, a decade which itself smelled like a modernized adaptation of the 1940s; at least, Création makes you think of that link. Perhaps the big shoulder pads that women wore in both decades explains the affinities: buffaloing and powering through WWII, later a still very masculine workplace, necessitated strong built however padded a warrior impression you were supposed to fake. Look at Donald Trump today, at his suit in particular, and you will be able to gauge the assumed power of the big, square, blocky suit with enhanced shoulders. Look at football players too. They have those pads and it's not just for cushioning, but also for visual effect.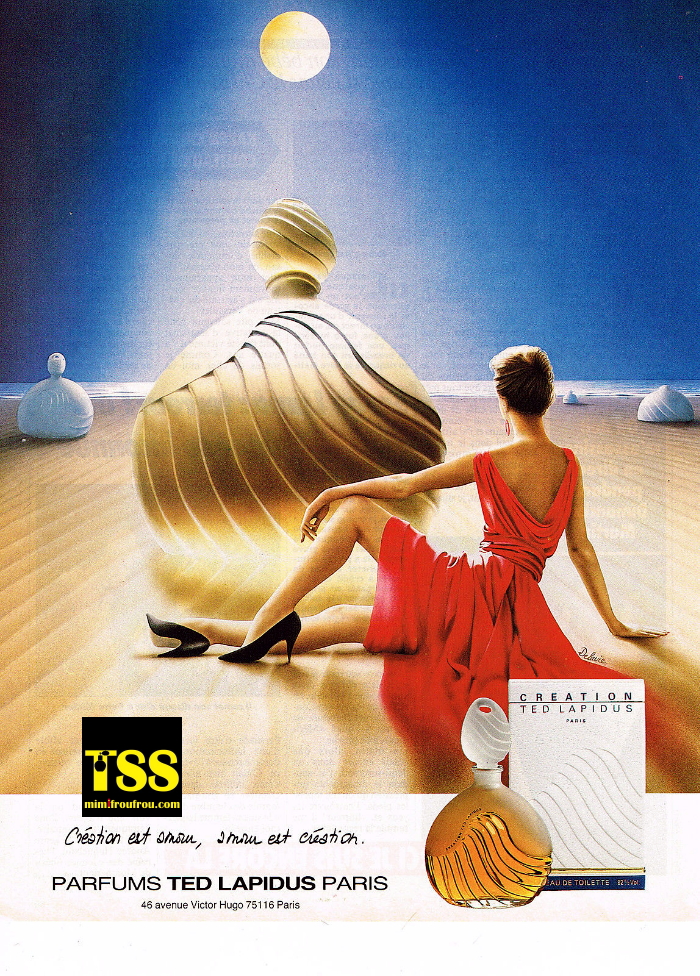 The 1984 advertising for Création by Ted Lapidus - The very-warm-skin impression we detected before seeing this advert.
So, back to Création by Ted Lapidus. It is an assertive feminine composition which emits aggressivity - in the American sense of that being considered a virtue - but also a measure of honeyed softness and floralcy. It smells vaguely rumy as in the chic, perfumed breath of alcohol emanating from a rich woman wearing gold bangles up to the elbow. There again you can't escape the feeling: the scent is showy, statement-oriented, and evokes armored body parts.
What makes Création feel more sympatico, more natural are summery nuances of blond hay which come rising to the surface of your perceptions telling you that after all this woman is a simple girl, too, who enjoys the countryside. Création creates a warm impression - your skin smells literally like it baked in the sun for the whole afternoon. This vegetal, hay-scented warmth grafted onto your pulsating blood is less femme fatale and more outdoorsy than in the first moments when the perfume seemed to declare a war of seduction on men by exhaling a strong whiff of animality.
In perfumery, it is assumed that animalic notes are not for oneself but work as lures leading to entrapments. Unlike floral notes which are for yourself, indicative of your personality - a legacy from the romantic soliflore period - beastly notes are meant for hunting. Perfume is sometimes like a beast's skin you can don and divest at leisure.
When on the wane, the fragrance keeps a honeyed, animalic edge but with more soapiness coming bubbling to the surface. As classic French perfumery philosophy would dictate, you cannot choose your camp, the clean one or the dirty one. You have to play funambulist between the two. This is why on top of the genteel soapiness, there is a hint of greasy costus - that smell of hair roots gone slightly rancid. It has to be there otherwise you wouldn't smell human, you would smell of a bar of soap left to air on the edge of a shiny white and cold lavabo.
To fully appreciate Création as an 80s survivor, you have to reset your expectations to a different decade. It's been reformulated and lightened while still rich as an 80s scent.
But the 2011 reworking allows you to not gag on the spot, as our sensibilities have evolved. You can time travel, get hit by a shot of galbanum - evocative of Silences by Jacomo in the drydown - a dusting of powder, a whirl of honey and some supple animality, but it will be like looking at a faded photograph from a different era. The scene is alive before your eyes, but the colors have faded with time, offering a welcome patina.
The most modern and up-to-date part of Création is probably its very-warm-skin sensation. This you can relate to easily. It still smells like you, having bronzed for at least three hours on the beach, radiating back a solar energy towards others tempered by a more classic honeyed floralcy, those « fleurs de miel » (honey flowers) that have come to replace any suggestion of sulphur, of a Les fleurs du mal inspiration.
Fragrance notes : blackcurrant, orris leaves, honey flowers, neroli / jasmine petal, rose, tuberose, carnation / amber, patchouli, moss, sensual musks.