L'Artisan Parfumeur Bucoliques de Provence (2016) ≈ «Nature in a Shirt» {Perfume Review & Musings}
L'Artisan Parfumeur Bucoliques de Provence Eau de Parfum {Perfume Review & Musings}
While L'Artisan Parfumeur are inaugurating their new terroir-inspired collection of limited-edition perfumes with a fragrance note, lavender, epitomizing the agrestic charms of the countryside - can you represent to yourself lavender without thinking of furrows filled with undulating, hazy purple color? - perfumer Fabrice Pellegrin has managed to create a lavender fragrance which is both very natural and spontaneous in its charm - and very urbane and suave in its style - even delicate...
The composition clearly benefits from cutting-edge perfumery technology applied to lavender. This is a lavender which is both full of vitality but also remodelled and sculptured so that you could view it as a lavender scent with immense polish. It opens in the top with great energy and authenticity in part thanks to Juniper berries but it is essentially a modulating fragrance with a remarkable sense of nuance. The lavender is quasi intoxicating. Fragrance company Firmenich used a blending method which combines the aromatic facet of the essence with the balsamic facet of the absolute. The complementary leather accord then is built around an absolute of iris combined with a synthetic base. It feels more like skin than leather to my nose.
The lavender is particular to the village of Seillans in the Var department in France, noted for its beauty as one of the loveliest villages in the country. Its lavender benefits from a terroir which makes it smell particularly soft, honeyed and mellifluous, as far as we can tell.
At times, you will feel like a bee in the middle of a nectar harvest buzzing by dry herbs softened by angelica, at others like a human being with designer skin and a great, discreet scent. Then again, your skin smells like you just rolled in the hay and wild flowers in a warm field in the summer, just before picking yourself up, dusting straw wisps off your clothes, exuding borrowed country boy or girl charm, while at the same time smelling of a crisply starched white shirt (Muscenone).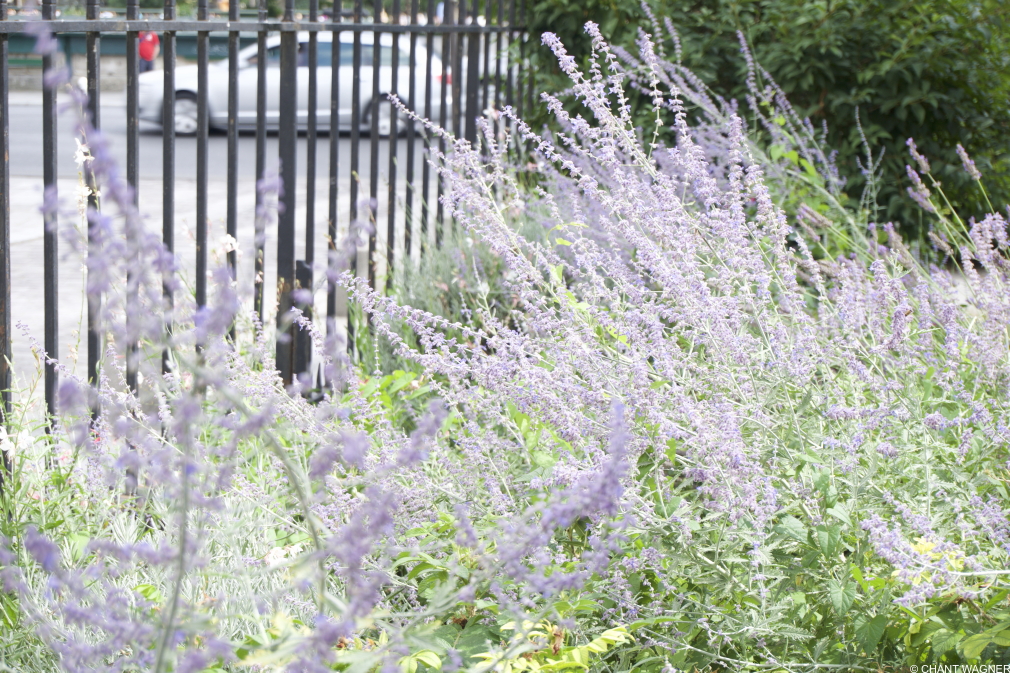 Gris lavandé / Lavender Grey © CHANT WAGNER 2016
Poet Jean Vauquelin de La Fresnaye (1536-1607) was a bucolic author. He talked about his artistic goal as capturing « la nature en chemise », "nature in a shirt' that is nature unadorned and without artifice. It would have meant literally that nature was seen as wearing one of those long white shirts of yore used as under garment. This is exactly what I feel about Bucoliques de Provence, it is about authenticity - and coincidence or not, it smells like that maxim of the poet - smell of a white shirt included. Of course, the term of "lavande" is historically associated with clean smells of laundry.
Bucoliques de Provence is an elegant skin perfume with a certain sense of projection, short of it being a sillage. Its effect is subtler than that. It's not an aura. It's probably more of an impression. The perfume impresses but it does not seem to be trying at all. It's like the effect of an artful no-makeup look on a face young enough to evoke la beauté du diable, that beauty which belongs to all young people as an expression of youth and vitality. The lavender is like that, very sappy and filled with life, the perfume equivalent of a bee-stung mouth.
If you love the sensation of lying down in a field surrounded by the annual concert of exquisite and pristine countryside smells (with nary a boorish note of manure in sight) then this is what you might want to try on. You will be smelling and listening to an olfactory version of a bucolic poem so authentic is its artful simplicity.