Parle Moi de Parfum, a New, Paris-Grasse Made Alternative Perfume Label Founded by the Almairac Family {New Perfumes} {Scented Paths & Fragrant Addresses}

Courtesy picture Parle Moi de Parfum © Roberta Valerio
Eight New Eaux de Parfum by Parle Moi de Parfum
This September 2016, a new, independent perfume house has opened in Paris called Parle Moi de Parfum, a name which is to be understood to function as a motto : to talk about perfume - and nothing else. It also sounds to the ear like a riff on the song title "parlez-moi d'amour". They debut with a catalogue of eight perfumes: Une Tonne de Roses / 8, Guimauve de Noël / 31, Flavia Vanilla / 82, Totally White / 126, Cedar Woodpecker / 10, Milky Musk / 39, Tomboy Neroli / 65 and Woody Perfecto / 107...
The brand was created by Benjamin and Romain Almairac, the two sons of renowned perfumer Michel Almairac. The boutique was designed by Elisabeth Almairac, or Mrs Almairac. It is a family affair with roots in the perfumery tradition of Grasse - the Robertet company in particular - and a flagship store in Paris.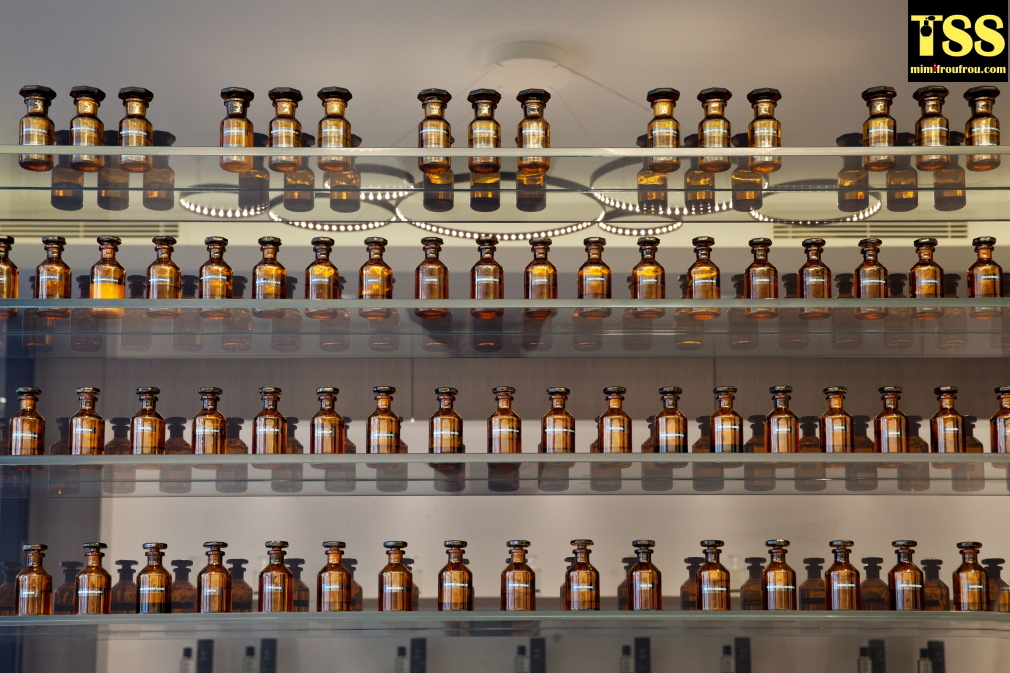 Courtesy picture Parle Moi de Parfum © Roberta Valerio
A perfumery lab is part of the interior decor with a junior perfumer present at all time. A wall featuring dozens of ingredients is like a customer-oriented perfumer organ created with a didactic purpose in mind. You will be able to smell isolated ingredients to understand better how they are blended within a composition.
UNE TONNE DE ROSES / 8
A « Ton of Roses » showcases a rose-patchouli accord.
GUIMAUVE DE NOËL / 31
This Christmas- and childhood-inspired juice is an evocation of the sweet treat or French version of marshmallow. It is scented with orange blossom and vanilla sugar.
FLAVIA VANILLA / 82
This is a dark vanilla composition offering an erotic allure. It is also soft, sweet, exotic and familiar.
TOTALLY WHITE / 126
Almairac here proposes an interpretation of Parc Monceau in Paris in the morning in spring. The luminous, transparent and floral perfume showc ases the « pure whites and tender pastels » of lilacs, seringas, hawthorne blossoms and wisteria as they diffuse from the garden with a sense of fresh and strong energy symbolizing the reawakening of nature.
Courtesy picture Parle Moi de Parfum © Roberta Valerio
CEDAR WOODPECKER / 10
This velvety and intense jus is dedicated to men who are addicted to woody notes. It is about a « novel blend » of different cedarwood essences together with iris.
MILKY MUSK / 39
« Precious woods in a puddle of musks » writes the brand. Milky Musk is about sandalwood and musk inspired by the notion of an « olfactory shadow » which follows you all day long and is ever evolving on the skin.
TOMBOY NEROLI / 65
This is an interpretation of what « unisex » might mean around an orange blossom note, but also of a certain idea of chic as in « I just rolled out of my bed » and I'm not trying hard at all. It's about, as we understand it, perfect imperfection.
WOODY PERFECTO / 107
The scent is described as a rock n' roll fragrance mingling coffee, vetiver roots and leather.
Michel Almairac has left his signature on many mainstream fragrances. He might be proposing more daring versions of some of his ideas, or reclaiming possession of some of his ideas. You will have to smell the new scents to see what the orientations are.
The Parle Moi de Parfum boutique is located at 10, rue de Sévigné, Paris 75004.
Via press release