Pitbull Cuba Woman & Cuba Man Reveal a Musician's Political Stripes (2016) {New Fragrances} {Celebrity Perfumes} {Perfume Images & Ads}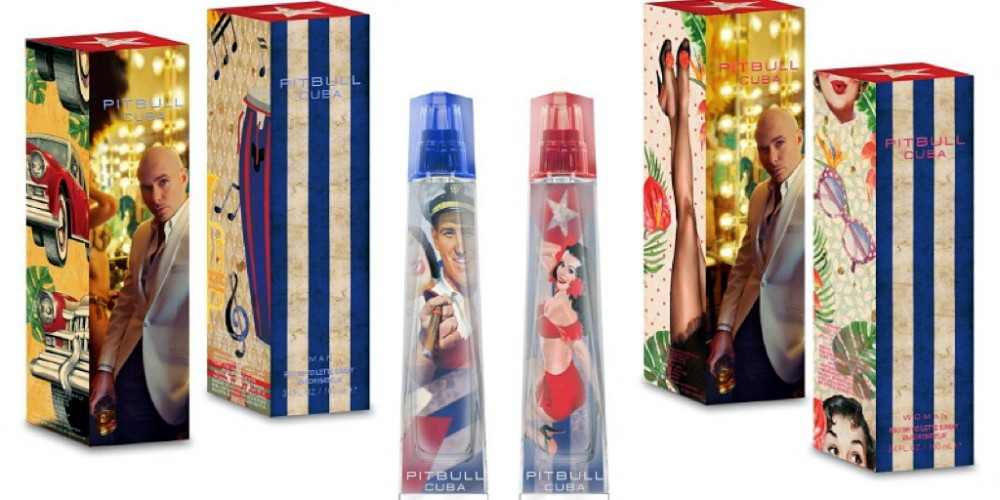 Pitbull Cuba Woman Eau de Parfum & Cuba Man Eau de Toilette
American singer, rapper, and businessman Pitbull is showing his political stripes this year both on the musical and fragrance scenes. He has launched a duo of her-and-him perfumes named Cuba Woman and Cuba Man, as an homage to his country of origin in a time period when historical tensions have eased between the United States and Cuba; and his next album is a stand against climate-change tone-deafness...
"Inspired by his exotic motherland, PITBULL CUBA embodies the essence of the Island's legendary nightclubs, sultry beats and the quixotic combination of sugar and rum."

"This is my personal favorite, and it's one step closer to freedom - CUBA LIBRE," says Armando Christian Perez (Pitbull). "I wanted to pay a sensorial tribute to my family heritage. Cuba is warm, sexy and vibrant. It's designed for confident individuals who flirt with the unknown."
CUBA WOMAN was composed by perfumers at Fragrance Resources as a citrusy floral meant for a sultry seductress. It opens with notes of bergamot, mandarin, pomelo and white pineapple developing into a heart of rich orange flower, magnolia, freesia and mimosa blossoms. The base has notes of soft amber, warm blonde woods and layered musks.
CUBA MAN is signed by Givaudan perfumers. It is "a scent that draws upon the desire of spending hot, sunny days lounging on powdery sand beaches followed by steamy, passion-filled nights."The scent has top notes of rosemary, bergamot, lemon and cardamom with a heart of jasmine, coriander and oakmoss. The base is dry with notes of tonka bean, cedarwood and musk.
The bottles were designed with direct input from Pitbull.
In more musical, but also political news, the singer is set to release his 10th studio album entitled Climate Change.
You can watch a commercial for the fragrances below,
Price: $55 USD/3.4 oz