Lush Rentless (2017) {New Fragrance}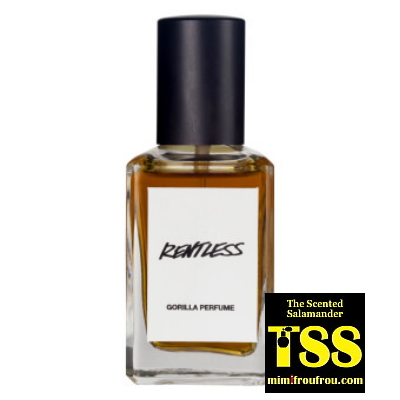 Lush Rentless
Perfume Launch of 2017
Lush has released a new fragrance entitled Rentless, which is the result of perfumer Simon Constantine's encounter with a man named Tachowa Covington in Los Angeles, where the latter used to live in a water tank later decorated by Banksy...
Tachowa insisted that he was not homeless, just rentless. After his water tank became a work of street art fit for a museum, it was taken away and he ended up in an apartment paid for by Banksy, then was back on the streets - or rather the woods. For Constantine, he remains an example of an alternative way of life, which checks several right boxes. Tachowa regrets his water tank, which he saw as a hidden piece of art.
This Looks a Bit Like an Elephant by Banksy
The perfume showcases patchouli,
"Enter a genie bottle. Groovy, mellowed-out patchouli seems to sparkle in contact with bright grapefruit oil and the vanilla-like sweetness of tonka absolute. This fragrance is a wearable art piece that floats above the flotsam and jetsam of life. Endlessly welcoming, it's a rallying endorsement of the power of inspiration to overcome obstacles; you're never homeless, only rentless."
Rentless is made with 17 ingredients, including patchouli, grapefruit, labdanum, tonka, anise alcohol.