Fragrance News: Marie-Antoinette's Perfume To Be Released in June & July 2006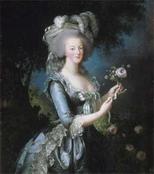 Following its success as well as repeated requests from the public, a recreation of Marie Antoinette's fragrance by perfumer Francis Kurkdjian from Quest International called M.A. Sillage de la Reine (Marie-Antoinette The Queen's Silage) will be more widely available in June and July 2006. It was first created in January 2005 and offered to a select group of people at a party at Versailles on the occasion of the publication of a book on the original 18th century author of the perfume. It was also sold to some patrons in 2005 but at a very high price, around $2500. This perfume was originally composed by one of the perfumers of Marie Antoinette (Houbigant was one of them) called Jean-Louis Fargeon. It was originally named Trianon.
Elisabeth de Feydeau, a French perfume historian, has written this book focusing on the details of the relationship developed between Marie-Antoinette and Jean-Louis Fargeon. Her book has recently been translated into English in Great-Britain under the title, A Scented Palace: The Secret History of Marie-Antoinette's Perfumer and is available here. It will also be available on Amazon, here in the US, starting June 22; you can place pre-orders now.

One day, Marie-Antoinette asked Fargeon to come meet her at Trianon and showing him around she requested from him a perfume that would capture the charm of her beloved retreat. Later, Fargeon was to see her just before she attempted to escape from France through Varenne. He tells us that on the day of his last visit to her and as a sort of premonitory sign of her impending demise, the queen seemed to smell more strongly and almost sickeningly so of the tuberose found in her perfume Trianon
Elisabeth de Feydeau says that the perfume unleashes unknown emotions in people, something qualitatively different from what you experience with contemporary perfumes.


Le Sillage de la Reine has been recreated using 18th century techniques and 100% natural essences. Its notes include orris, rose, jasmine, tuberose, orange blossom, cedar wood, sandalwood, Tonkin musc and ambergris. 10 prestige copies of it, bottled in Baccarat crystal bottles will be available in June; the price has not been divulged. In July, 1000 limited editions copies will be released in crystal bottles made at the crystal manufacturies of Portieux (founded by Marie-Antoinette's grand-father) and will be available for between 300-400 Euros for a bottle of 25 ml. You can reserve a bottle of M.A. Sillage de la Reine here. Proceeds will go towards the remodeling of parts of the palace that were historically linked with Marie-Antoinette.

Visitors to Versailles can currently smell the queen's perfume in Marie-Antoinette's bathroom through June 2006.
Photos are from the Château de Versailles and Osmoz.