Perfume History & Facts: Muguet by Guerlain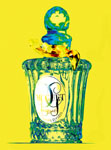 This year, in April 2006, the Guerlain perfume house released an extremely limited edition of a new fragrance called "Muguet" (Lily of the Valley) created solely for the purpose of marking the celebration of the 1st of May 2006. It is a reinterpretation of the original "Muguet" by the same house which was introduced 100 years ago, in 1906. Only 190 bottles were released for just one day, on April 29, and were exclusively sold in the Guerlain stores in Paris. The price was 130 Euros for a 30 ml bottle. Muguet was composed by Jean-Paul Guerlain. The bottle was made in a Louis the XVI style.

Notes include lily of the valley, jasmin, Turkish rose, lemon, and sandalwood.
You can still be part of its history; a bottle is available on eBay for $299-350.
The new version of Muguet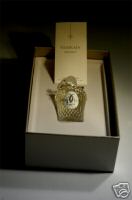 The old version of Muguet